INTRODUCTION
MAKE MONEY BLOGGING, REALLY?
I totally understand the skepticism. How do you start a blog and make money these days? I mean, there are like millions of blogs out there already. Plus there's YouTube, Twitch, and Snapchat right?
Yes you can, and you are now reading a money making blog. But here's the thing.
I am not going to lie, and you will need to overcome a learning curve. If there is a will, there will always be a way around. You just need some patience, and be willing to invest time on learning new skills.
You will need to stand out of the crowd as a source of valuable information to gain trust, readership, and of course, sales. It will be a rocky start, but what waits at the end is well worth the effort.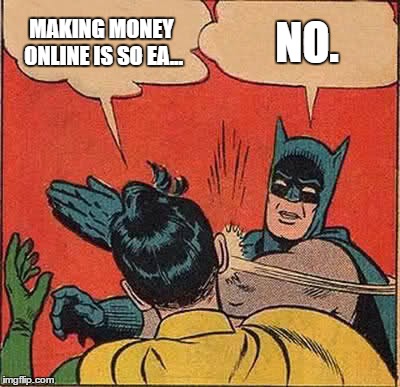 This guide will show you the exact steps I took to create a blog, monetize and promote it. If you follow through this guide, it should get you started with a fully functioning blog and some ground works done. But a fair word of warning, and to manage some expectations :
This is a beginners guide, you will not start making millions overnight. Only rotten marketers and cheaters will use this promise to cheat your money.
Reading this guide will help you, but not guarantee you make money… It is all up to your personal effort to make things happen.
There may be some money involved for running your own website, but I will also recommend the free alternatives.
OVERVIEW
THE GAME PLAN
In a nutshell, there are only 4 stages in the plan –
Setup your website.
Write some good valuable content.
Find related products to promote on your website.
Generate traffic to your website.
As simple as this may sound, it does take quite a bit of effort to do, and quite a lot of experimenting around to convert cold traffic into paying customers. So whenever you are ready, the steps are all below. Click on an icon below to read more.
1) Hosting & Setup (WIP)
The very first step, you need a website. Setting one up is not as technical as most people put it.
2) Content Strategy (WIP)
Content is king. It is what keeps people from revisiting your website again and again.
3) Content Writing
How do we write? No, complicated English is not required. In fact, just use good simple English.
4) Monetize : PPC Networks (WIP)
Where does the money come from? This is probably the easiest way – place advertisements on your website.
5) Monetize : Affiliate Offers (WIP)
Don't have a product to sell? No problem. There are tons of them out there, and you can sell them for a commission.
6) How to Sell? (WIP)
The million dollar question. How do we sell products and services.
7) Free Traffic
What good is a website when no one sees it? No traffic, no business, no sales, no money.
8) Paid Traffic (WIP)
When your site is a little more matured, it's time to give it a boost.
9) Email List (WIP)
The last and final stage – Build your own following.