INTRODUCTION
WELCOME TO THE AFFILIATE WORLD
Welcome to a list of the best affiliate programs for beginner bloggers. So you may have just started blogging, and heard about this thing called "affiliate marketing" that can help to bring a little extra money into your pockets. But just the heck is affiliate marketing? How does this thing work? How do we join affiliate programs? Which programs are legit and legal?
I am pretty sure that there are a lot of questions for the beginners, and thus the purpose of this guide. Not just to share a list of affiliate programs, but also explain some of the mechanics behind affiliate marketing – Read on to find out!
NAVIGATION
TABLE OF CONTENTS
SECTION B
THE LIST

While the world has a ton of affiliate programs, I am just going to list a few of the programs that I think are more "newbie-friendly" – These are free to join and have a low barrier of entry. New blogs should also be able to get approved if you are in a related niche with the program.
1) CLICKBANK
Clickbank is one of the oldest affiliate programs on the Internet. If you have not already heard of it, Clickbank sells a lot of digital products – Everything ranging from eBooks to training videos to applications for just about any niche.
They used to sell some pretty crappy stuff, but with the rise of YouTube, their management seems to have changed the strategy. They now carry some pretty good products from influential YouTubers. The best part is that there are no strict requirements for joining – Just sign up for an account, choose a product, and promote it.
2) AMAZON ASSOCIATES
Who doesn't know about Amazon? While most people know it as one of the largest online e-commerce portals, many do not know that they have an affiliate program. There is a manual approval process when you sign up, but they are not really that strict with the rules. After approval, you can choose any of the Amazon product, and promote it. However, if you don't get any sales for 6 months, your account will be frozen…
3) EBAY PARTNER NETWORK (EPN)
Who does not know eBay again? Another one of the online e-commerce giants. Yes, they do offer an affiliate program like Amazon. Their approval process is manual again, but once approved, you will gain access to their partner portal. Earnings differ from category to category.
4) SHAREASALE
ShareASale is another affiliate portal that has been around for a long time, and it serves to bring merchants and publishers together. This website has grown significantly over the years, and you will find a lot of big brands here… Signing up for ShareASale is free, however, approval still depends on the individual merchants.
5) SPOCKET
If you are a "traditional physical products" kind of guy, then check out Spocket. In a nutshell – Start your own blog shop, sign up with Spocket, and install their plugin. The rest is pretty much "dropship magic".
Find products to sell on your blog shop.
Do some marketing, promotion, and advertisement.
The merchants will handle the rest of the orders – Prepare and mail them.
You just sit back and relax.
P.S. Some people are going to say that dropshipping is not affiliate marketing, so here – Spocket does offer an affiliate program as well, so please do check them out if you are interested.
6) JVZOO
Just in case some of you who don't know, JV stands for joint-venture. JVZOO is something like Clickbank, but they are not as mature. Personally, I find the products on JVZOO a little… meh. But the signup is free.
7) CJ AFFILIATE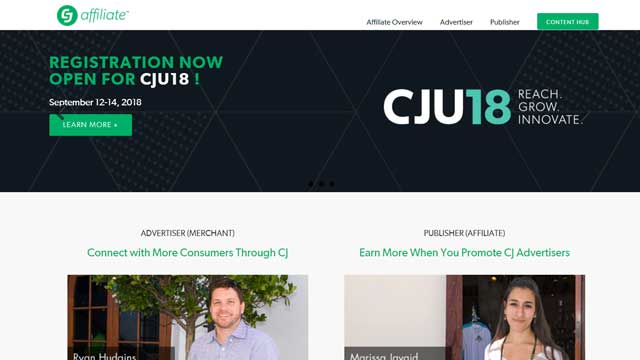 Used to be called Commission Junction, now CJ Affiliate. CJ is (yet) another site that brings advertisers and publishers together. Simply sign up and look for affiliate offers to promote – Signing up is free.
8) RAKUTEN MARKETING
Rakuten Marketing is another site that you can join for free, but they are a little more selective on the approvals. Plenty of big brands in Rakuten Marketing, and plenty of good money to be made here.
9) SKIMLINKS
Skimlinks is a little different from the rest. Instead of looking for products to promote, you simply add a line of code to your blog from Skimlinks – They will automatically find places in your blog posts to insert relevant affiliate offers. I personally find this to be a double-edged sword, because you will not know what kind of links they insert into your posts…
10) MAXBOUNTY
Instead of the usual commission per sale, Max Bounty offers a cost per action (CPA) model instead. That is, when people do a certain action like sign up with the merchant, you get a small commission. However, Max Bounty is rather strict with their approval process and bans people who spam.
11) UDEMY
Udemy is a website that offers all kinds of online training courses, from a ton of various experts all over the world. They also have an affiliate program to reward those who help promote their lessons. If you have a blog that shares a lot of information, Udemy is one good choice to get started with.
12) SKILLSHARE
Skillshare is Udemy's competitor and another site that sells online courses. But does it offer better affiliate opportunities? You decide.
SECTION B
AFFILIATE BASICS

The word "affiliate marketing" can be very intimidating for beginners. So much that some even decide to totally miss out on it, losing a huge chunk of possible online income… It really isn't some kind of a horror movie monster. Just have some patience, and let us walk through the affiliate world in this section.
WHAT IS AFFILIATE MARKETING?
The idea behind it is that you promote other people's products, often through an affiliate network, earning a commission if people actually end up buying thanks to your marketing.
Yep, the good man said it all. Affiliate marketing is not some kind of a "beast", but simply helping someone to promote and sell their products. In return, you will get a commission on every sale.
HOW TO GET STARTED – JOIN AFFILIATE PROGRAMS
Now for the million-dollar question – How do we get started? First off, the easiest way is to just do a search on the Internet. For example, you may have a Nike Fan Club blog – Simply do a search for "Nike affiliate program", and register on their official affiliate website.
The company will then review your application. Once approved, they will give you access to their affiliate portal, where you can find products to promote and generate affiliate links. Simply copy that link and paste it into your website. Every sale made through that affiliate link will make you a commission.
That is the gist of affiliate marketing, and there are plenty of affiliate programs you can join on the Internet these days. But please do be very careful when considering an affiliate program, as there are plenty of shady bogus ones…
TIPS FOR GETTING APPROVAL
Before you get too excited and start to apply for all sorts of affiliate programs, take note that the requirements to join each affiliate program differ from company to company. Some companies may be really open and accept anyone, while some are very selective.
So in general, if you want to have better chances of being accepted into an affiliate program, please make sure that your blog has a certain level of establishment before signing up:
Have sufficient quality content – I would say at least 20-30 solid articles (1000 words or more).
Has a related topic to the affiliate program. I.E. Sports blog to a sports affiliate program.
At least have some traffic and recognition. Do a search on the Internet, and see if your blog can be found. For example, this blog can be found if you search for "site:red-dot-geek.com" on Google.
Has social media accounts and some followers – Facebook, Twitter, Instagram, Youtube, etc…
A presentable website. At least not look like some 9-year-old did the design with glitter and unicorns.
Look legit and professional – Have the following "boring pages".
The key here is to be as genuine as possible. Companies will more likely want to work with professional interested bloggers, rather than some unknown newbie.
THINGS TO LOOK OUT FOR
Before you paste affiliate links onto your website, there are a couple of things to look out for. Don't fall into the same beginner loopholes as I did:
Disclose your affiliate links. Create a dedicated disclosure page and also place a disclosure message in the footer… The world and law are just naggy about these.
Have proper terms of use and privacy policy page. Don't think of this as a pain, as it protects you. There should be a clause that clearly states "there are links to third party sites on this blog, and whatever happens there is beyond our control".
Other than that, just don't "trick" your readers into signing up and clicking on your affiliate links.
P.S. Just poke around this blog and see things are done.
HOW TO SELL?
Well, I am no marketing guru for sure. But there are many tactics to sell things, and the usual stuff that bloggers do are:
Create a list post, something like this one that you are reading. For example, 10 gift ideas for moms, 20 best gadgets for geeks, 30 gadgets for stress relief, etc…
Buy the product yourself (or ask for a sample), then do a review post on it.
Ninja recommendation – Write a post on a problem, then recommend a product. For example, write a blog post on proper running, then insert an insole affiliate link for people with foot problems.
Personally, I think trust and honesty are some of the keys to successful selling. The Internet is already saturated, and people see ads everywhere… The chances that people will buy things when you shove a product in their face and say "buy this now" are close to zero.
Build up that trust and recognition first. Create a blog with a lot of good posts and information that really helps people. Eventually, trust and recognition will come – That is when you will get more sales automatically.
CLOSING
WHICH IS THE BEST? WHICH ONE TO JOIN?

We have come to the end of this list, and I hope that it has been helpful to you. As to which is the best affiliate program – There are none. You need to decide which program works best with your blog and go with it. But one last word of advice, do not attempt to join every single affiliate program out there.
That will eventually turn your blog into an annoying "write to sell" site… As much as money is required to keep things going, always go back to the mindset of "help people to help yourself". Good luck and may the cyber force be with you.