Welcome to a quick review of the Lenovo X3 Bluetooth earphones. Now, before we even proceed, let us address the elephant in the room. A lot of online stores wrongly label this as a pair of "bone conduction earphones", this is not true.
Simply put, the Leono X3 is a pair of simple air conduction earphones. It works by placing a pair of "small directed speakers" beside the ear, not by vibrating the bones. Still, this is a very decent pair of open-ear earphones, at a very affordable price. Read on!
THE OVERVIEW
| | |
| --- | --- |
| Price | About USD $20 (As at the time of writing) |
| Links | Get from eBay: Click here |
| Packaging | Has everything – Earphones, charging cable, manual. |
| Build Quality | Water-resistant and very solid build. |
| Design | Not an ugly pair of earphones. |
| User Friendliness | Didn't take long to figure things out intuitively. |
| Sound Quality | Soft, flat bass, sharp highs… But understandable for the technology. |
| Value | $20 for a decent pair of earphones is hard to hate. |
| Overall | It may not have the best sound quality, but still a pair of mighty decent open-ear earphones. |
TABLE OF CONTENTS
THE PACKAGING

To be truthful, I wasn't expecting much for a pair of $20 earphones. Even for a big brand such as Lenovo. But they actually did a pretty good job with the packaging.
FIRST IMPRESSIONS & UNBOXING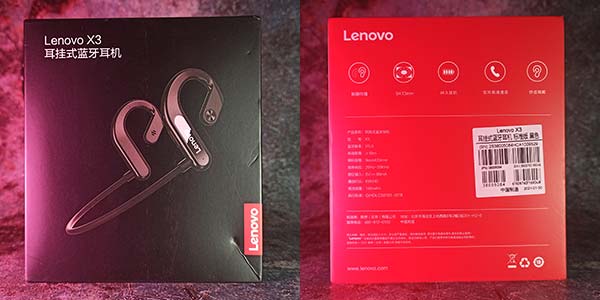 The box is understandably banged up from the "usual postage mistreatment". But I must say, at least it is not a "standard brown box". Well done, this is mighty decent packaging for a $20 earphone, good enough to sit on a store shelf somewhere.
WHAT'S INSIDE?
Earphones.
Micro USB charging cable.
Instructions in English and Chinese.
Yep, nothing much inside the box. Just all the basic stuff.
BUILD & DESIGN

Putting the basic yet decent packaging aside, the earphone itself is not too shabby either.
QUICK WALKTHROUGH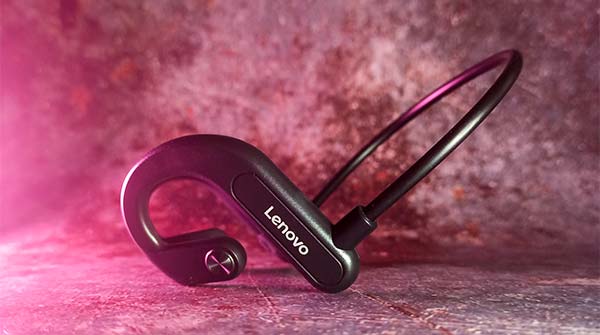 The Lenovo X3 does not have a "revolutionary design", it does not look bad either. This is just your "average Joe" and "stable design" Bluetooth earphones. No nasty surprises thankfully.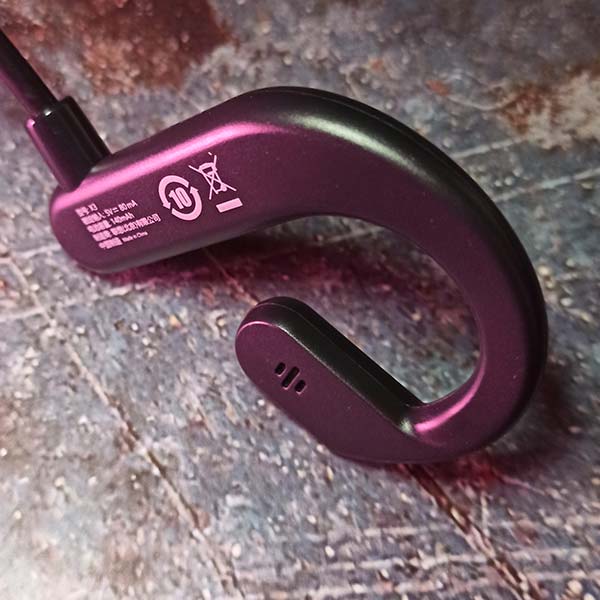 Made out of mostly hard plastic, the X3 does not have any loose and rattling parts. The band itself is flexible and tough, does not break when folded to fit in a pocket. Although most online sellers claim that this has an "internal titanium frame", I highly doubt so given the price. But either way, the overall build quality is good and robust. Plus, it's waterproof.
NO TOUCH CONTROLS
There are only 3 buttons on the right earpiece.
Power button.
Plus and minus volume buttons.
Very easy and intuitive too, if you have used other earpieces:
Press and hold the power button to power on/off.
Press the power button to play/stop/accept an incoming call.
Press +/- to change the volume.
Press the volume button twice to skip or go to the previous track.
Lastly, I am not saying that hardware buttons are bad. In fact, I still prefer hardware buttons – Can't go wrong. Touch controls have so far never worked well for me. They are either too sensitive or not sensitive enough.
SOUND QUALITY

Don't expect too much out of this pair of earphones. As in the summary above, this is not your regular in-ear earphone.
SOUND PROFILE
Lows – Flat bass. The mini-directional drivers just can't produce good bass.
Mids – Decent-ish vocals.
Highs – Sharp. Some high notes are painful.
Clarity & Soundstage – Well, it's open-ear. Put a small speaker beside your ear, it is what it is.
Well, the X3 definitely does not have the best audio quality. But it's understandable, given that it's a different technology and an affordable pair of earphones. I can still accept the semi-decent sound, it keeps an open ear and is safer for jogging on the streets – That's all that matters.
SOUND LEAK
Of course, it's an open-ear earphone. Expect sound leaks when you crank the volume up. But given that it's directional, someone has to stand really close to hear the sound leak – It's really not too bad… Although I personally prefer to keep the volume down, not to drown out the environmental sounds for safety.
BATTERY & WIRELESS

For this last section, let us walk through the battery and wireless features of the earphones.
WIRELESS RANGE
Standard Bluetooth 5.0, with a technical range of up to 10m (30 feet). Good enough, have not experienced sudden drops as at the time of writing.
BATTERY LIFE & CHARGING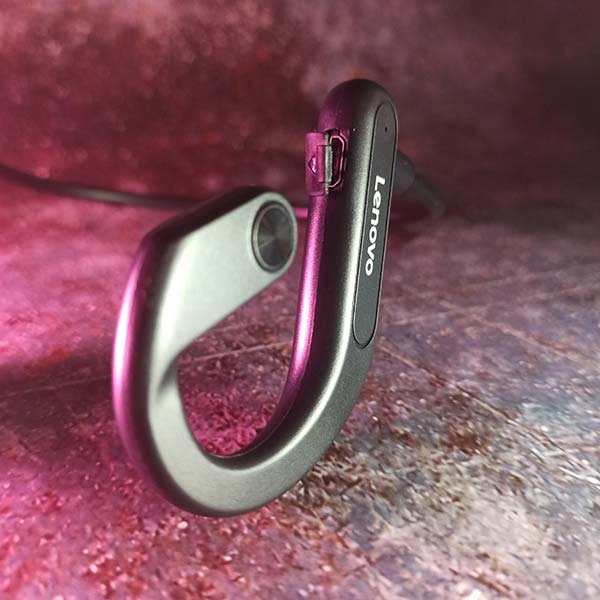 The official specification stated, "up to 9 hours of much playback". But personally, I have never cranked up the volume up too much. That seems to help with the battery life, and it lasts way more than 9 hours in this kind of setting – Requiring charging only once every few days.
As for the charging time, it is stated to be using USB 5V 80mA, the battery is rated at 140mAh. With a quick online calculation, that is 2 hours of charging time. That seems about right, it always takes about 2 hours or so to fully charge.
SUMMARY & AFTERTHOUGHTS

That's all for this review, and here is a small section on some extras and links that may be useful to you.
TECHNICAL SPECS
Bluetooth: 5.0
Range: About 10m
Drivers: 9mm & 13mm
Frequency Response: 20Hz to 20KHz
Charging Port: Micro USB 5V 80mA
Earpiece Battery Life: 140mAh
Play Time: About 9 hrs
As given on the box itself.
THE GOOD
Affordable.
Good build quality and waterproof.
Good overall value for money.
THE BAD
Sub-par sound quality.
Slightly slower charging with older micro USB.
AFTERTHOUGHTS
After using the Lenovo X3 for a couple of months – This is still my "primary sports earphone". Sure thing, the sound quality is not great. But it is safer to jog with an open ear, and this is definitely a good alternative to the expensive bone conduction earphones.
VERDICT

The Lenovo X3 may not have the best audio quality, but that is not a deal-breaker for me. This is still a pair of good open-ear earphones, that is very well built, waterproof, and affordably priced. There's just no reason to hate it.
Thank you for reading, and we have come to the end of this review. I hope this has helped you, and if you have anything to share, please feel free to comment below. Good luck and may the cyber force be with you.