Hello and welcome to a guide on the best places to shoot fireworks in Singapore. The "Little Red Dot" may be small, but it is packed with fireworks action every year. For you visitors to Singapore and local fireworks fans, don't worry, I got you covered.
Here in this guide, you will find information on the fireworks events in Singapore, as well as the best places to catch them. As this is kind of an ongoing thing, I will update this guide occasionally. Do check back over time – Read on!
TABLE OF CONTENTS
CHINESE NEW YEAR

For the guys who are not too familiar with Chinese culture, the Chinese have another traditional Lunar Calendar that is different from the international Gregorian calendar. So yep, the Chinese New Year usually falls in January or February instead.
DATES TO MARK
Chinese New Year for 2022 will fall on:
| | |
| --- | --- |
| 31 JAN 2022 (MON) | Chinese New Year Eve |
| 1 – 2 FEB 2022 (TUE & WED) | Chinese New Year |
FIREWORKS LOCATIONS
Several shopping malls and streets all around Singapore will be decorated and lit up to celebrate Chinese New Year. But the major locations and events to check out are:
Chinatown is the "major attraction", fireworks and firecrackers are usually displayed before the actual Chinese New Year or during new year's eve… But due to Covid, there may not be any. For more information, please check out the official Chinatown Festivals website.
River Hongbao 2022 will happen at Gardens By The Bay from 30 Jan 2022 to 6 Feb 2022, online registration is required. Doubt there will be fireworks, but don't miss it! Click here for the River Hongbao official homepage.
Orchard Road is another stretch that will light up during festive seasons.
EXTRA STUFF TO TAKE NOTE
Visitors to Singapore, please take note that most shops will be closed over the Chinese New Year period, people will be out visiting family and friends. If you are looking for some fun and fireworks action, come right before Chinese New Year instead.
SINGAPORE NATIONAL DAY PARADE

Every year on Aug 9, we celebrate our independence day and there will be some grand fireworks. But unknown to some people, there are rehearsals 1-2 months before the big day – Where you don't have to fight with a big crowd to catch the good stuff.
DATES TO MARK
* These are my own estimated dates, don't burn me if they are wrong.
| | |
| --- | --- |
| 2 JUL 2022 (SAT) | CR 1 |
| 9 JUL 2022 (SAT) | NE SHOW 1 |
| 16 JUL 2022 (SAT) | NE SHOW 2 |
| 23 JUL 2022 (SAT) | NE SHOW 3 |
| 30 JUL 2022 (SAT) | PREVIEW 1 |
| 6 AUG 2022 (SAT) | PREVIEW 2 |
| 9 AUG 2022 (TUE) | ACTUAL NDP |
For more information, you can check with the official NDP page, or follow up with the rehearsals on their Facebook Page.
WHAT ARE THE BEST PLACES TO SHOOT THE FIREWORKS?
NDP 2022 will be held at The Float @ Marina Bay – NDPeeps. If it is "as usual", fireworks will go off right in front of Marina Bay Sands.
THE FREE PLACES
| | |
| --- | --- |
| Location | Description |
| MERLION PARK | The number 1 crowded spot, with both locals and tourists. It will be nice if you can actually catch the fireworks with the Merlion. |
| ALONG ESPLANADE DRIVE | Most of the crowd from Merlion park will spill over here. Camp here super early if you want this spot. |
| ESPLANADE | The rooftop of Esplanade is another nice place to catch the fireworks – But beware that many photographers also know that. |
| THE PROMONTORY | I personally prefer this spot – where you can catch the fireworks with MBS as the backdrop. Another crowded place though. |
| MARINA BAY SANDS | You will be catching the fireworks with the Esplanade as a backdrop here… Another super crowded zone. |
| MARINA BARRAGE | Not really a good place with MBS blocking most of the fireworks. But not as crowded. |
| GARDENS BY THE BAY EAST | This place is not as accessible but offers a nice skyline of the city and fireworks. Another of my favorites. |
| QUEEN ELIZABETH WALK | Behind Esplanade Drive, but still offers a pretty decent view and the skyline of the city. |
THE PAID PLACES
| | |
| --- | --- |
| Location | Description |
| MARINA BAY SANDS | If you can afford to pay for a room at MBS, you are in for a treat – The SkyPark offers a good view. |
| RITZ CARLTON MILLENIA | This hotel is right in front of all the fireworks action. If you can even manage to book a room there. |
| RESTAURANTS AT ONE FULLERTON | The Pelican, Overeasy, Forlino, and Palm Beach Seafood – Enjoy your food and beer while watching the fireworks. |
| LEVEL 33 | This is an experimental penthouse dining place that has a nice view of the fireworks. Do reserve in advance. |
| 1-ALTITUDE | This gallery/bar will sure offer a nice view of the city and fireworks. |
TIMING & NOTES
If you are taking public transport, City Hall, Raffles Place, Marina Bay, Bayfront, Downtown, or Promenade MRT stations are good places to start. Try to exit fast when the fireworks end or you will understand what "packed like human sardines" mean.
Traditionally, the first fireworks seem to go off after 8 pm, between 8.15 pm and 8.30 pm.
The NE fireworks seem to be only about 50% of the actual performance, and previews at about 75~90%.
For security and safety reasons, no drones are allowed to fly in the vicinity of the NDP (your drone will be jammed and confiscated).
SINGAPORE GRAND PRIX

The Singapore Grand Prix will usually run in September. Being a night race, there will traditionally be some fireworks at the closing.
DATES TO MARK
The Singapore Grand Prix will run from 30 Sep 2022 (Fri) to 2 Oct 2022 (Sun).
FIREWORKS LOCATION &
STUFF TO NOTE
The usual race track is around the Marina Bay area, and the fireworks will be at the Grandstand on the last day. The entire Marina Bay area will be closed for the event with rather strict security checks… That makes free attempts to catch the fireworks difficult.
But if you still want to have a jab at it, you can try Gardens by the Bay East. If not, your best chances are to actually buy a ticket or stay at the nearby hotels. You can get more information at the official Singapore Grand Prix Website.
NEW YEAR COUNTDOWN

Every end-of-year without fail, there will be countdown parties all over the major locations in Singapore – Orchard Road, Marina Bay, Sentosa, etc…
DATE TO MARK
The date, 31 December. Captain Obvious to the rescue.
FIREWORKS LOCATIONS
The fireworks are mainly towards the city area to the south:
Siloso Beach Party – Sadly not free, but the tickets do come with a complimentary drink. Click here for their official website.
Marina Bay Countdown – Light show all around the bay, and fireworks in front of Marina Bay Sands… But expect heavy human traffic. Click here for the official website.
Arbora @ Mount Faber– Actually a restaurant sitting on top of Mount Faber. They are holding a countdown and you should be able to catch the Sentosa fireworks from here pretty well. Food is obviously not free… Click here for the official website.
STUFF TO TAKE NOTE
Expect a massive "human traffic jam" after the countdown event. Public transport will probably run until 3 am in the morning, but some people simply choose to crash somewhere, have "early breakfast", and wait until the traffic clears.
WINGS OF TIME

Can't wait for or your travel schedule does not fall on the big events? Then here is an alternative – A show called Wings of Time on Sentosa island.
Wings of time is a daily show that plays twice at Sentosa at night 7.40 pm and 8.40 pm. There will be some small fireworks during the finale. Unfortunately, you will need to pay for a ticket to watch the show. For more information and to book the tickets, check out their official website.
Here is a short clip of the fireworks finale, video credits by Kelvin Tan.
GALLERY AND MORE

For the final section of this guide, I shall leave a quick sharing of my humble fireworks photography over the years. Also, a few extra bits that may be useful to you.
FIREWORKS GALLERY (CLICK TO ENLARGE)
NDP fireworks from Garden by The Bay East.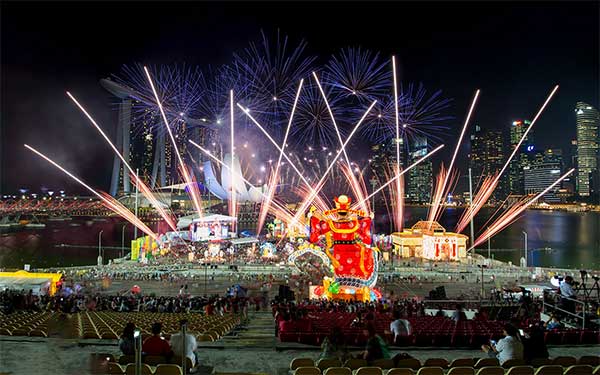 River Hongbao fireworks.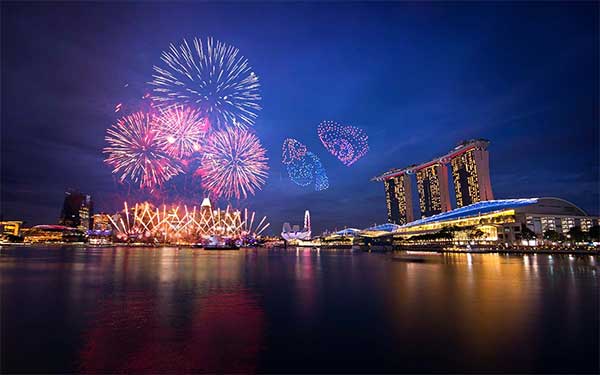 NDP fireworks at Marina Float.
FREE LIGHT SHOWS
These are not fireworks, but free light shows to check out nonetheless: