Welcome to a review of the AULA S30 gaming mouse. A lot of these "affordable gaming gear" China brands have been popping up over the years, and they are actually getting pretty good reviews all over the Internet. So curiosity eventually gave in, and I decided to give AULA a try.
Are the cheap gaming mice really that great? Or people are just leaving good reviews for the sake of it? Well, it doesn't cost much, nor does it hurt either way. So here it is, a review and my experience of using the el-cheapo AULA S30 gaming mouse.
THE OVERVIEW
Price
About USD $15 (As at the time of writing)
Links
Official Website: Link
Get from eBay: Click here
Packaging

Box, mouse, Chinese warranty card.
Design

Kind of ergonomically awkward. Nice LEDs though.
Build Quality

Flaws showed up after 6 months of usage.
User Friendliness

Plug-and-play. Nothing to install.
Functionality

It is cheap, and it works. Not so sure about gaming though.
Value

Excellent value-for-money.
Overall

Decently good, value-for-money. Probably not "gaming quality" though.
TABLE OF CONTENTS
UNBOXING

Actually, I wasn't expecting much from a $10 mouse. But it did come in with a pretty pleasant package.
FIRST IMPRESSIONS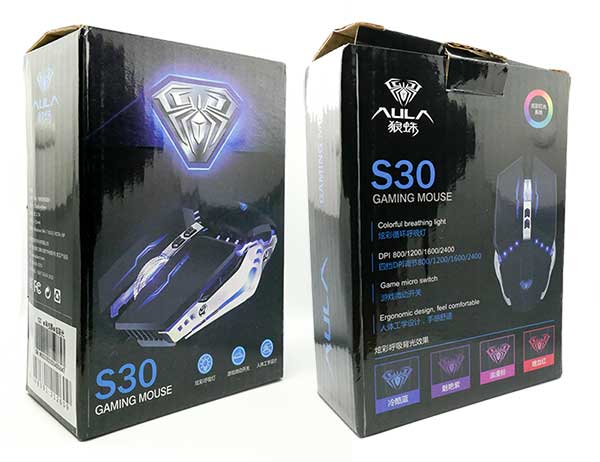 I was expecting to get brown cardboard or a "plastic bag with mouse", but actually this came in. Yep, the box is battered from the postage, but that is quite an unexpected level of design and marketing from a budget brand.
One small hiccup though, the box is not sealed with a sticker. No idea why. The Chinese company put so much effort into the design, but decided to cut costs by skimping on a simple security sticker and quality check?
WHAT'S INSIDE?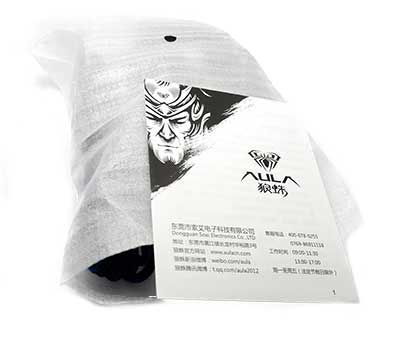 Mouse and warranty/contact information card. In Chinese.
BUILD & DESIGN

Nice looking box aside, the build quality of the mouse itself is also pretty decent too.
MOUSE WALKTHROUGH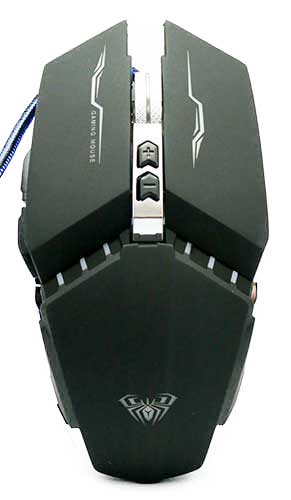 This is a pretty "standard" mouse. Left, center (scroll wheel), and right mouse buttons on the top. The "+ and -" buttons are used to control the DPI. Kind of unnecessary though.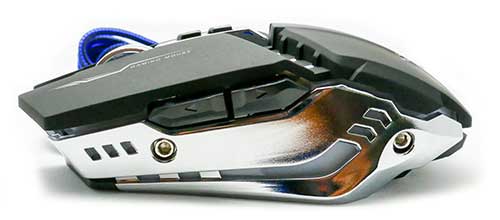 On the left side of the mouse are 2 more side buttons. Yes, it is plastic on top and chrome-plated plastic.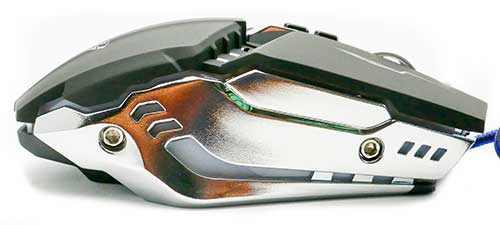 No buttons on the right-hand side. Yep, that makes this mouse "for right-handed people only".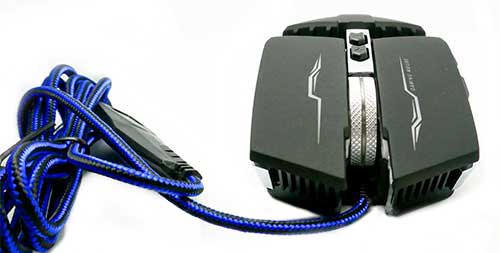 Front side – Yes, the scroll wheel is a "rough metal texture thing" instead of a rubber wheel. Braided USB cable.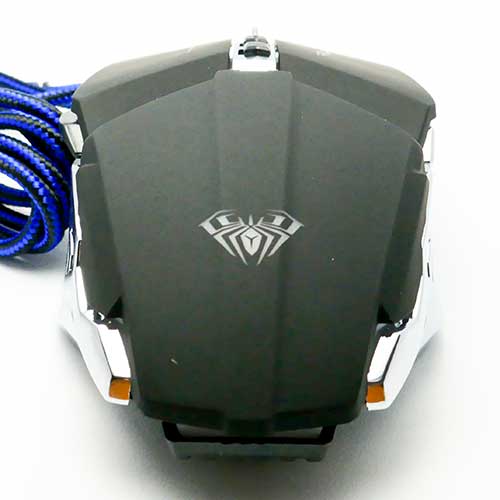 Rear – Nothing to see here… Just the logo.
BUILD QUALITY
Overall, I am personally quite pleased with the build quality.
The buttons are nice and clicky.
Side buttons are "clacky" though.
The plastic and metal combination seems to be holding things well.
The braided USB cable is also a nice touch.
But now onto the bad part… There are way too many nooks-and-crannies that can accumulate dust and get dirty over time.
ERGONOMICS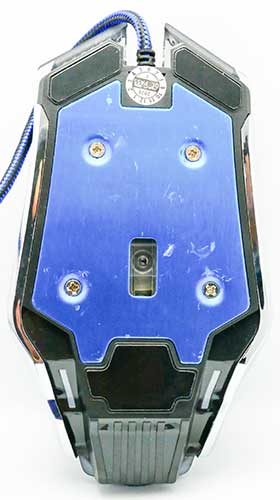 Seriously, this mouse quite awkward at first. It definitely needs some getting used to.
The palm rest (rear part of the mouse) is too small for my big hands.
A lot of weird gaps and crevices.
The mouse seems to be weighted, front-heavy.
The bottom of the mouse is something that I don't quite understand. See above, there are only 3 of those "black mouse sliding pads". The up-and-down movement feels smooth, but the left-and-right somehow just seems a tad bit… unstable.
P.S. I peeled off the blue film, and it's still a little awkward.
UPDATE – 6 MONTHS AFTER
It's not metal alloy, just plastic with a shiny coating. Faded after a few months.
Got the "squeaky mouse wheel".
DPI settings don't stick – Resets every time you reset or power off the PC. Annoying.
Turned into a very dirty mouse with junk stick in-between the many crevices.
Yep, the "cheap mouse syndromes" all showed up after some usage.
SETUP & PERFORMANCE

With that, let us now go into the actual setup and usage experience…
NO LED LIGHT CONTROLS. NO SOFTWARE & DRIVERS.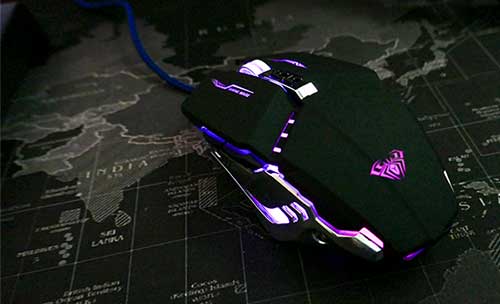 The "setup" for this mouse is as easy as plugging it in. Yep, it works out-of-the-box, without the need for any extra software. But you will be pleased to know that driver downloads are available on the AULA website, and that it is in Chinese.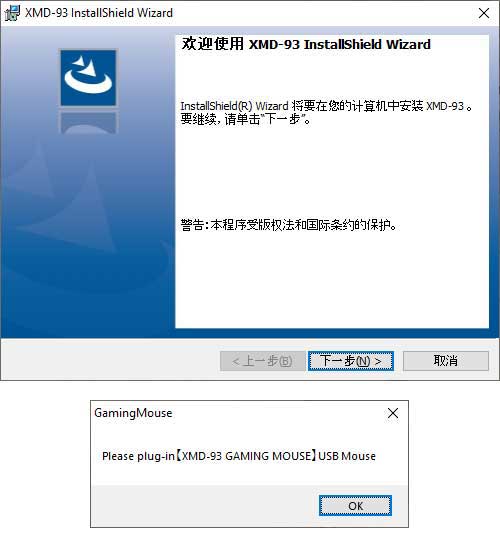 Oh, and after installation, the app itself will ask to "plug the mouse in". Which… No matter how many times you unplug/re-plug, it will not work. So yeah. There will be no software support to customize any macro buttons, nor set the LED lights.
Nah, I am not disappointed. I wasn't expecting a $10 mouse to have all of these features anyway. But it would have been very impressive if all of those are available.
BETTER AT GAMING?
Well, no… Just no. The ergonomics of this mouse is just awkward. I can play better using a 10-years-old, $10 spare basic Logitech mouse.
THE SUMMARY

That's all for this review, and here is a small section on some extras and links that may be useful to you.
TECHNICAL SPECS
Well, the official website did not give any specs. So, here's what we know:
5 buttons – Left, center, right, and 2 side buttons.
Dedicated DPI control buttons.
Right-handed.
Breathing LED lights. Seemingly non-programmable.
Dimensions about 13 cm X 6.5 cm. Or about 5.1″ X 2.56″.
Optical mouse. Up to 2400 DPI.
Wired USB. Duh.
THE GOOD
Very affordable.
Decent mouse.
Pretty cool design.
THE BAD
Kind of awkward ergonomics.
Software not working.
Not really a gaming mouse. Pretty much just a basic mouse with LED.
GOOD ENOUGH.

Thank you for reading, and we have come to the end of this review. Personally, I won't call the AULA S30 a gaming mouse. It is definitely lacking in specs, design, ergonomics, and software support.  But given the price point, this is definitely not some poor, low-quality mouse either… This is pretty much a basic mouse that comes with LED lights.
Is it good for gaming? Not really. But good general use, and looking slightly cooler? Yes. This is still worth considering if you are not into those "need crazy accurate mouse for FPS action games".