1) BIG NOX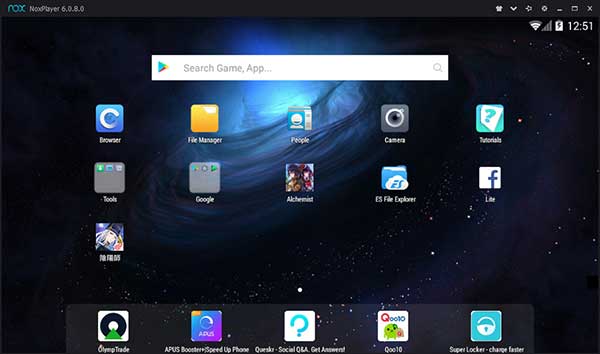 Nox is currently one of my favorite Android emulators, and it is geared towards gamers. Yes, this means that Nox is optimized for gaming experience and performance – It runs smooth, plus, it has a lot of extras that people will love. Some Android emulators are just missing out on the part that you cannot do touch gestures on a non-touch screen. Nox has it covered with keyboard mapping/gestures, and did I mention that you can record macros with Nox?
2) Bluestacks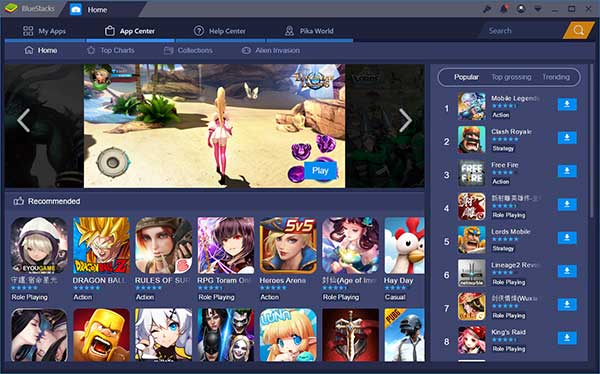 Bluestacks used to be one of my favorites until Nox took over. It is another emulator that is geared towards gaming… But the performance of Bluestacks just does not seem to be as good. Although you can tweak the performance settings in BlueStacks, this is just one resource hog. Plus, it is not as great without the macro functions.
3) Andy OS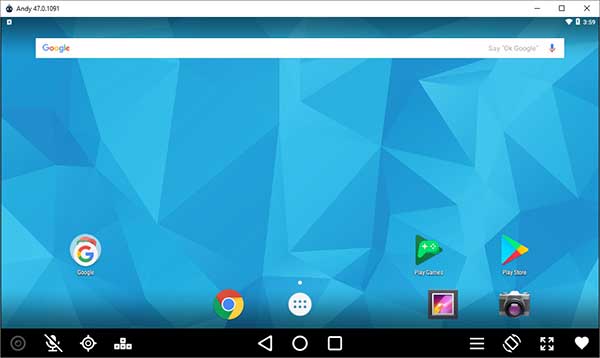 Andy is yet another easy to install, easy to use Android emulator. Just download the installer and follow the instructions. A pretty decent all-round emulator – performance and a key mapper, with the ability to directly use a gamepad.
4) MEmu Play
MEmu touts itself as the "fastest free Android emulator", which I am not too sure… But the installation is a breeze, and it runs pretty flawlessly. Geared towards gamers, MEmu also comes with key mapping… Although I did experience a few wireless network drops with it. Not perfect, but still one of the better emulators.
5) KOPlayer
KOPlayer is a Chinese made Android emulator… and I usually don't have good impressions of Chinese companies. KOPlayer is kind of a Nox/Bluestacks clone, but it is not that great in terms of performance. Also, beware that it will try to pull some stunts when you uninstall it. If you leave that "Install KOBox" checked during uninstallation, it will install another app that you don't want to use.
6) Remix OS Player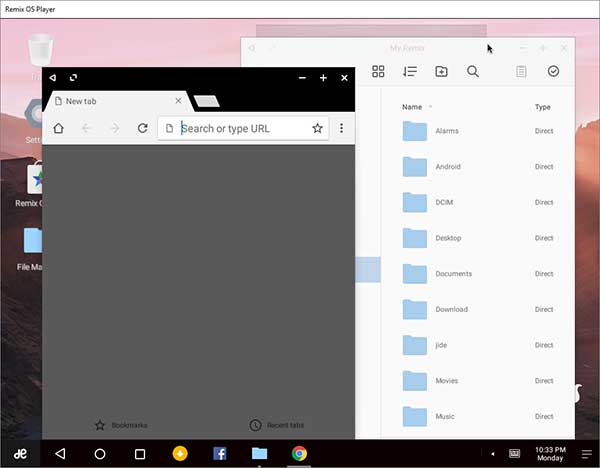 Remix is one of those emulators that made a huge splash, then seem to disappear into thin air. The last known version of Remix is released in late 2016, and not a single update was heard from them since. Well, Remix is actually not a bad one, and it resembles Windows – Where you can run many apps at one time. The company behind Remix even had a Kickstarter project to sell their own mini desktop running on Remix… Guess things did not turn out too well.
7) YouWave
The free version of YouWave runs Android 3.31, and there is no access to the Play Store. Neither can you install anything, not until you manually install the APK file in the terminal commands… I am not sure if this is rooted anyway. A pretty useless emulator in this age nonetheless.
8) Android Studio
Android Studio is actually the official development platform for Android apps… For those who are unsure, this is where you do coding and testing for Android apps. So within Android Studio, there is a packaged Android emulator. The official Android emulator, what can go wrong? Not recommended for the "common folks" though.
9) Xamarin
Xamarin is yet another development platform, not just for Android, but also for iOS. As this is "very coding" in nature, I can only recommend it for the hardcore developers.
10) Android X86
Now, we all know that Android is built for the mobile platforms and chipsets. But there is a group of guys out there who have brought Android to the PC, known as the Android X86 project. Yep, we are talking about Android as a native OS. As this is slightly more complicated and advanced, I will only recommend this to the hardcore PC users. You can either run Android X86 in a virtual machine or straight boot into it. The performance should be guaranteed, as this is a native OS.
11) Bliss OS
Bliss is another project like Android X86. As in, Bliss does not run in Windows as an "application", but a completely standalone operating system – Turning your PC into a native Android PC. There are 2 ways to run Bliss – Within a virtual machine or making a bootable USB. I will recommend this to the power users only.
12) Droid4X
Droid4X is a currently defunct project (as at the time of writing), and even the official website is down. Not sure if the developers will pick up this project ever again, but if you want to give this one a chance, there are plenty of archives to download from.
13) LeapDroid
LeapDroid is yet another defunct project (as at the time of writing), not in a bad way, but because they have officially joined Google. Maybe a part of LeapDroid is already officially adopted into the modern-day Android. But for this project, you can still download the archive from various sources.
14) Windroy
Windroy used to be one of the more interesting Android emulators for Windows PCs, because it is made to run like a native Windows app – It has promising potential for great performance over all other emulators. But somewhere along the way, it seems to have lost steam and gone missing. Maybe it has been taken over by another project… But if you still want to try this one out, there are archives all over the Internet.
15) ARChon
ARChon is the one and only one Android emulator that runs in Google Chrome as an extension. You read that right, as a Chrome extension. But sadly, I can't seem to get it to run. As interesting as this might be, ARChon is just lacking too much in documentation and support.