INTRODUCTION
CREATIVE FREEDOM!
Welcome to a list of free online infographic makers. I understand the pain too, this tech ninja here is by no means an artsy-fartsy designer, and uses various online tools to help create infographics. But problem is, some of these so-called "free" online infographics makers slap people with a rude "pay to download".
That frustration is real. The shady practice of having people barely use the tool, then force them for payment really ticks me off. Nope. Just no. So I have personally tested all of the below sites. Made sure that they can create an infographic and download without any of those "pay to download" rubbish – Read on!
1) CANVA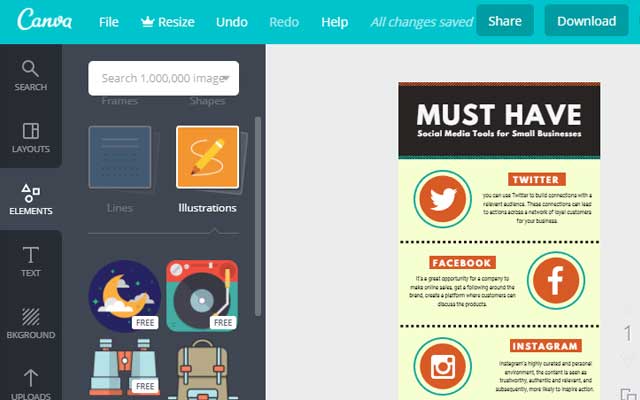 Link:
Click here
Price:
Free with some paid elements
Canva is one of my all-time favorites and the best part is that Canva is capable of not just infographics – It is also capable of making Facebook covers, logos, and so much more. Whatever that you have created on Canva is free for download, but some of the design elements are not free (templates, for example). So if you like Canva, spare $5 and buy some of the designs to support them.
2) SNAPPA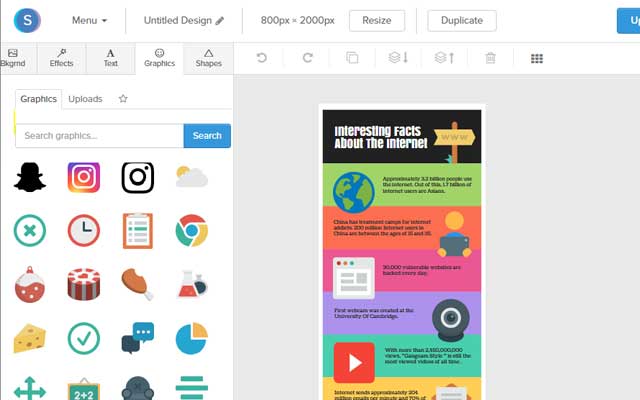 Link:
Click here
Price:
Free (limited 5 downloads a month), $10 pro account
Snappa is another online graphics maker that I quite like – They have tons of pictures and graphics that you can use freely. Sadly, the free account is limited to only 5 downloads a month and does not have as many templates.
3) BE FUNKY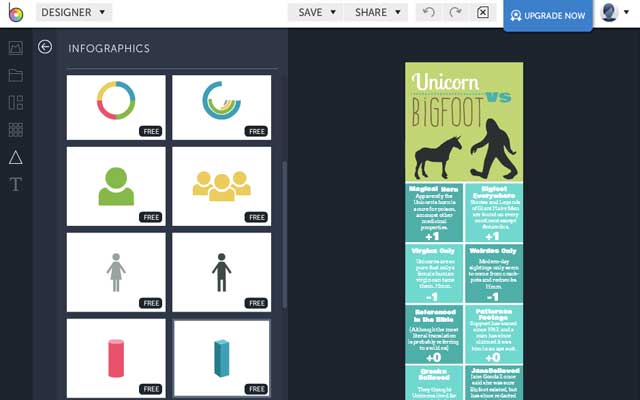 Link:
Click here
Price:
Free (limited), $34.95/year for pro account
Be Funky is not exciting as Canva, and they don't give as many free templates to the free users. Although they do allow high-quality downloads and have social integrations done – You can directly share your infographics to Facebook, Twitter directly from the Be Funky account.
4) VISME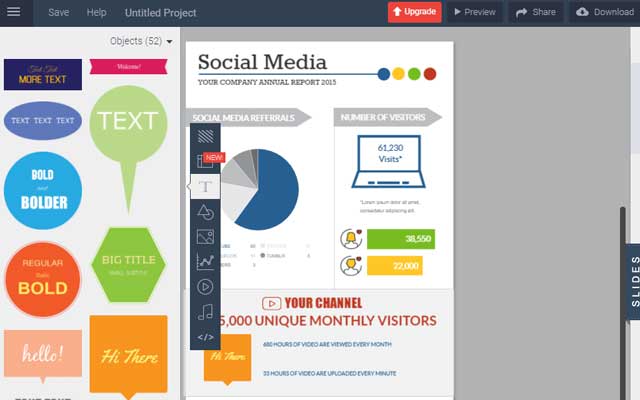 Link:
Click here
Price:
Free (limited), $10/month paid account
Visme is not bad and has plenty of templates to choose from. Pretty easy to use interface too, just pick, drag and drop. Worth checking out.
5) PIKTOCHART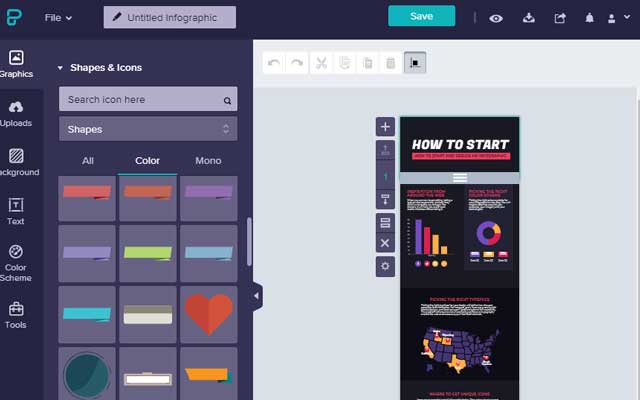 Link:
Click here
Price:
Free (limited), $12.5/month for pro account
Piktochart is not as versatile as Canva, but still capable of making infographics and presentation slides. Kind of limited in graphics and photos, but they do produce good enough quality infographics with the free account.
6) EASELLY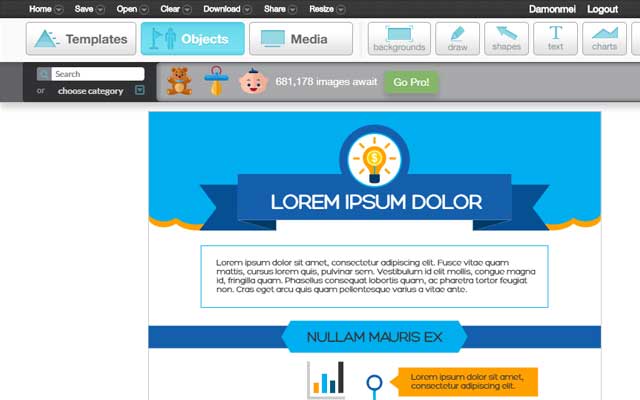 Link:
Click here
Price:
Free (limited), $36/year for pro account
Easelly actually looks pretty good, but sadly, the free account is way too limited – You can only select a handful of stock photos, and almost all other designs are locked. Even the download is limited to low resolution…
7) MIND THE GRAPH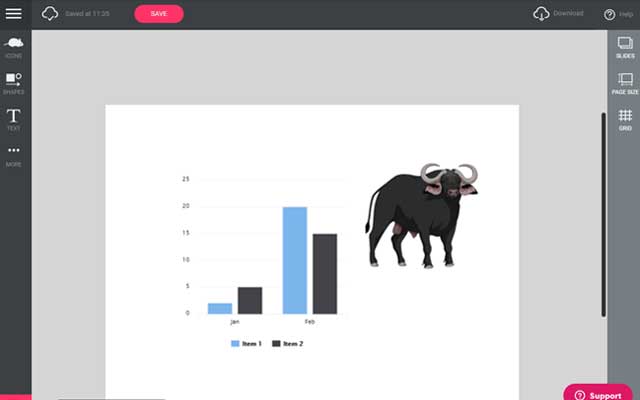 Link:
Click here
Price:
Free (watermarked downloads), $5/month for a premium account
Mind The Graph is capable of creating simple charts and graphics… Don't expect too much, but it just works. They offer free downloads, but unfortunately, they are watermarked.
8) VENNAGE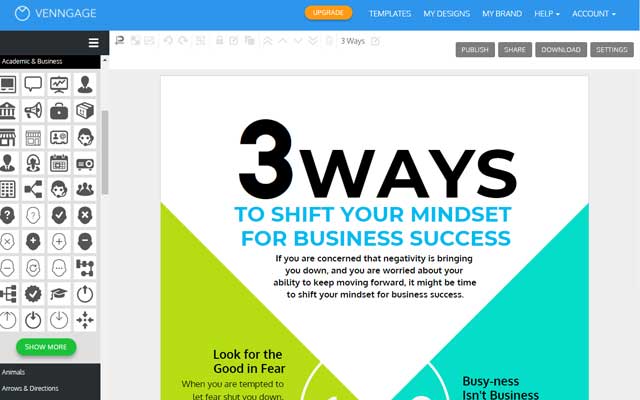 Link:
Click here
Price:
Free (for students), $19/month for a premium account
Vennage seems to have some nice templates, but I am not a fan. It offers a free account for students that is extremely limited to 5 infographics and no downloads… Although you can share it on your Facebook, Pinterest, and Twitter… and save the infographic from there. Kind of another "force to buy" site.
9) ANIMAKER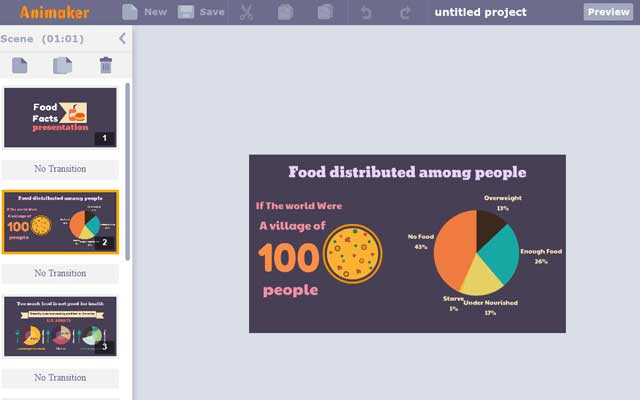 Link:
Click here
Price:
Free (limited), $144/year for a personal account
Animaker is not an infographics maker… or should I say, it does videos and animated infographics. As much as Animaker is interesting, the sad part of a free account is that you are limited to 2 minutes of video, and a watermark on it. Although a fully paid account might be worth every cent if you do a lot of video presentations and YouTube videos.
CLOSING
GOOD LUCK!

We have come to the end of this list, and I hope that it has been helpful to you. Now go spice up your articles with some infographics. If you have any good infographic makers to share, feel free to comment below. Good luck and may the cyber force be with you.