INTRODUCTION
EXPENSIVE ASTRO MIRACLE FILTER?
Welcome to a review of the Kenko Astro LPR filter, and this is one heck expensive filter. Priced at 32000 JPY or about USD 320 for the 77mm version, this is the most expensive filter I have bought to date.
But what is so interesting and so good about this filter? Well, the name of the filter will sort of explain itself – Astro Light Pollution Resistant (LPR) filter. In most modern cities, you will not see the stars because the night skies are concealed by light pollution from the city lights.
The Astro LPR filter will supposedly filter off (some of) the light pollution off the street lamps and city lights, revealing the stars like magic. This is like an astro-photographer's dream come true, but does it really work? Read on to find out!
OUTLINE
THE OVERVIEW
Price
USD 160 to USD 360 (depending on filter size)
Links
Official Website: Kenko Astro LPR Type II
Get from eBay: Click here
Build

Good build quality, but watch that reflection.
Usefulness

Astro photographers will love this one. For "night sky only" filter.
Value

Very expensive, no other uses except for astrophotography.
Overall

An interesting filter to have… except the price.
NAVIGATION
TABLE OF CONTENTS
Section A
Type I & II?

Section B
Walkthrough

Section C
Test Drive

Closing
The Verdict
SECTION A
TYPE I AND TYPE II

Kenko offers 2 types of Astro LPR filters, Type I and Type II. I guess the very first question for people who are interested is – What is the difference between the 2? There is very limited information on the Internet regarding these filters, but this is what I managed to dig out.
WHAT IS THE DIFFERENCE?
The Type I filter is cheaper, but supposedly cuts off way too much of the light spectrum, resulting in a funky color balance.
The Type II filter is more expensive, but supposedly cuts off only most of the light spectrum in city lights. This results in a better color-balanced photo.
So conclusion, both filters work. With the exception that you will need more color balancing and post-processing work with the Type I filter.
I got the more expensive Type II because Type I sold out… and I figured that having a little more light spectrum data will do good in the final photos. But either way, both versions received pretty good reviews on Amazon Japan.
SECTION B
FILTER WALKTHROUGH

This is one excitingly expensive filter. So it is only natural for one to expect "premium quality and packaging" out of this "luxury filter". But when I got the filter, I was a little disappointed with the packaging. At least the filter is of good quality.
THE PACKAGING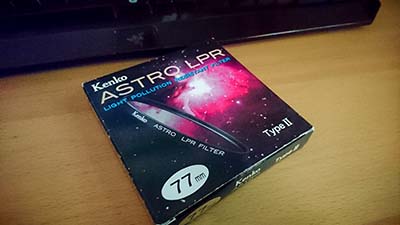 The Astro LPR comes in a rather standard packaging, box and a hard case inside. Rather disappointing for the price paid, Singh-Ray did better with a unique leather carrying case.
OPTICAL QUALITY
The optical quality is excellent though. What struck me is that this filter is reflective. Yep, it looks pretty much like a one-way mirror, it will definitely reflect off a lot of unwanted light.
PROFILE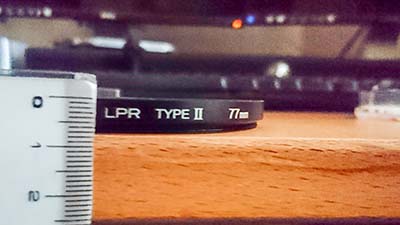 The filter profile is at 0.7mm thick, made of… aluminum? Definitely not some cheap plastic. It has a front filter thread, so filter stacking is possible. Although I do not recommend stacking filters with such a thick profile.
SECTION C
TEST DRIVE

Astro filter or not, we are still subjected to wait for a clear night sky. So it was only 2 weeks after I bought the filter that I had a chance to use it. Went to "the secret darkest spot" in Singapore to test drive this filter… Which is still not too dark. At least there are no street lamps nor lights from nearby buildings.
THE SAMPLES
Do forgive my newbie star shooting skills, this is my maiden attempt to "seriously" try to catch the milky way in a light-polluted city. With the help of the Star Tracker app, I barely made out where the milky way was. The rest is pure luck.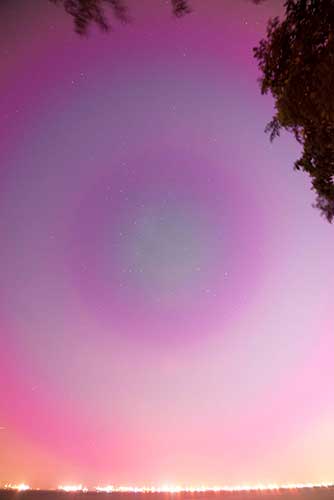 First photo: The raw. Taken with Nikon D800E, 16-35mm and the Astro filter. Setting at 16 mm, f/4, 30 seconds and ISO 1600. I first thought that annoying "halo" in the center to be a bad filter "side effect"… but later found out what it is.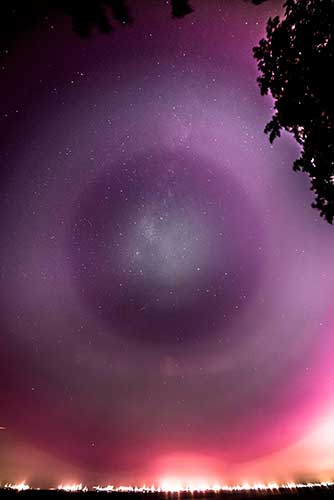 Second photo: The processed. Yep, the milky way is visible! If you take a long hard look at that "halo", it is actually the reflection of my 16-35mm lens… So yep, there is some "internal reflection" going on, which is really no good.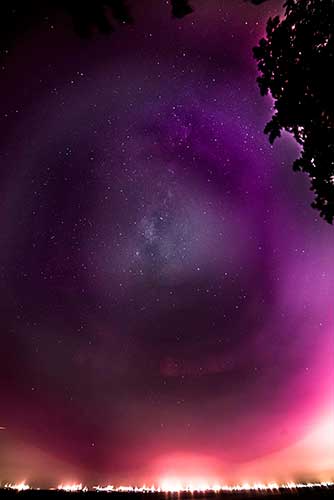 Third photo: Some more Photoshop magic to enhance the contrast, and remove some of those annoying "halo". Pretty usable photo if I crop and clean it further.
CLOSING
THE VERDICT

So after a round of actual field tests, we can conclude that the Astro filter works as advertised. While it may not be a "miracle filter" that pierces through those "dirty" city lights, it does filter out some of them. It does bring the milky way back into the photo.
I guess what is bad, is my photography skills and not fully understanding how the filter works. So to the people who are also new, here is what I will recommend.
This is one reflective filter. You do not want to stack filters and please use lenses that are anti-reflection.
Avoid shooting anywhere close to a light source, building lights, under a street lamp.
Switch to a lens with a larger aperture, with a larger lens hood to block out stray street lights.
Composition still matters. Use the 500 Rule to avoid star-trails if you want.
Use an app to help you find the position of the Milky Way.
Use the weather forecast, you need a clear sky to get good results.
Expect plenty of Photoshop editing, post-processing is a must.
With that, I shall leave this here – I won't call this filter a "miracle", but definitely an excellent filter that works magic. I must say that this filter is a lot of work, but it will allow you to take photos that are otherwise impossible.
THE GOOD
Solid build, good optics
"Magic" filter, removes some city lights
THE BAD
Very expensive filter
Internal reflection, keep clear of strong light sources
"Night-time only" filter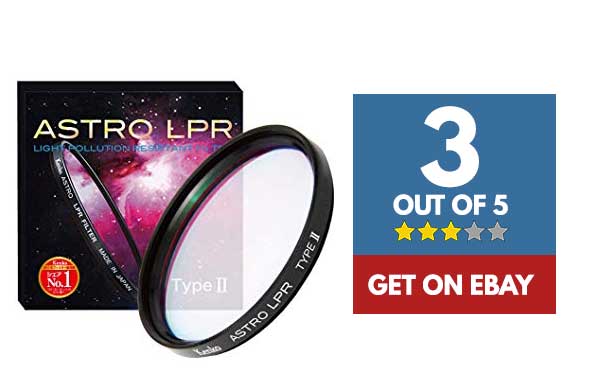 W.S. Toh is a senior web developer and SEO practitioner with over 10 years of experience in building websites. When he is not secretly being an evil tech ninja, he enjoys doing photography and explore ways to mess around with tech gadgets.