INTRODUCTION
NOT A CANON
Welcome to a review on the Cononmark Leopard K4T TTL monobloc. When I first saw the Cononmark, my reaction was – Canonmark. Yep, I read that part wrong and got excited for 5 seconds, thinking that Canon finally decided to expand into their own line of monobloc.
But no, the excitement was gone as fast as it came. Cononmark is a Chinese company, and this monobloc strobe light has got nothing to do with Canon… But just how well will this one fare? Read on to find out!
OUTLINE
THE OVERVIEW
Links
Official Website: Link
Get from eBay: Click here
Package

Everything you need, except for the light stand.
Build Quality

Strong, solid, more metal than plastic.
Functionality

Portable 400 watts with wireless, TTL and HSS.
User Friendliness

Not so bad after you get past the learning curve.
Value

On the expensive side.
Overall

Good performance solid monobloc.
NAVIGATION
TABLE OF CONTENTS
SECTION A
UNBOXING & FIRST IMPRESSIONS

The K4T actually left quite a good first impression… apart from me reading that "Cononmark" wrong. I was half-expecting some cheap plastic or fabric casing, but that really was not the case. (Pun intended)
THE CARRYING CASE
The Cononmark K4T comes with an aluminum carrying case, which looks pretty slick like some sort of secret agent weapon case. While it does seem to be reasonably well-built and sturdy, I wouldn't stand or sit on it – It really is not that tough. For you guys who travel, I will not recommend checking this in as well. Go get yourself a good Pelican case if you want a piece of mind.
WHAT'S INSIDE?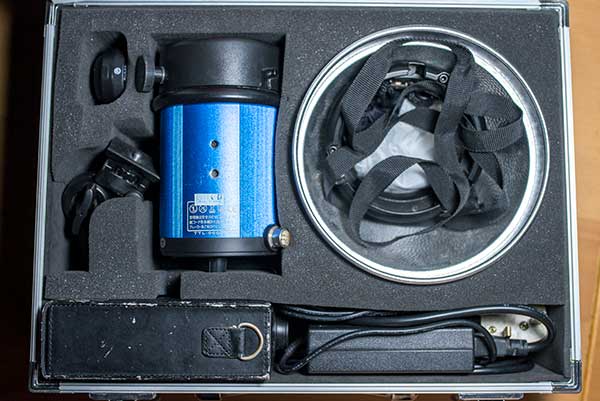 Everything you need is in the package (except for a light stand):
Aluminum carrying case
Monobloc light
Handgrip
Reflector (Bowen's mount)
Battery pack
Power brick
Battery carrying case
ABC trigger
Instruction manual
SECTION B
KT4 WALKTHROUGH

The Cononmark left a pretty good first impression with the secret agent kind of metal casing… But how well does the monobloc itself fare? Let us take a closer look at the details.
THE STROBE
Measuring at only 14 cm (5.5 inches) and 9 cm (3.5 inches), the K4T sure is pretty heavy (1 kg or 2.2 lbs) for a small beer can. Guess most of the weight comes from the metal parts. Yes, the entire outer blue casing is made out of metal and not plastic.
Personally, I don't quite mind the weight, knowing that it is made out of solid metal and can withstand some punishments. But some of you might want to reconsider this as a "lightweight" option – This monobloc weights just about the same as a full-sized laptop, and it will weight even more if you include the batteries plus accessories.
Otherwise, the design of the K4T is just… straightforward. A round-shaped monobloc, with two mounting screw holes at the bottom for the handle/light stand mount and nothing much for the rest.
A rather good-sized flash tube in the front, but beware, I have not been able to find the official replacement tube for it. So if you break this, you might have to look for a standard 400 watts tube on eBay or Amazon. Behind the flash tube is a small LED array that is rated at 500 lumens. Good enough as modeling light and focus assist.
The control panel at the back may look rather confusing with a lot of buttons at first – But it is not so bad once you have it figured out. I managed to figure out the power, test, and modeling light at the very first look. But setting the ID (channels) and other stuff took me a while to work out; Not too sure if beginners might find this too difficult though.
THE BATTERY
The battery pack is a 6000 mAh lithium-ion, and it takes about 4 hours to fully charge. Rated at about 650 cycles of flash, it should be more than enough to last you for a half-day shoot. If you don't abuse it with 1:1 full power shots.
While you can buy an extra battery, and it comes with a carry case, I will really prefer it to be "built-in" to the monobloc for something this small – If you are thinking of the same, then you should consider looking at the Cononmark B4 instead.
ABC TRIGGER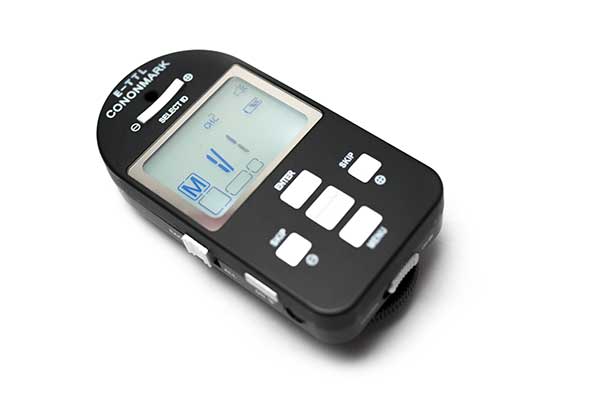 While the K4T is compatible with Nikon, Canon, and Sony, you need to take extra care of the trigger – The hot-shoe mount is different for each of them. There is nothing much to say about this trigger, except that it takes 2 AAA batteries.
Rated to work at 100 meters, I am not sure who will go that far, but it has never given any troubles so far. If there is something to bad to say about it, it is the user-friendliness – it has an awful lot of buttons for a trigger. Takes some time to figure out how to use it.
SECTION C
USAGE EXPERIENCE

Now it is time to put the Q20 to the test. Unfortunately, I do quite like the Q20 flash, and I am not going to drop it nor set it on fire. This is just going to be a "normal test" to check the functionalities, and ease of use of the Q20.
PERFORMANCE
Having worked with the K4T for over a year now, all I can say is that it really performs well as you expect it to. A good reliable workhorse.
Pumps out sufficient power even under the sun.
HSS works and freezes motion.
Decent recycle speed.
Sorry guys, I mostly shoot with manual, and I couldn't really judge how well TTL works on this monobloc… But it does seem to work accurately enough.
The wind blew and toppled the light stand. The control panel suffered some damage, but not a dent on the beer can.
If you decide to buy a K4T – Please go get yourself a heavyweight light stand, and weigh it down with your bags. You wouldn't want to break a $1000 gadget. Also remember to get a decently sized softbox, with a 400 watts strong light, the small diffuser that they provide does peanuts.
EXTRA
USEFUL BITS

That's all for this review, and here is a small section on some extras and links that may be useful to you.
THE SPECS
Power: 400 Watts
Wireless Channels: 9
Color temperature 5500 +- 200k
Model light: 800 lumens at 4200k
Recycle time: 0.2 – 3.2 sec
Length: 14 cm
Diameter: 9 cm
Weight: About 1kg
Seems pretty good, considering that it packs 400 watts for such a small gadget.
THE SIBLINGS OF K4T
This is a small extra section for you guys who might be looking at the K4T – There are various versions of it.
K4S – The earlier version of K4T, without TTL.
K4T EX – Not too sure about this one, not much information on the Internet. But the specs are similar to the K4T. If anyone knows what the difference is, please comment below.
K4T mini – The "scaled down" version of K4T, at 250 watts.
Which one should you get? Just go for the K4T. K4S has already been phased out and pissed quite a lot of people off without the TTL. If you are looking at a lightweight portable unit, I will recommend the Godox AD200 instead – Which is the size of a flash unit, and has a lot more accessories.
THE GOOD
Good build quality, solid metal.
Wireless, HSS, and TTL. All the functions that you need.
Nikon, Canon, Sony-compatible.
A good workhorse.
THE BAD
Not good as a lightweight portable option, not like the Godox AD200.
Might not be user-friendly to the beginners. It definitely has a short learning curve.
Quite expensive.
CLOSING
THE VERDICT

The Conon K4T is an overall good monobloc – Solid build, good performance. But do I think that it is a good buy? Well no, it does not offer excellent value for money. Don't get me wrong, there is absolutely nothing is wrong with this monobloc.
But personally, I will stick with a Godox AD360 instead – It may be a little less powerful than the K4T, but with the same $1000 price tag, you can easily get the AD360 with a full studio set complete with light stands, softboxes, backdrops… and still have spare change for more goodies.
Feel free to disagree with me though, and do share your thoughts on the K4T in the comments section below!