Welcome to a review of the L08 gimbal stabilizer. Now, anyone who has been dabbling in the world of gimbals and stabilizers will know very well that even the cheapest decent one will cost around $70 to $100. But the L08 is something that I stumbled on, and it only costs a little over $30.
To top up the level of absurdity, I got this at a discounted $25. Yes, this is a dirt-cheap gimbal, stabilizer, selfie stick, tripod, and whatever they claim it to be. That has to raise some serious questions, and possibly the red flag. Is it really that worth the money or complete trash? Read on!
THE OVERVIEW
| | |
| --- | --- |
| Price | About USD $32 (As at the time of writing) |
| Links | Get from eBay: Click here |
| Packaging | Has all the basics – Gimbal, instruction manual, charging cable. |
| Design | It's not an ugly stick, and it's functional. |
| Functionality | Gimbal, stabilizer, selfie-stick, tripod, remote. |
| Build Quality | A lot of plastic. Feels like it may break if dropped. |
| User Friendliness | As simple as reading the manual for 5 minutes. |
| Value | Impossible price point if you get it at a discounted price. |
| Overall | Not the best, but a very good entry-level that is dirt cheap. |
TABLE OF CONTENTS
THE PACKAGING

To be truthful, I wasn't expecting much out of a "budget gimbal". But as things turn out, I got quite a pleasant surprise straight out of the mailbox.
FIRST IMPRESSIONS & UNBOXING
A nice, sleek, and professionally designed box. This may not be a big deal for some, but I have purchased way too many products that cost more and come with crappy packaging. A good first impression, and it is sealed with a security sticker – A sign that someone at least cares about quality checks.
WHAT'S INSIDE?
The gimbal stabilizer itself.
Micro USB charging cable, too short to do any good…
Standard 1/4 inch tripod attachment.
Instruction manual in both English and Chinese.
Just the basics, but nothing is missing.
BUILD & DESIGN

Good first impressions aside, the… stick itself is also not too shabby.
QUICK WALKTHROUGH
The build quality of the L08 is sadly, very plastic. The only metal part is the selfie stick that extends out, made out of lightweight aluminum alloy. While it does not feel like "falling apart", something about it doesn't feel too sturdy either. Just don't drop it.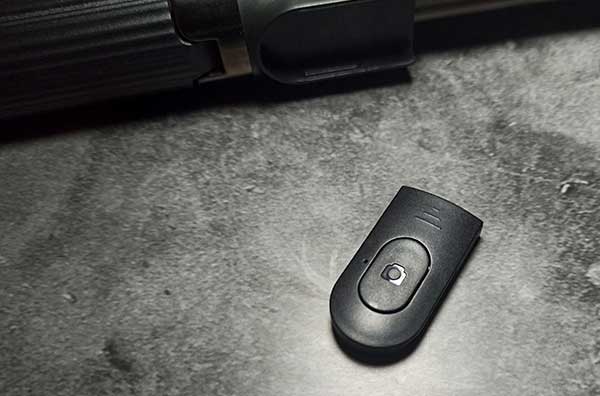 Otherwise, the design is pretty simple with only 2 pieces.
The bottom half is "just a handle" with a removable Bluetooth remote control. Take note, it does use a CR1632 lithium button cell.
The top "stabilizer" half is actually detachable, can be swapped with the 1/4 inch standard screw.
USAGE EXPERIENCE

The L08 may be a cheap stabilizer, but it does serve its purpose pretty well with various "modes".
GIMBAL STABILIZER MODE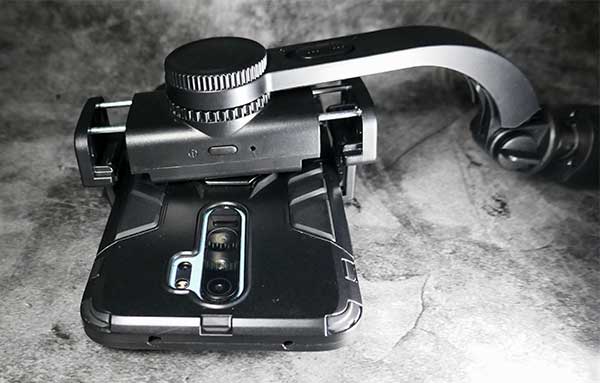 Before the beginners start to think that a $30 gimbal is on the same level as "any other gimbals", here is a quick crash course. Most common gimbals do 3-axis stabilization – Tilt, pan, and roll. But the L08 only stabilizes a single axis, the roll. So yes, this is far from "a true professional gimbal". Don't get me wrong though, it is still better than handheld.
Back to the review, the stabilizer is simple enough to figure out even if you don't read the manual. No need to install an app to use.
Just clamp the smartphone onto the holder.
Press and hold the button to fire up the gimbal.
Easy operation – press once to rotate clockwise, press twice to rotate counter-clockwise.
Press and hold the button again to power off.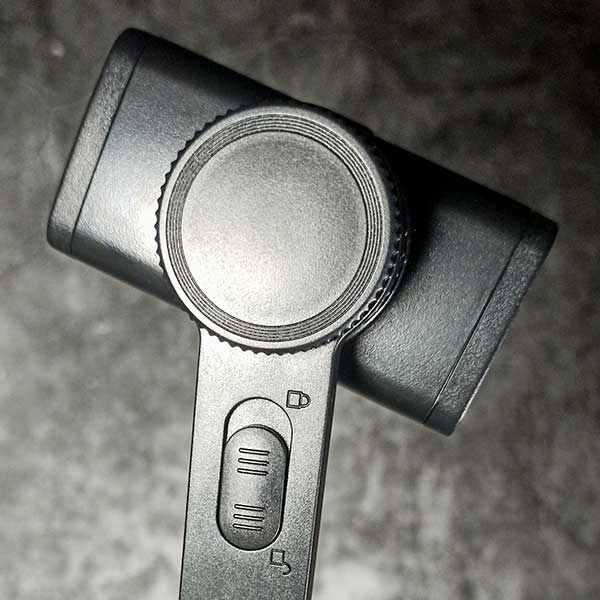 At the rear, there is also an orientation lock – If you decide to use it as a selfie stick or tripod.
SELFIE STICK MODE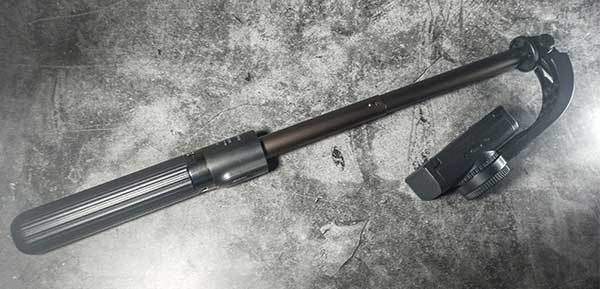 Personally, I am not a huge fan of the "selfie culture", nor am I a vlogger by trade. But the arm extends out to a maximum of 86cm, it should work well enough with any smartphone and action camera with a wide lens.
For you guys who are thinking of making one of those "fake drone shots" with this, forget it. The arm is simply not long enough, an "overhead shot" is the best this can do. It is also not quite stable enough when fully extended.
TRIPOD MODE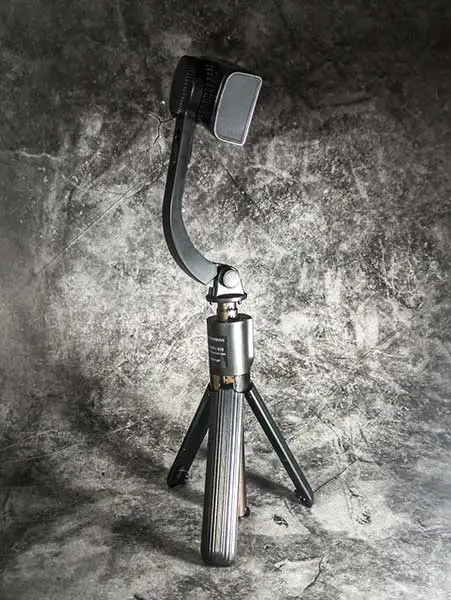 The handle opens up to become a tripod, although I have to be completely honest – This is not really a tripod but a "quadpod" (4 legs). Yes, extend the selfie stick upwards, and it loses its center support.
The remaining "plastic handle converted to legs" are not really that stable. It seems good enough for the usual smartphones and action cameras, but I will not trust this to hold up heavier compact and mirrorless cameras.
"JUST A STICK" MODE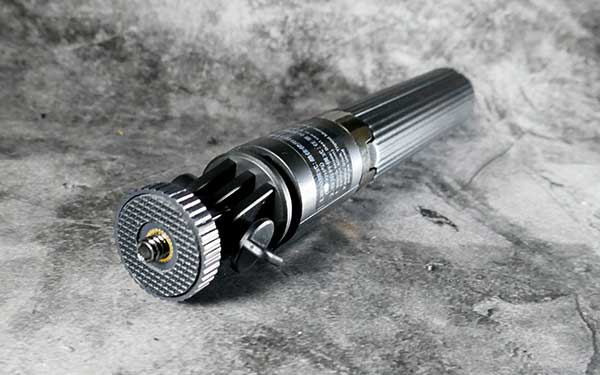 Swap the gimbal out, attach the standard 1/4″ screw, and it becomes "just a stick". Well, this can still be used as a mini tripod and remote trigger. Not sure how useful this is though, and it is definitely not easy to swap the head out quickly… Will people even bother to switch the head!?
BATTERY LIFE & CHARGING TIME
On paper, the battery should last a good 2 hours. I have not gone that far, neither do I have that much to film… But it did survive an hour of test run. So I figure it should be good enough for anyone who wants to do an hour-long live or short filming session.
The battery life is not a huge issue either way, as it can be easily charged with a power bank. As for the charging time, it took a little under an hour to go from less than 50% to full.
SUMMARY & AFTERTHOUGHTS

That's all for this review, and here is a small section on some extras and links that may be useful to you.
TECHNICAL SPECS
As on the box itself.
Main Material: Aluminum alloy
Mount Holder: 58-108 mm
Collapsed Length: 190 mm
Extended Length: 860 mm
Product Reference: 190 X 67 X 40 mm
Product Weight: 216 g
Remote Control Battery: CR1632
Gimbal Battery: 450 mAH, lasts about 2 hours.
Compatibility: At least Android 4.2.2 and iOS 5.0
THE GOOD
Extremely affordable – Maybe even one of the cheapest gimbals out there.
Pretty decent build quality.
Excellent value for money entry-level stabilizer.
THE BAD
Single-axis gimbal.
Not the most stable.
Not really useful for professional work.
AFTERTHOUGHTS
After a couple of months of owning the L08 gimbal, I have to be completely honest… I don't take a lot of videos or have a habit of taking selfies. This stick is pretty much just sitting in a cabinet somewhere, but I am glad I still got it – This still works better than handheld, and I didn't waste hundreds to buy a white elephant that I don't use often.
THE VERDICT – EXCELLENT ENTRY CLASS GIMBAL

Thank you for reading, and we have come to the end of this review. Sure thing, the L08 does not have a half-eaten apple design, and it is not the best in the market. But think about it, the price point offers insane bang for buck.
While I will not recommend this for professional work, but it is still a good entry-level for anyone who wants to get started with videography without breaking the piggy bank. If you have anything to share with this review, please feel free to comment below. Good luck and may the cyber force be with you.