Welcome to a guide and list of the different types of computer monitors. Once upon a time in the Cyber Stone Age, computer monitors are massive devices that require the world's strongest man to move. Today, we have screens so small that they fit in pockets. Just how many different types of monitors are there? Let us walk through a quick introduction in this guide. Read on!
TABLE OF CONTENTS
1) CATHODE RAY TUBE (CRT)

This is one of the most traditional computer monitors. Big, bulky, and perfect as training weights. Even though CRT monitors are rare and no longer produced in large quantities, there are still some good sides to them.
HOW IT WORKS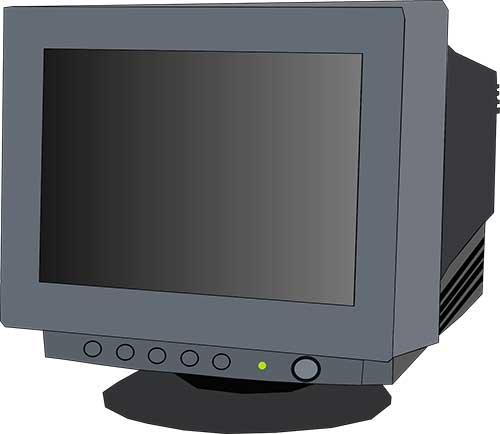 At the heart of the CRT monitor are a cathode ray tube at the rear end and a fluorescent screen at the front. The science geek-sounding cathode ray tube is essentially a vacuum tube with an electron gun, which through another science geek process called thermionic emission, generates a strong beam of electrons.
With the use of various electromagnetic devices, that beam of electrons can be controlled and fired out of the tube at high speeds. The electrons finally hit the fluorescent screen at various points to create an image.
PROS
Because CRT monitors are deemed as "obsolete technology", you can probably find a used one at very affordable prices… or for free.
No such thing as a "dead pixel" on a CRT monitor. Will go through that below on LCD/LED monitors.
Very wide viewing angle; You can clearly see the image on a CRT monitor from almost any angle.
Glare from the fluorescent screen.
CONS
Big, bulky, occupies a lot of space.
Power-hungry.
If you are sharp, you will spot some flickering on a CRT monitor due to the refresh rate.
Leave the same image on the screen for too long, and the electrons will burn it permanently onto the fluorescent screen.
2) LIQUID CRYSTAL DISPLAY (LCD)

This is the "flat piece of paper display" that took the market by storm, otherwise also known as the "flat panel display". Small, lightweight, somewhat flexible, and power-saving – It is easy to see why they became so popular quickly.
HOW IT WORKS – IN A NUTSHELL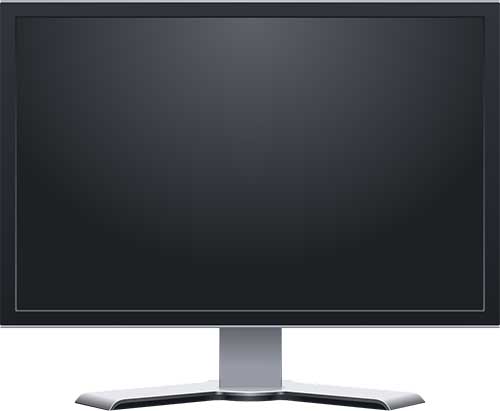 There are a few layers on an LCD monitor.
At the rear is a layer of cold cathode fluorescent (CCFL) backlighting.
In the middle is a layer of liquid crystals sandwiched between polarizing filters.
Finally, in front is a layer of red, green, and blue color filters.
Images are displayed on the screen by polarizing the light in varying amounts and passing it through the liquid crystal layer.
PROS
Compact, lightweight, and space-saving. Perfect for both desktop and mobile devices.
LCD monitors don't consume as much power as CRT monitors… To be exact, they consume less than half of what CRTs do.
Depending on the type of LCD screen, matte screens do not glare as CRTs do.
Minimal image flicker.
No problems with image burn.
CONS
Dead pixels can happen when the liquid crystals are manufactured badly. These dead pixels will not respond to any signals, and will always be "stuck" to one color… Which is very annoying when you even have one on the screen.
Due to the use of polarizing filters, the direction of the light is limited and we will have problems with the viewing angle. In the older LCD monitors, you can only see what is on the screen when sitting right in front of it.
HOW IT WORKS – THE VIDEO
3) LIGHT-EMITTING DIODE DISPLAY (LED)

If you have been looking for a new monitor, or just poking around out of curiosity, you will notice that people have been using the terms LED monitor and LCD monitor interchangeably.
This is kind of confusing, but yes, LED monitors are essentially LCD… With the exception that LED monitors no longer uses a fluorescent backlight, but LED lights.
THE TYPES OF LCD/LED PANELS
Twisted Nematic (TN) – Most affordable, high refresh rate, but bad color reproduction and viewing angle.
In-plane Switching (IPS) – Slightly more expensive, but good viewing angles and colors. Slightly lower refresh rate.
Multi-domain Vertical Alignment (MVA) – A cross between TN and IPS.
Patterned Vertical Alignment (PVA) – Also a cross between TN and IPS.
LCD VS LED
4) PROJECTOR

Well, this is not really a "conventional monitor", but you have probably seen one of these around – Projectors are commonly used in schools, offices, and even in movie theaters.
HOW IT WORKS
Remember how LCD monitors work? By controlling and bending light with liquid crystals to display the image, modern LCD projects pretty much employ the same idea. But instead of using the "power saving" LED lights, projectors use a powerful light source such as halogen to project the image out onto a solid surface.
PROS
Able to project images onto a wide area, turns an empty wall into a useful screen.
Used to be expensive, but getting affordable these days.
Some projects are portable these days, good for presentations and movie nights.
CONS
No good in bright areas.
Image quality and colors are definitely not as good as CRTs and LCDs… Unless you are willing to spend thousands on a "movie grade" projector.
The bright light source usually heats up quickly.
SUMMARY & LINKS

In this final section, we will put all the computer monitors side-by-side for a quick comparison… There is no perfect technology, only different ones.
IN A NUTSHELL
| | | | |
| --- | --- | --- | --- |
| | CRT | LCD/LED | Projector |
| Size | Big, bulky, and heavy. | Slim and lightweight. | Varies. There are portable projectors, as well as insane large ones. |
| Price | Can probably get a used one for cheap. | Varies. The newer LED displays can be quite expensive. | Varies. |
| Viewing Angle | Very wide-angle, definitely better than LCDs. | Depends. IPS panels have decently good viewing angles. | Very wide-angle… It's a projection. |
| Glare | Glass screen that causes glare. | Depends, but matte LCD panels do not glare. | None… Unless you project onto glass? |
| Flicker | Slower refresh rate, you might see flickers. | Negligible. | Negligible. |
| Burn | Causes image burn if you leave the same image on for too long. | Not affected. | The bulb burns out if you leave it on for too long. |
| Power | Power-hungry. | Uses about half of CRTs. | Power-hungry. |
LINKS & REFERENCES
THE END

Thank you for reading, and we have come to the end of this guide. I hope that this has helped you to better understand the types of computer monitors, and if you have anything to share with this guide, please feel free to comment below. Good luck and happy computing. May the cyber force be with you.