There are a ton of image editing applications out there today, and all of them seem to be rather promising. But just which one of them cater the most to cosplay photos in particular? Which is the easiest to use of them all, and which is the most capable of them all?
Being a photographer, I have mostly used the "heavyweight" Photoshop and Lightroom. But the mobile apps also seem to be mighty decent as well. So I have installed some of these apps, and let us see if they live up to their reputation – Read on to find out!
TABLE OF CONTENTS
Section A
Rating System

Section B
Mobile Apps

Section C
Desktop Apps

Closing
Which is the best?
SECTION A
THE RATING SYSTEM
The below apps shall be rated for the following 3 factors :
Ease of use: How easy is it to learn and use the app? 1 star for "very difficult" to 5 stars for "very easy".
Functionality: What functions does each app have, and what can it do? 1 star for "very simple editing" to 5 stars for "sky is the limit".
Twist: How useful is this app for cosplay photo editing? 1 star for "not useful at all" to 5 stars for "extremely useful".
SECTION B
APPS FOR THE MOBILE
1) Meitu
This Chinese app is crazy popular in the east. Targeted at the female "selfie" population, most of Meitu's functions are on photo retouching. Slimming, smoothing, brightening, and eye enlargement all at your fingertips. Pretty amazing for a mobile app. Good for those of you who are into cosplay selfies, and quick edits.
2) Zombify
A very interesting app! Turn anyone into a zombie. Very useful when you are doing "zombie series"… or just want to have some random fun of turning characters into zombies.
3) Photo Lab
| | |
| --- | --- |
| Links | Android |
| Price | Free |
| Ease of use | |
| Functionality | |
| Twist | |
Another interesting app with a lot of filters to play with. Well, they do not directly apply to cosplay, but still, it's cool to become a street graffiti or be on the cover page of a magazine.
4) You Makeup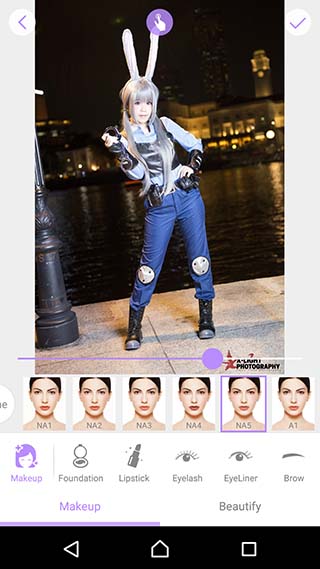 | | |
| --- | --- |
| Links | Android |
| Price | Free |
| Ease of use | |
| Functionality | |
| Twist | |
This one is weird, at least for a guy. This app is like a make-up artist in your pocket… but the foundations are so feminine. It really just does not apply to guys that much. Well, still useful in a way or two when you are too broke to buy cosmetics.
5) Photoshop Express
How well does the little brother of Photoshop hold up against the big daddy? Disappointing. Photoshop Express has the basic retouching features and nothing else to offer. Well, at least it's free, it's easy to use, and nothing is broken. It basically works. Period.
6) NiceEyes
| | |
| --- | --- |
| Links | Android | iOS |
| Price | Free |
| Ease of use | |
| Functionality | |
| Twist | |
Use Nice Eyes when your colored lens is the wrong color… otherwise, this app seems to have nothing else to offer.
7) Magic Photo Effects
| | |
| --- | --- |
| Links | Android |
| Price | Free |
| Ease of use | |
| Functionality | |
| Twist | |
This is a pretty fun app! It has plenty of magical effects and stuff… Although some of the effects can be a little too "over" and not suitable for various shots.
8) Photo Grid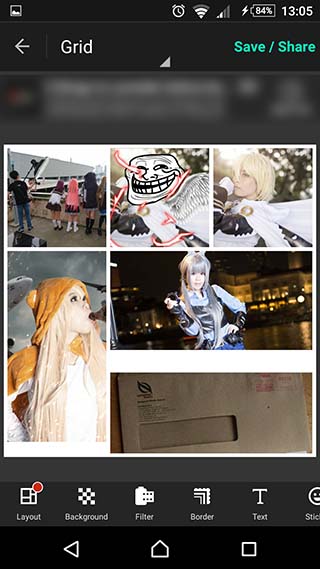 | | |
| --- | --- |
| Links | Android | iOS |
| Price | Free |
| Ease of use | |
| Functionality | |
| Twist | |
As the name of the app goes, Photo Grid is good for creating collages. Good for you guys who are into taking a lot of selfies, or combining a group shot.
9) Pixlr-o-matic
This app is for you hippies who are into the Lomography, "old feel" type of photos. Does it apply to cosplay? Yes, I am sure it will be pretty cool for some photos, and for the rest – nah.
10) 8bit Photo Lab
| | |
| --- | --- |
| Links | Android |
| Price | Free |
| Ease of use | |
| Functionality | |
| Twist | |
The last app I have here is the 8bit Photo Lab. Sorry to the young ones, I don't think you will appreciate this. 8bit Photo Lab turns your photos into that old school Amiga, Game Boy, or CGA pixelated goodness. Much fun it is, much nostalgia it is.
SECTION C
APPS FOR THE DESKTOP / LAPTOP
11) Adobe Photoshop
| | |
| --- | --- |
| Links | Website |
| Price | US$10.00 per month, the price may differ slightly for different regions. |
| Ease of use | |
| Functionality | |
| Twist | |
The big daddy of all photo editing apps. I have been using Photoshop since the 1990s, and it has never failed to impress. Every new version comes with new tools and impressive features. With Photoshop, you can do nearly anything you want with your cosplay photos. Wind, water, fire, earth, whatever effects you can think of. Your creativity universe is the limit.
Learning Photoshop, however, is not going to be easy. Plus, Photoshop is not free. Well, this is a tool for professionals after all. But the price is not exactly insane for such a powerful tool. At least, it is much lesser than the monthly phone bills here in Singapore.
I will only recommend Photoshop to those who are seriously into digital arts. If you need samples of what Photoshop can do, just poke around my cosplay gallery.
12) Lightroom
Links
Website
Price
S$13.00 per month

(price differs for different regions, see offer below)

Ease of use
Functionality
Twist
The big mommy of photo touch-up apps. Not as difficult to learn as Photoshop, but there is still a learning curve. Used and trusted by photographers all around the world, what else can I say? This is definitely one of the best apps you can get.
13) GIMP
| | |
| --- | --- |
| Links | Website |
| Price | Free |
| Ease of use | |
| Functionality | |
| Twist | |
The GIMP is a free alternative for Photoshop. Don't be mistaken that the GIMP is some poorly made, lousy free app. The GIMP has been around for over a decade now, and it is available for Windows, Linux, and Mac. It also supports various languages too.
This is simply one of the most powerful tools you can get for free. Not an easy tool to master, but probably way more capable of any other apps out there. I will put this on almost the same level as Photoshop. GIMP is capable of creating all sorts of effects, even though it is not on par in terms of functionality with Photoshop.
14) Paint.NET
| | |
| --- | --- |
| Links | Website |
| Price | Free |
| Ease of use | |
| Functionality | |
| Twist | |
I am sure most Windows users are familiar with Paint. That app for 5-year-old kids to scribble on, and draw some artistic stickman figures? Well, Paint DOT NET is exactly an improved version of Paint. Plus, it is free.
This app is capable of doing some basic image manipulations, but nothing really too fancy. Just don't expect this to be on "Photoshop level"… you might be able to make a cosplay meme or two with this one.
15) IrfanView
| | |
| --- | --- |
| Links | Website |
| Price | Free |
| Ease of use | |
| Functionality | |
| Twist | |
Yet another free software. IrfanView is an image viewer and editor. It has most of the basic functions – rotate, crop, adjust colors, brightness, etc… Apart from that, it's has nothing "fantastic" to offer. Good software to have, only if you are into the basics of organizing your photos, and doing some simple corrections.
16) Fotor
Links
Website
Price
Free

Pro at USD39.99 / year or USD8.99 / month

Ease of use
Functionality
Twist
Fotor is an image editor supported on almost all platforms – Online, Windows, Mac, iPhone, and Android. Pretty good, I have to admit. You can do simple editing, retouching, create collages and even design covers for your Facebook, Twitter, etc…
Although Fotor cannot create effects on the "Photoshop level", it is still mighty capable of creating some interesting cosplay collages and cover pictures for your social media.
CLOSING
WHICH IS THE BEST?
I know, there are a lot of apps and even more that are not on this list. But which is the best app of them all? Photoshop of course, since you can do anything with it. 😆 But really, it is up to you to decide what works for you. Well, if you feel like it, comment below and share your favorite apps. Until then, cheers and happy shooting!