INTRODUCTION
WHAT IS EASYPRENEUR?
Easypreneur claims itself to be "The World's Easiest Entrepreneurship System", with a "step-by-step" proven system. The tagline is somewhere along "copy these steps, this system, and you will find success". A bold claim, but is it really so? Let us find out in this Easypreneur review – scam or legit?
The world of online entrepreneurship is alluring, with the potentials to earn big money – and even passively while you sleep. But this journey is not easy, which I am sure many tried, failed, or just got scammed outright.
Yes, it is a difficult and arduous journey. But what if there is an "easy way out", or at least an "easy start"? That is what Easypreneur claims, and I signed up to find out more. I usually don't just sign up for such programs, but here in Singapore, they do have a physical classroom. That added a lot to the legit meter and moved me to find out more.
OUTLINE
THE OVERVIEW
Price
$67 (you can get it for $7!?)
Upsells
Easypreneur Blueprints $9.95

Easypreneur Toolkit $47

Email Vending Machine $39

Easypreneur Lifestyle System $97

Links
Official Website: Click Here

Owner: Imran Md Ali

Overall

Nope. Not really a good one.
THE PACKAGES
Let us take a closer look at the packages they offer:
Easypreneur Blueprints
The first of the package and a fairy huge set of ebooks. It consists of all the basic information required to set up and run a profitable website.
Easypreneur Toolkit
A huge set of ebooks on content strategy, copywriting and templates that you can use to generate content.
Easypreneur Machine
A set of ebooks on email marketing, and email templates you can use for your marketing efforts.
Easypreneur Lifestyle  System
The final part touching on outsourcing and automating your money-making website.
Easypreneur 2.0 Update: Easypreneur Dashboard
Easypreneur now has an online portal, with step-by-step instructions on setting up your money-making site.
HOW TO MAKE MONEY WITH EASYPRENEUR
Easypreneur offers a couple of ways to make money:
Sell Easypreneur itself as an affiliate.
Invite people into Easypreneur as a reseller.
If you are adventurous, you can create your own product and website.
Selling Easypreneur is optional. But the whole idea of Easypreneur is that, if you can master selling Easypreneur as a start – you graduate and can probably sell any other products out there; be it your own product, or as an affiliate.
Easypreneur 2.0 update: Easypreneur now offers more alternatives for setting up your own money-making site. They have complete website templates for 5 niches: Men, women, weight loss, make money, and weight loss.
W
HO IS EASYPRENEUR FOR?
Easypreneur is intended for anyone with an interest in Internet Marketing, regardless of skill level.
An undergraduate
A working adult
Retired worker
Marketers
But having run through the program myself, I found that having that technical-know-how on the Internet will give you an edge over many things. People who has no prior experience in the IT industry will have to overcome this technical hurdle in this course.
SNEAK PEAK INSIDE – DASHBOARD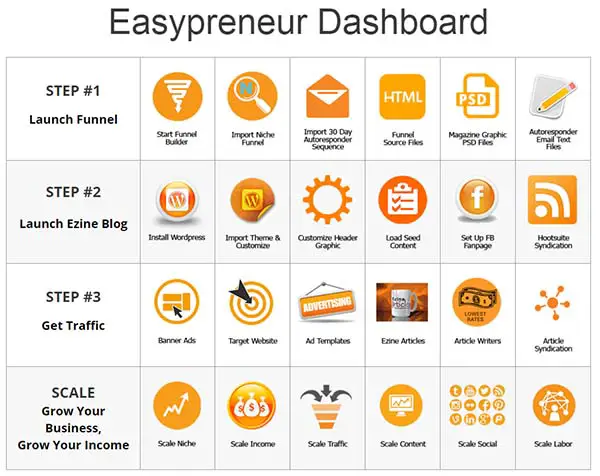 The Easypreneur 2.0 dashboard looks pretty impressive, and it does take the newbie steps from setting up a blog to promoting it. But as per my concern – it lacks support. Opening a support ticket (in another platform), or emailing will take some time for them to return.
DOES EASYPRENEUR DELIVER?
Yes. Easypreneur does deliver all the e-books as promised, and they are all packed full of information, and templates that you can use in your marketing efforts immediately. But first things first, you need to know the big picture and what you are doing exactly. This is where Easypreneur fails – it paints a fairly vague picture of where the gold is, and you are expected to figure out the rest yourself.
Easypreneur is also one of the programs which I have joined as a reseller, because of the classes they offer. Not any webinar classes, but an actual class in Singapore. From time-to-time, they still offer extra classes in Singapore. But to me, they are disjointed bits of information. Good as tips, but did not hit the pot of gold directly.
THE GOOD AND BAD
THE GOOD
A lot of training materials, templates, and good tips that you can use instantly. Dedicated support for resellers.
THE BAD
Too much disjoint information that you need to "connect the dots", and make sense out of it. Too much upsell, low value-for-money.
FINAL THOUGHTS
Having known Imran myself, Easypreneur is definitely not one of those "get-rich-overnight" scams. Easypreneur does have a physical office in Singapore and is run by a completely legit company. It may be expensive to join as a reseller, but they do provide you with good information, lessons, tips, and dedicated support.
While Easypreneur does offer a lot of training materials and tips, there is a serious lack of training videos, a clear step-by-step system, and also, the absence of a supportive community. The materials in Easypreneur provide good support for your marketing efforts, but will not direct you to the pot of gold.
Easypreneur might still be a good place to take that first step out, but you will have to sort things out yourself. I can only hope the Easypreneur team review the system and improve it over time. Easypreneur 2.0 edit and updates: The true value of Easypreneur seems to come only if you make full use of their following lessons and dedicated support; It will be foolish not to do so.
Even so, I personally feel that Easypreneur is slowly "fading away". It is not actively trying to follow up, nor are there great improvements.
2020 FINAL UPDATE
Yes, "Easypreneur" is officially long gone and has evolved to become… something else. This will probably be my final update, but it is still interesting to see people searching for "Imran scam" and end up here. Well, yes, his YouTube and Facebook ads are irritating. 😆
But he is still in my Facebook friends list – Despite some of the negative stuff people say, it is actually nice to know him, catch up with him, and get a few pieces of marketing advice. No worries, I doubt I will ever become that high-profile nor spam "Hi! I am WS" ads.
RECOMMENDATION
If you are looking for the true "Easypreneur", I will recommend Wealthy Affiliate – read my review here. Wealthy Affiliate offers true step-by-step training, tips, videos, and has a huge community that you can chat with and get support from. Plus, it is entirely free to join. No credit card required until you decide to upgrade to a premium member.
| | | |
| --- | --- | --- |
| | Wealthy Affiliate | Easypreneur |
| Get help easily? |   | |
| Live Chat |   | |
| Free to try |   | |
| 1-on-1 Coaching |   | |
| Private Access to Owners |   | |
| Step-by-step training | | |
| Free Websites | | |
| Keyword research tool | | |
| 24/7/365 Website Support |   | |
| Affiliate program | | |