INTRODUCTION
WHAT IS WEALTHY AFFILIATE?
Scam, scam, and scams everywhere on the Internet. There so many scams out there that I simply gave up on reviewing every single one of them. But this Wealthy Affiliate review that you are reading – is a 100% legit program that works. If you are one of the skeptics who are tired of being scammed, just have some patience to read this review to the end. Wealthy Affiliate (WA) is definitely a rare gem. Promise.
Let me just go through a little bit on what WA is all about first. It was founded all the way back in 2005 by Kyle and Carson, and their mission is to help people make money online via affiliate marketing (and many other means).
OUTLINE
THE OVERVIEW
Price
FREE to join

Premium Membership at $49 per month

Upsells
None.
Links
Official Website: Click Here

Owner: Kyle and Carson

Overall

Highly Recommended
SO… HOW IS THIS DIFFERENT AND NOT A SCAM?
I know, if you have been in the "Make Money Online" circle for a while, you probably already know a ton of "Make Money Online" programs out there. Sadly, most of them are only good on their sales page, they seem very promising but delivers nothing. As the wise old saying goes – The empty barrel makes the most noise.
WA has been around since 2005 and has helped thousands of people make an income online. WA is definitely not some outdated product and is constantly being updated. Plus, it is not just a set of stupid training videos. You will get access to the owners PLUS all the experienced folks – WA is a social platform where you can chat and follow up with real people, get real support.
As you can see, WA is really a bustling community of people. It is like a Facebook or Twitter full of like-minded people who want to make a living online. Still skeptical? It is free to join and try – no credit card required. This is one gem that just gets even more polished over time, and it is too good to miss.
WHAT YOU GET WITH WEALTHY AFFILIATE
What is so special about WA that deserves so much praise? First off, it is not a scam for sure. Repeat – Wealthy Affiliate is completely free to join, and no credit card is required to join. Premium membership does come at $49 a month, and there are no upsells what-so-ever. Even as a FREE member, you will get:
2 Websites
Beginner Training Course
Personal Blog
Video Walk-Through
Keyword Research Tool
WA does not tout itself as a "get-rich-quick" scheme, but a complete online business training program. Meaning, WA focuses on educating individuals instead of "promising" you "big bucks" when you join in.
If you follow the training and take all the necessary actions, you will most likely succeed in running your own online business – and start making some legit money off your website. If you need an example, Red Dot Geek (this blog) is already my second money making blog.
Also unlike any other programs, WA is really a community of like-minded people who want to make money online. Instead of being "left alone" to try things out, help is around every corner – Private Messages, Forum, and even a live chat.
HOW TO MAKE MONEY WITH WEALTHY AFFILIATE
In a nutshell, WA offers a 4 step process to help you make your first dollar online, and generate an online income thereafter.
Choose an interest
Create a website
Get rankings and generate traffic
Earn revenue

For example:
Interest – I am a tech guy, I love playing with gadgets.
Create a website – I can create a website about reviewing gadgets and offering some tech news.
Generate traffic – I share the articles on social media.
Earn revenue – I can sign up as an Amazon affiliate, and place gadget advertisements on my website. When people read my reviews and are convinced, they purchase the product through my Amazon affiliate link – I make a sales commission.
WA has a comprehensive guide that will help you along with step-by-step instructions on how to do these exactly. Even when you stuck or unclear about certain things, you can get easily help through the various communication channels on WA.
Once you have success on your first site, you can literally replicate your success for any of your other interests… or you can even sell your knowledge as a service to help other people. What you learn on WA is for you to keep for a lifetime.
SNEAK PEAK INSIDE
When you first sign into WA, you will get a very confusing control panel. But after a few minutes of messing around with it, you will realize this is pure gold.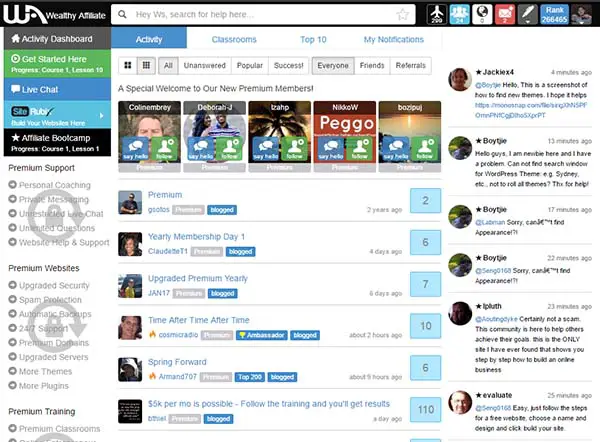 A "Get Started Here" step-by-step instructions on setting up your own website. (Which I skipped because it's too basic for a geek with 10 years experience in web development… and I already have a website :P)
An "affiliate boot camp" on how you can monetize your website by promoting Wealthy Affiliate – even as a free member.
The website hosting is included with your membership! (2 websites for a free member, which you can delete or reset if you mess it up)
A full-featured social platform – It's just like Facebook for like-minded people who want to make money online.
A Live Chat – Where you can get help from the community, instantly.
So you see where this is going. WA is not just any other empty program, it really is a portal and community to help each other succeed.
WHO IS WEALTHY AFFILIATE FOR?
Wealthy Affiliate is designed for everyone interested in Internet Marketing, regardless of skill level – from a complete newbie to experienced marketer!
A student who is trying to make an extra income online
Working adult who wants more flexibility
Retired people, looking for an additional online income
People who want to turn their hobby into a business
Local businesses trying to do better online
Internet marketers looking to improve themselves
It really does not matter which walk of life, WA simply welcomes people who are serious about making money online.
But needless to say, Wealthy Affiliate is not for those who have the "investment mindset" (I put in money, I do nothing and wait for money to roll in). That is not how Wealthy Affiliate works, WA is a place to learn and share, you have to take necessary action and work towards your goal.
DOES WEALTHY AFFILIATE DELIVER?
Yes, and they over deliver. WA is simply packed full of videos, tutorials, support, and an awesome community – which you can learn various ways to make money online. It is a steal that the membership even comes with your own website, hosting and keyword research tool!
THE GOOD AND BAD
THE GOOD
Heck-a-lot of contents and a supportive community. You really can't go through the contents in a single day, and they teach you everything on literally every subject – Internet Marketing, Content Writing, SEO, Email Marketing, Video Marketing, etc…
THE BAD
Intimidating interface and overwhelming for beginners. It's really confusing at first, and you will need time to familiarize yourself. Beginners will probably "freak out" by how responsive the community is. I also found the 7 days trial to be a bit too short.
FINAL THOUGHTS
WA is not some "get-rich-quick" scheme, but a community of people who "pay-it-forward". WA focuses on long-term success instead – help each other succeed and achieving that "win-win" situation. Definitely a must-try. It is free to join, and comes with 7 days premium membership trial.
So yes, if you are tired of programs that do not deliver, give WA a try! It is completely risk-free unlike any other programs – No credit card required to join, and you can upgrade whenever you feel that WA is the right choice for you.