INTRODUCTION
ARTIFICIAL INTELLIGENCE WIN
Are you looking for ways to make more money online? Want to increase your current online ad revenue? Improve website performance, and reduce bounce rate? All of these for free too!? Yep, sounds too good to be true, who in the right mind will even give these away for free? But as things turn out, a company called Ezoic is actually doing it.
Yes, I have my fair share of skepticism when I first heard of Ezoic too. But as things turn out, Ezoic's claim of "increasing your online revenue" is very real. After a couple of months and 2 websites with Ezoic, my online revenue has indeed gone up very sharply – Easily double the usual. How the heck is that even possible?
Well, probably because Ezoic is a Google certified partner, and they have access to a good amount of advertisements. But the real secret sauce behind Ezoic is machine learning, using AI to optimize the placement of ads. So just how does Ezoic work? Who can apply? Should you apply? What results can you expect? Read this review to find out!
OUTLINE
THE OVERVIEW
Requirements
To qualify, your website must have at least 10000 page views monthly. No adult, gambling, or "bad" niches allowed.
Price
Free – But Ezoic will put a small ad at the bottom of each page.

Professional – To remove the ad, $49 per $1000 of revenue. (As at the time of writing)

Enterprise – Contact Ezoic directly.

Integration

A total breeze with WordPress and Cloudflare. Just install the plugins.
Features

Not just ads, Ezoic also offers plenty of free reports and insights.
Performance

Does improve ad revenue, but slows the site down. Rather messy code.
Support

Dedicated account manager, tech support.
Overall

Highly recommended for bloggers – Free boost to ad revenue!
NAVIGATION
TABLE OF CONTENTS
SECTION A
WHAT IS EZOIC?

First, let us start with the very basic question – What is Ezoic? Who are they and what kind of magic do they perform?
INTELLIGENT PLATFORM, NOT AN AD-NETWORK
Now, not to be confused, Ezoic is not an ad-network. That is, they are not the same as Google Adsense, Bing Ads, AdBrite, and many more; They don't accept advertisers, nor do they serve ads on their own directly. What Ezoic does, is more like a middle-man.
Ezoic only accepts established publishers (websites) that have at least 10000 page views a month, and not in the "bad" niches (adult, gambling, guns, violence, etc…).
Ezoic is a Google certified partner – Yep, they get most of their ad inventory from the Adsense network, and also from various other advertisement networks.
Being a partner with various networks, Ezoic has a huge stock of ads and is able to serve more – That is how they are able to offer a better rate than usual.
But the true winner is machine learning. The Ezoic platform will automatically test out various places to put ads and figure out which layout is the best – The longer you use Ezoic, the more data they have, the better they are able to optimize it.
SECTION B
INTEGRATION & SETUP

So how is the signup process like? How difficult is it to integrate with Ezoic? Let us walk through the setup process in this section.
PRE-REGISTRATION CHECKLIST
Your website must have at least 10000 page views a month.
Not in the "bad" niches – Adult, violence, gambling, etc…
Google Analytics (or ways to prove that your website has sufficient traffic).
Ample amount of contents.
Optional, but the integration will be a lot easier if your website is already on Cloudflare – Check with your host support if not sure.
SIGNING UP & VERIFICATION
To get started, we have to first fill in the registration form on their website (I will leave a link at the end of this review if you are interested to join). Ezoic responded to my registration within just one day, asking for access to data on Google Analytics – Yep, they will verify if the blog is a good fit and has sufficient traffic.
SET UP STEPS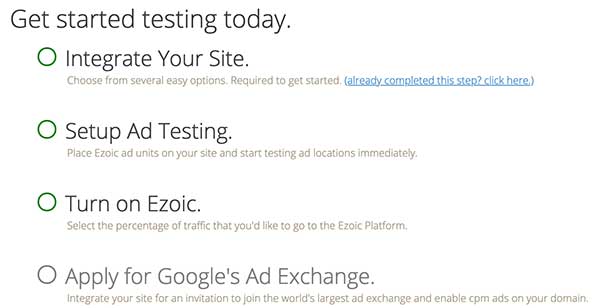 Next is probably the most complicated part. There are 4 parts to setting up Ezoic on your website:
Integration – Through various means.
Setting up ad testing – Where you want the ads to show up.
Turn on Ezoic – When you are ready.
Apply for Google Ad Exchange – Get more quality ads for your website.
But not to worry, Ezoic will actually walk you through how to do it if you are stuck at any point.
INTEGRATION
If you are using WordPress or Cloudflare, the integration is going to be an absolute breeze:
Cloudflare: Simply enable the Cloudflare app in the Ezoic dashboard. Yep, Ezoic is also a Cloudflare certified partner, and once turned on, they will do the rest of the magic.
WordPress: Simply install the Ezoic plugin.
The Rest: If you are not using WordPress, not on Cloudflare, or cannot control the domain – There are also various other means, just fire a question to the Ezoic tech support.
P.S. You are still in control of your own website even after the integration. Ezoic can be turned off at any time should you need to some of your own testing, migration, and stuff.
AD TESTING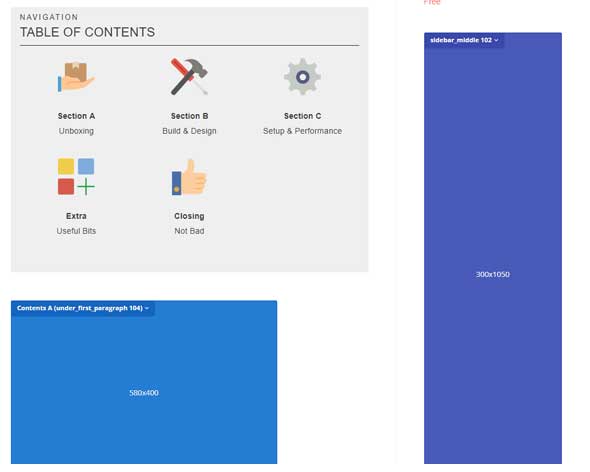 This part is a tad bit more interesting. Remember how Ezoic is an artificial intelligence platform? Yes, we can define placeholders with Ezoic, the possible areas to place ads, and the platform will do the rest automatically over time to optimize the results.
Again, Ezoic can set the placeholders up for you if you are unsure. You can also manually remove the placeholders at any point – I have removed some above the fold placeholders for SEO purposes (I figured most people wouldn't like ad-in-your-face when the page loads).
GOOGLE AD EXCHANGE
Just a necessary pain… Registration with Google Ad Exchange is required for Ezoic to be able to do their magic.
LAUNCH!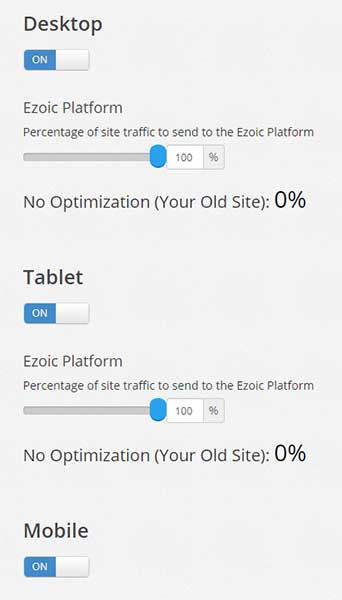 When all is done, the final step is to launch it – We can even control the amount of traffic to send to Ezoic.
HOW LONG SETTING UP TOOK – 1 WEEK
From registration to fully integrated and running, it took about an entire week. Yep, could be a little faster, but can't blame Ezoic entirely either. Setting up the Ad Exchange, DNS records, and all the rest of the administrative stuff are beyond Ezoic's control.
SECTION C
PERFORMANCE
Now for the million-dollar question – Just how well does Ezoic perform? How long did they take to optimize, and how much more to expect?
BEFORE EZOIC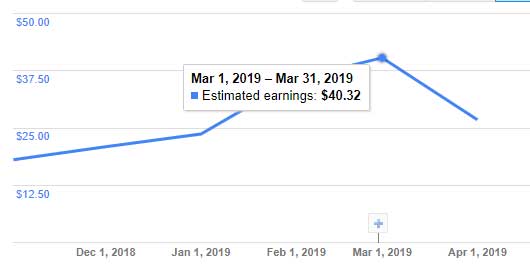 Before I moved my blog to Ezoic, it was already on Google Adsense. The sad part is that it barely made $1.00 a day despite having several hundreds of visitors a day – Yep, this is for a relatively new blog less than a year old.
GROWTH WITH EZOIC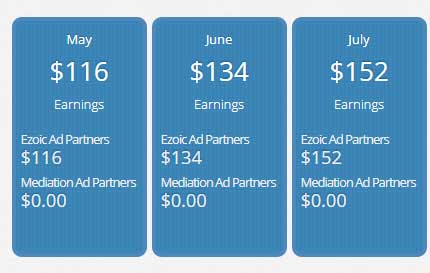 But guess what? Granted that the blog continued to have a steady growth in traffic, I would still say that Ezoic has easily more than doubled my earnings – Plus, it did not stop growing as the AI obtained more data on how to optimize the site.
UPDATE – AFTER 8 MONTHS

A small update after 8 months with Ezoic – An insane boost to the ad income, and I am not even on their premium ad network. Of course, this is also due to explosive traffic growth on my blogs. But the whole point is, they work as advertised. The more data Ezoic has, the better they can optimize the ad income over time.
PAYMENT MATTERS
As amazing as the revenue growth may be, the payment cycle is probably what irks most people. Ezoic only pays at the end of the month, for the earnings of the previous month. E.G. Earnings in January will only be paid at the end of February.
I can't blame Ezoic for this again, as they have to work with multiple networks to get payment. But the small bummer aside, Ezoic actually offers many payment methods:
Payoneer
Paypal
Cheque
Bank Transfer (US only)
Payoneer Bank Transfer
Another big plus to Ezoic is that they are extremely timely and reliable with their payments – Never missed a payment date so far.
SECTION D
FEATURES

The even better part with Ezoic is that they also offer many tools and reports – Here's a small sneak peek of what they offer.
THE CONTROLS
Apart from the placeholders and traffic limits, Ezoic also offers a lot of controls. Don't want to show ads on your blog shop? Disable ads by the page. Don't want too many ads to flood your blog? Then set a max limit number of ads. Don't like a certain category of ads? Block it.
REPORTS – BIG DATA ANALYTICS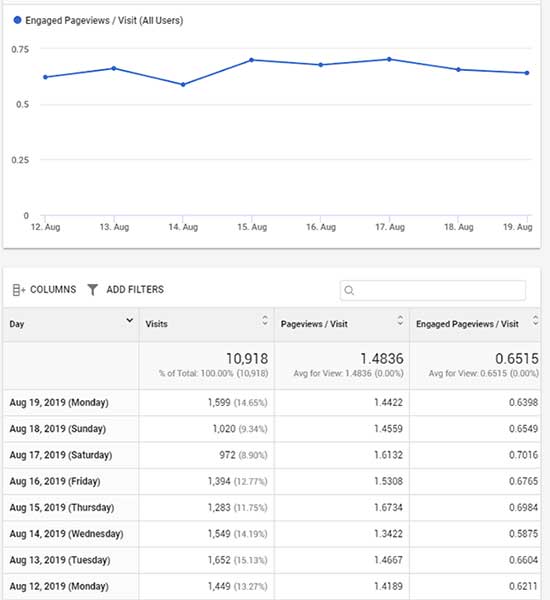 The Big Data Analytics is something that Ezoic added in July 2019 (or sometimes around). Google Analytics users, this should be a very familiar interface… But yep, Ezoic does seem to have built this on top of existing data from Google Analytics.
It does offer a lot more ad revenue reports, and also the user interactions – Very useful if you are into data mining and looking for ways to further monetize your popular pages.
CLOSING
SUMMARY

That's all for this review, and here is a small summary and links that may be useful to you.
THE GOOD
Easy entry requirements – 10000 page views, perfect for new blogs.
Easily earn more ad revenue.
Tons of free tools and reports.
Great support – They always respond.
Multiple payment methods, reliable and timely.
THE BAD
Pretty slow in setting up.
Have to wait till the end of next month for the payment.
It does somewhat slow down the entire website.
WIN-WIN SITUATION
Thank you for reading, and we have come to the end of this review. Sure thing, Ezoic is not a premium ad network that will help you to make millions overnight. But they do have an easy entry requirement that is perfect for new to medium-sized blogs.
The best part is, it's literally free! A free boost to your revenue, possibly double it, a lot of free tools and reports – So why not? Ezoic is almost too good to be missed for the smaller blogs that don't have enough traffic for the "more premium" Mediavine and AdThrive.
I hope this has helped you, and if you have anything to share with this review, please feel free to comment below. Good luck and may the cyber force be with you.
SIGN UP NOW!