Welcome to a review of the Tigernu crossbody sling bag. When it comes to "bags for gadgets", people will usually recommend big brands such as Targus, Samsonite, Thule, and Crumpler. But how about the alternatives? Are there decent bags that cost less and still have decent quality?
Turns out, yes. There is a particular Chinese brand called Tigernu, and they tout themselves to be specialized in anti-theft bags… But is that really so? How good are these Chinese bags? – Read on to find out!
THE OVERVIEW
Price
About USD $20.00 (As at the time of writing)
Links
Official Website: Link
Get from eBay: Click here
Design

Plain Joe. Neither ugly nor pretty.
Build Quality

Good quality material, water-resistant.
Ergonomics

Adjustable strap, can be configured to carry on the left or right.
Anti-Theft

Secure rear pocket, not so sure about the rest of the design.
Value

Excellent value for money.
Overall

Not-so-nice design, but a mighty decent sling bag nonetheless.
TABLE OF CONTENTS
DESIGN & QUALITY

Now onto the sling bag itself – Let us walk through it in more detail.
WALKTHROUGH – FIRST IMPRESSIONS & DESIGN
FRONT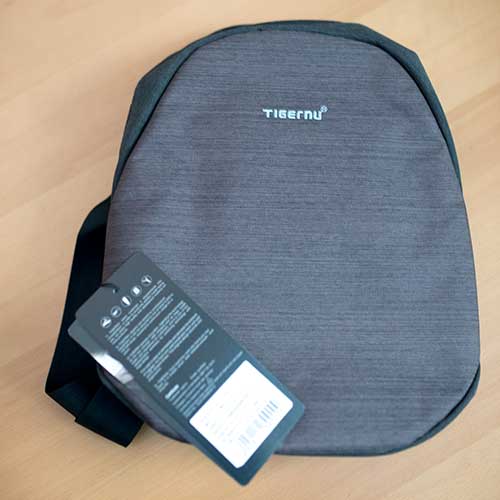 My first impression of this sling bag is WTF. Really. If you look through the photos in the online stores, the sling bag actually looks a lot larger and longer. But in reality, it only measures 32 X 20 X 11 cm (12.6 X 7.9 X 4.3 inch) – That is, it is a lot more of a "stubby and squarish" bag than a "long rectangular" bag.
For the design-wise, there really isn't anything to get too excited over with. It's just… grey with the "Tigernu" logo. Although, please take note that there is another variant of the bag with white/grey color.
REAR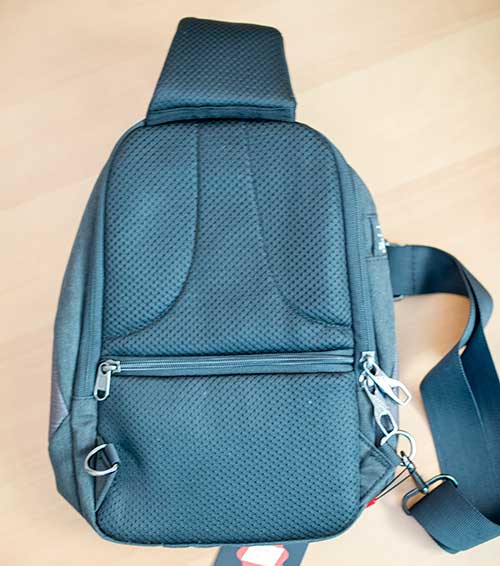 The rear side of the bag is well-padded, and I must say, rather comfortable with the "breathable" design. A "safety pocket" is at the bottom, large enough to hold most smartphones, passports, and some loose change. Access to the main compartment can be done using the oversized zip pullers.
SIDES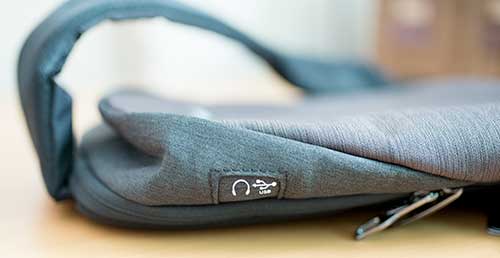 Nothing too exciting on the sides. There is only one USB/earphones passthrough slot on the left-hand side and nothing on the right.
STRAP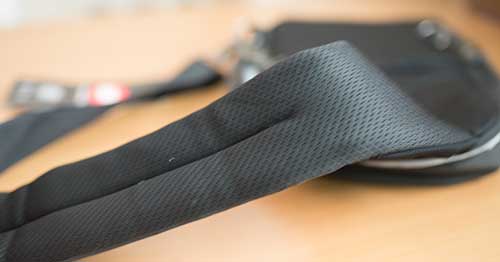 The strap has the same "breathable" design, and comfortably long enough – The length can be easily adjusted by sliding a single buckle.
MAIN COMPARTMENT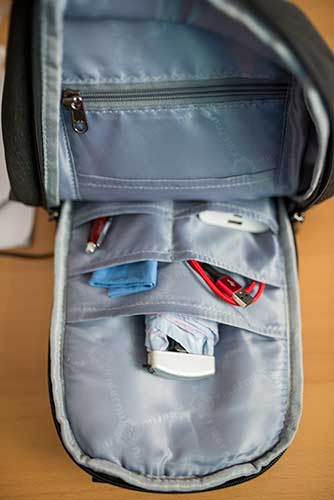 The main compartment is "as advertised" – With plenty of storage space.
At the rear of the main compartment are 2 large pockets, one with a zip for added security.
At the front are 4 smaller pockets and one large pocket.
HOW MUCH CAN THE BAG REALLY HOLD?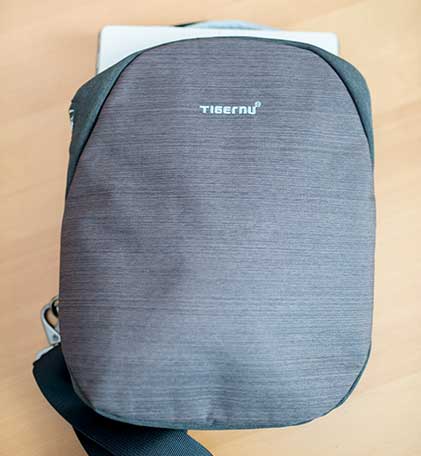 This sling bag should be able to comfortably hold smartphones and phablets of all sizes – Along with all your miscellaneous stuff such as power bank, stylus, earphones, screen wipe, tissue, umbrella, etc… But don't get your hopes too high when it comes to ultrabooks and hybrids.
A 12″ Surface Pro does fit into the bag, but it is not able to zip up properly anymore. So I am guessing that the maximum you can squeeze into this tiny sling bag is a 10″ tablet at the best.
MATERIAL & QUALITY
No complaints on bad material nor workmanship after using the bag for an entire week – The coarse Oxford fabric seems to do well enough. It is durable, and just as the specifications, it is spill-resistant. It does shake off a few droplets of rain, but I will not count too much on it in a heavy downpour… Go get yourself an additional waterproof sheet or dust cover if you work outdoor a lot.
The rear padding also seems to be doing decently well – It does not get uncomfortably hot, and sweat does seem to evaporate off it pretty fast. There is no hot, wet, and disgusting feeling.
ERGONOMICS & HICCUPS
SLING DIRECTION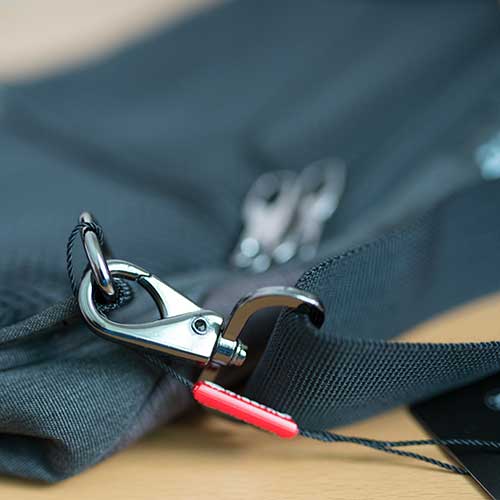 There are hooks on both the left and right side of the bag, so it can be configured to sling either way. Just take note that the strap does not split, and it does not convert into a backpack.
Also, the bag can be carried in front. It may be a fashion thing to do for some of you guys… But it just feels somewhat wrong with this "short and stubby bag". It just looks like a knockoff Captain America with a grey shield in front. Hail Hydra.
STRAP SMARTPHONE COMPARTMENT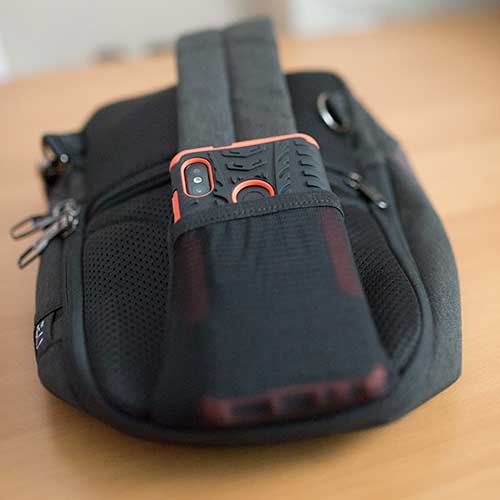 Good news – There is a convenient smartphone holder on the strap.
Bad news – This smartphone compartment is kind of small, and really difficult to squeeze in a 6.3″ phone with casing.
Even more bad news – This compartment seems to only make sense if you carry the bag in the front. It just slops uncomfortable on your back if you carry the bag behind.
USB/EARPHONES CABLE PASSTHROUGH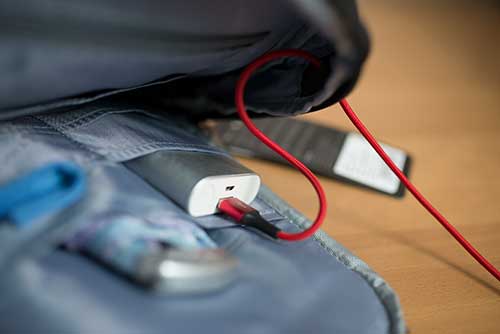 I think that people who have used one of these "USB cable passthrough slots" before will understand the pain. You need to have a long enough cable, and it is kind of inconvenient to poke the cable through every time. So much that some people actually keep a USB cable permanently dangling on the bag… This is why I prefer bags that have an actual USB port, and keep the cables in my pocket instead.
ANTI-THEFT FEATURES!?
At the first sight, this bag seems to have some anti-theft thoughts put into it:
One pocket at the back of the back, that cannot be easily opened.
A zipped pocket in the main compartment.
But the rest of the design really doesn't seem to be too "anti-theft":
The oversized zippers to the main compartment can be easily opened. Also, there are no "safety flaps" covering over it to prevent easy access.
Not too sure about Oxford fabric being "slash proof". Nope, it is not cut-resistant Kevlar.
The smartphone compartment is kind of dumb when you sling the bag behind – You lose sight of the smartphone, it can either be easily stolen or dropped without you noticing it.
There is nothing to prevent people from snatching the entire bag.
The real good anti-theft bags that I know use slash-proof materials for the secure pockets, which are also lockable. They have reinforced points to prevent the bag from snapping while being snatched, an uncuttable cable also runs inside the strap to prevent cuts… You can even use these bags as a shield. Hail Hydra.
Since I don't see most of these actual anti-theft measures implemented into the Tigernu, I will say that it is just a regular crossbody bag.
USEFUL BITS

That's all for this review, and here is a small section on some extras and links that may be useful to you.
SPECS
Model: T-S8061
Color: Black
Fit for laptop size: Up to 11″
Material: Oxford Fabric
Weight: 0.5KG
Size: 32 X 20 X 11 cm (12.6 X 7.9 X 4.3 inch)
THE GOOD
Good quality materials.
Fits all your smartphone and random small stuff nicely.
Excellent value for money.
THE BAD
Boring design.
Small smartphone compartment on the strap.
Not too sure anti-theft measures.
WORTH IT?

Thank you for reading, and we have come to the end of this review. The Tigernu sure is not as "anti-theft" as they claim to be, but that does not remove the fact that they have still produced a mighty decent sling bag – All for the price of $20, and overall excellent value-for-money.
I hope this has helped you to choose your next bag, and if you have anything to share with this review, please feel free to comment below. Good luck and may the force be with you.