Welcome to a review on the TeckNet Wireless Bluetooth Mouse BM308. When it comes to a computer mouse, the usual "big names" will often pop out first – Logitech, Razer, Steel Series, Corsair. But there are also plenty of reputable budget brands out there. TeckNet is one such company that does not put big budgets into advertising, but yet, offers very decent products.
So here it is – A Bluetooth mouse from a company that is relatively unknown, and it costs less than $20… But is it really good? Read on to find out!
THE OVERVIEW
Price
About USD $15 (As at the time of writing)
Links
Official Website: Link
Get from eBay: Click here
Packaging

Cardboard box, manual, bubble-wrapped mouse.
Design

A very usable mouse, but has some small weird ergonomic issues.
Build Quality

Solid mouse, good tactile buttons. Edit – Loose scroll wheel after 6 months after usage. Minus 1 star to build.
User-Friendliness

Almost no brainer – Just press a button, Bluetooth pair. No driver installation required.
Functionality

Works like a champ. Never dropped the connection, very stable. Long battery life.
Value

Excellent value-for-money.
Overall

Despite a few small design quirks, this one really works like a champion.
TABLE OF CONTENTS
UNBOXING

Cheapie it is, at a price of $15. Came in absolutely "barebones" packaging it did.
FIRST IMPRESSIONS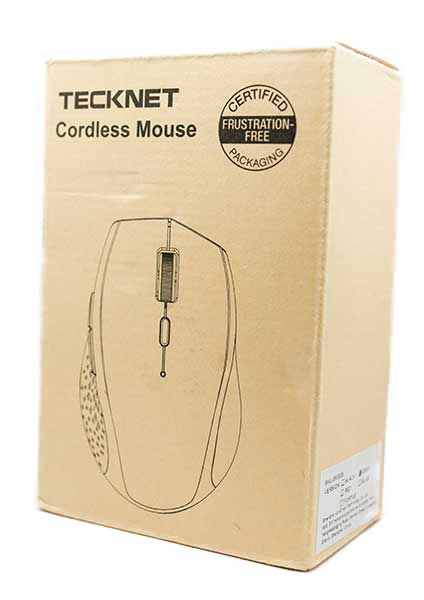 All hail the almighty certified frustration-free packaging! This undoubtedly elegant box is made out of very classy, very common cheap biodegradable brown cardboard. Has a nice touch from the designers, with a picture of the mouse printed on it so you know what's inside. Oh, it even came sealed with brown tape.
Yep, very typical British humor. For those who are wondering – The mouse is made in China, but TeckNet HQ is located in Liverpool.
WHAT'S INSIDE
Inside the frustration-free box are:
Frustration-free bubble wrapped mouse.
Frustration-free warranty card.
Simple frustration-free quick start guide in multiple languages.
Overall, it is just a simple frustration-free package. It works. No sh@t Sherlock.
BUILD & DESIGN

Simple box aside, the mouse itself is actually pretty solid.
WALKTHROUGH
The top-side of the mouse contains:
The usual left and right mouse buttons.
A center scroll wheel that is also clickable.
The button below the scroll wheel is used to cycle between the sensitivity settings.
A small LED light that will only blink to indicate "switched on" or "now pairing".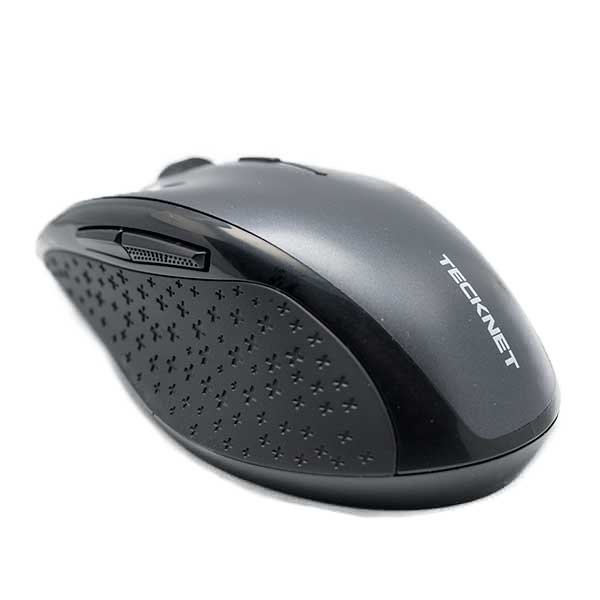 On the left side, we have a grooved ridge to rest the thumb and 2 side buttons; The side buttons are somewhat overly pronounced and pretty weird to press.
Nothing interesting to the right.
At the bottom are:
The on/off switch.
A tiny weeny little button to activate Bluetooth pairing.
The optical sensor.
Of course, it takes 2 X AA batteries – which is not included in the frustration-free package. So to prevent frustration, do remember to buy your own batteries.
OF ERGONOMICS & HICCUPS
Well, I guess the overall design can be best described as a "curvy ergonomic-ish" mouse. Yep, this is not an asymmetric mouse, and please take note that it is made for right-handed people only. Although this mouse is mostly "usable", there are a couple of small things that I will pick on:
The weight and placement of the batteries are totally causing the balance of the mouse to skew backward.
Not quite big enough for big hands. Not sure if this is good or bad… That does make it rather portable though.
The "thumb rest" side of the mouse has grooves, the other side is smooth. It is just a very weird grip on the mouse.
BUILD QUALITY
No complaints about the build quality of this mouse. It has some good plastics and good tactile mouse buttons.
Update: Has a loose scroll wheel after 6 months of usage. A simple DIY fix can tighten it again, but a hassle nonetheless.
SETUP & PERFORMANCE

With that, let us now walk through how well the TeckNet mouse works.
SETTING UP
The initial setup for this mouse is a total breeze. Anyone who has used Bluetooth devices before will be able to figure this out instantly. Just press the pairing button on the mouse, and connect on your device – That's it. Worked on Windows without requiring to install any drivers, paired to an Android without any issues as well.
STABLE WIRELESS CONNECTION
I must give credits to the stability of this mouse. It connects to the computer whenever it is switched on, and never once has it dropped the connection. Very stable too – There are no weird stutters nor sudden movements. This does not feel like a cheap mouse with some half-@ssed wireless parts that don't work.
BATTERY LIFE
As for battery life, TeckNet claims that a good battery should last up to 24-months. That is freaking 2 years. Not sure if it is true, but so far, I have used the mouse for weeks, and it has not yet run out of battery.
THE SUMMARY

That's all for this review, and here is a small section on some extras and links that may be useful to you.
TECHNICAL SPECS
Buttons: 6 buttons
Bluetooth Version: 3.0
Number of Channels: 16
Resolution: 800, 1200, 1600, 2000, 3000 DPI
Dimensions: 112 X71 X 41 mm
Weight: 83 grams
THE GOOD
Extremely affordable, excellent value-for-money.
The battery lasts long.
Bluetooth – Connects to any Bluetooth-enabled device, without the need for an extra dongle.
Very stable connection. Never dropped once, no weird stutters.
THE BAD
Imbalanced, back heavy mouse.
Right-handed only.
Kind of small-ish for big hands.
NOT BAD AT ALL

Thank you for reading, and we have come to the end of this review. Sure thing, TeckNet is not a big brand that everybody knows. It does not have shiny LEDs, crazy gaming dragons nor cyber unicorns. But really – This is one very mighty decent mouse that you can use for your desktop, laptop, tablet, and even smartphone.
Also, given the highly affordable price – I would say this is a very good buy. If you have anything to share with this review, please feel free to comment below. Good luck and may the cyber force be with you.