Welcome to a review of the Yoho Sports Bracelet – For you guys who have been looking around at the affordable sports band trackers, you will find that the Yoho looks oddly familiar. Fitbit, anyone? The better part of it is that it only costs $12… Yep. A fully featured knockoff for only $12?
That sounds too good to be true, but not to discount the fact that there are plenty of good cheap gadgets out there. So here it is – A review of the Yoho Sports Bracelet. Is it any good, or is it total trash? Read on to find out!
THE OVERVIEW
Price
About USD $12 (As at the time of writing)
Links
Official APP: Android | IOS
Get from eBay: Click here
Packaging

It has a basic box.
Design

Copied the design of Fitbit.
Functionality

It has plenty of features to offer but does not track accurately.
Build Quality

It is actually pretty sturdy, water-resistant and the battery lasts long.
Value

It's cheap. It works… Somewhat works.
Overall

A grossly inaccurate tracker, which beats the point of having one.
TABLE OF CONTENTS
UNBOXING

The Sports Bracelet came pretty "standard" in a bubble packed envelop… At least this cheapie comes with a proper box.
FIRST IMPRESSIONS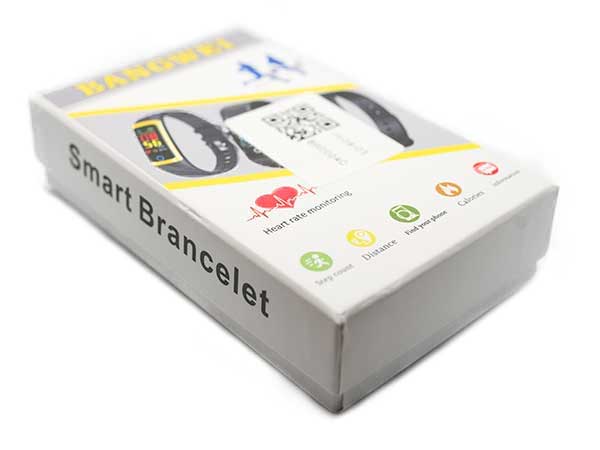 Yep. This is definitely not a designer's box, and it screams "Chinglish" all over… For you guys who somehow missed it, "Smart Bracelet" is spelled wrong. Also, if you notice the brand "Bangwei", that is the name of the online store.
This tracker is being sold on multiple online platforms by different sellers, but they are all the same Yoho sports band – Beware of some sellers that try to rip you off by pricing it higher than it should, or slapping a hefty shipping fee.
THE PACKAGE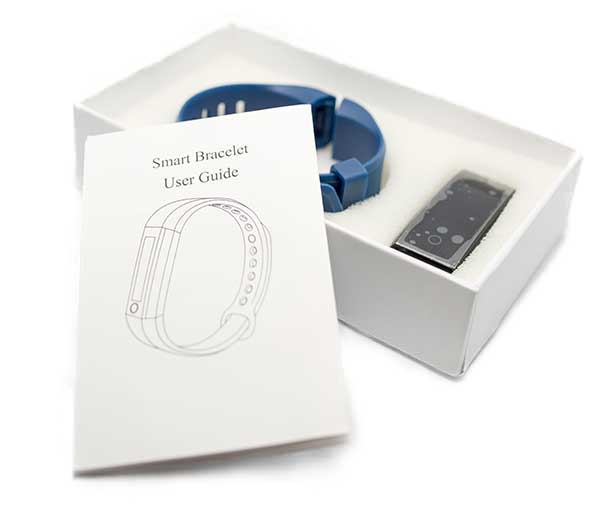 Inside the box are:
The sports bracelet itself.
The detachable straps.
An instruction manual in English… The strange part is that "bracelet" is spelled correctly here. 🙄
Overall, a very basic package. Nothing fantastic, but the box works well to protect the watch during postage.
BUILD QUALITY

Boring box aside, let us now take a closer look at the sports band itself.
THE TRACKER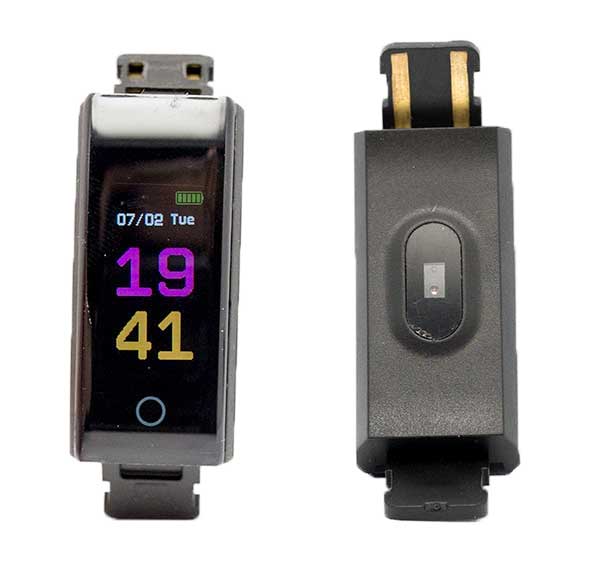 The tracker itself is "one solid piece" –
An LED display in the front. Seemingly bright enough even under the sun.
Only one touch-sensitive button at the bottom of the screen.
A pulse reader at the back of the tracker.
The pieces are the top and bottom are for attaching the straps.
Took a short while to figure out, but the top piece is also a USB Type-A port for charging.
Yep, there are no mechanical buttons, no "doors" for the USB port, and the battery cannot be removed. But oddly, this "one solid piece" is not waterproof. It is rated IP 67 water-resistant only – This one is not for water sports.
THE STRAPS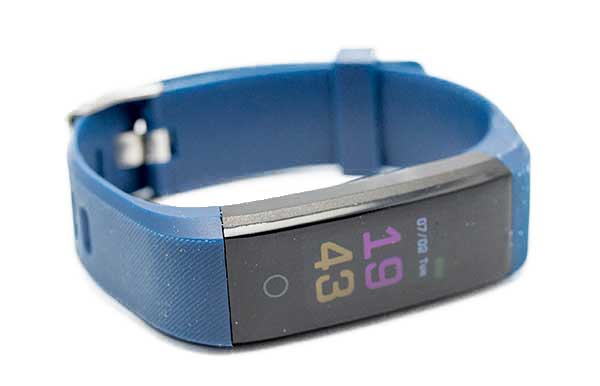 Nothing fancy nor fantastic, just your common tang buckle rubber straps. Pretty good quality though. They snap on rather snug, but with the way that we need to remove the straps to charge this thing once in a while… It will probably come loose eventually.
CHARGING & BATTERY LIFE
The charging time for this sports band is REALLY slow. Specs given by the manufacturer states 1-1.5 hours of charging time, but it took more like 4-5 hours on a wall plug to actually charge it from 10% to 100%. Not really surprising since this is not a quick charge USB-C, but the battery did last pretty long for a couple of days.
SETUP & APP

A really bad thing about this smart band is that it needs a smartphone or tablet to work – There is no way to change the date/time on it otherwise, nor does the USB connect to the PC for you to copy data out.
APP INSTALLATION & SETUP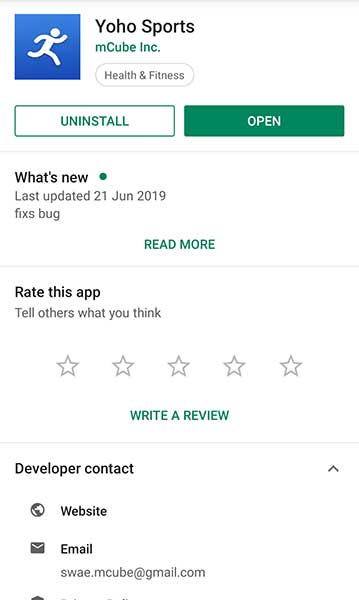 The app is called "Yoho sports" on the App Store, and it is thankfully simple enough. Although quite a number of people stated connection issues in the comments section of the App Store, it did not happen to me – Installation and setup was a breeze.
Once it is paired, the date/time will be automatically synced. It is optional to put in your gender, age, height, and weight… But I don't think this helps to improve the accuracy of the tracking in any way. More on that later.
HICCUPS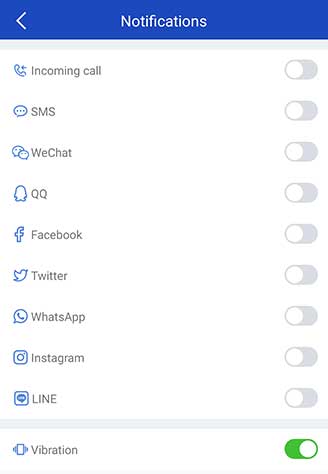 While the App has most of the basics covered and has rather useful notification features – There are a number of hiccups:
Cannot adjust the screen brightness of the watch.
Cannot manually adjust the date/time.
Nothing much we can do with the data – We cannot do reports, nor can we delete it.
If you are looking to use this watch with other fitness apps – Forget it. There is no way to manually pair it via the system Bluetooth menu. The only way is to use this Yoho Sports app.
So basically, we are stuck with a very basic app that tells you some numbers. That's all.
FEATURES

On the spec sheet, this sports bracelet seems to offer a lot of goodies… But after trying them out, it is a pure disappointment.
ALL THE FEATURES
On paper, the features seem very good.
Heart rate monitoring
Distance, pedometer, calories
Sleep monitoring
Call/message reminder
Time and alarm clock
Remote camera: shake the watch to take a photo.
USING THE FEATURES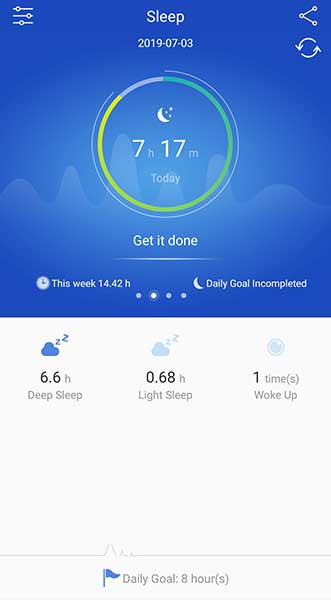 A smart tracker is easy, just wear it and it will start tracking your daily activity. But there are 2 ways to manually activate some of the features – By using the app or cycling through the menu on the watch itself:
Time
Steps
Distance
Calories
Heart Rate
Blood Pressure
Battery level
Bluetooth
So yep, if we want to read our heart rate with this smart band, we will have to press the button 5 times to activate the monitor… It is faster to just use the app instead. The rest of the features are pretty cool – Message and call notifications will show up on the bracelet once set up, and shake to take photo works.
BAD TRACKING
The issue I have with the "fitness tracker" is that it does not track properly. Here is my experience going on an evening jog with it:
Paired the watch to the smartphone through the Yoho app – No problems.
Fired up my Runkeeper, GPS on, but unable to use the watch as a heart rate monitor.
Ran 1 lap around the stadium at full speed. Pretty sure my heart rate went up to at least 120 BPM… But manually checking with the "tracker" shows only 82 BPM. Seriously?
After 3 laps and 1.2 KM – The total distance on my GPS tracked Runkeeper shows about 1.1 KM, with over 90% accuracy. The "tracker" which claims to also use the GPS when paired shows only 0.77KM, 64% accuracy.
At this point, I simply gave up on the "fitness tracker".
It does not accurately track your activities.
As a "sports band", there is no "exercise mode" to continuously track the heart rate, blood pressure, VO2 max.
The app is totally worthless – Does not give recommendations such as "given your age, distance traveled, speed, and heart rate, you need to run at this pace to improve".
It does not give warning beeps if heart rate or blood pressure goes beyond a recommended level.
It cannot even be used as a monitor for other apps.
Well, given the price of this cheap gadget, that is only to be expected – It is but a gimmick with no actual value for fitness or health tracking.
SUMMARY

Here are the specifications of the sports band, and the review in a nutshell.
THE SPECS
0.96″ OLED screen
Touch button
Built-in vibration motor
Heart rate monitor
Bluetooth 4.0
IP67 waterproof and dustproof: waterproof, dustproof, raining, washing hands, no need to disassemble
Item size: 43 x 18 x 10mm
Belt size: 245 x 20 x 12.8mm
Strap material: TPU
Battery capacity: 90mAh
Charging time: About 1-1.5 hours
Standby time: About 5- 7 days
Wireless distance: 5m~10m
Compatibility: Android 4.4 and above, iOS 8.0 and above
Data storage: 7 days of motion data can be saved
THE GOOD
Somewhat works.
Very affordable.
Decent value-for-money.
THE BAD
Cannot connect independently as a Bluetooth device – Need app.
The default Yoho App is not very useful.
Inaccurate tracking. Which totally beats the purpose.
WORTH IT?

Thank you for reading, and we have come to the end of this review. It sure is pretty impressive how much you can get with the Yoho sports band, for just a measly $12. Personally, I don't mind the fact that it has to be paired with a smartphone or tablet to work… But the software itself is totally lagging behind, and the hardware readings are grossly inaccurately.
That totally beats the point of having a fitness tracker and is a deal-breaker. So if you are looking to buy a good fitness tracker, save your money and get an older Huawei or Mi Band instead. They may be a tad bit more expensive, but are still very affordable – More importantly, they have better hardware and software that are worth it.
If you have anything to share with this review, please feel free to comment below. Good luck and happy shopping!