INTRODUCTION
THE LIGHTWEIGHT MONOBLOCK
Welcome to a review of the Godox Witstro AD200. Gone are the days of bulky studio lights, and meet the new generation of portable studio lights. The AD200 is the smaller brother of the AD360 and it is about the size of a regular flash unit – But it literally has almost everything built-in. Wireless, HSS, battery, and modeling light.
It may be small, but it packs a 200W punch. To add on, the head can also be swapped into an LED. This is just one very versatile lighting unit. So if you are sick of carrying heavy lighting equipment around, this could be your savior. Read on to find out more!
P.S. Please take note that the Godox Witstro AD200 is branded a little differently in some countries. It is also known as the Flashpoint eVOLV 200, but they are totally the same gadget.
OUTLINE
THE OVERVIEW
Price
About USD 300 (As at the time of writing)
Links
Official Website: Godox Witstro AD200
Get from eBay: Click here
Accessories
X1 trigger: Nikon Canon Sony
Additional batteries: Click here
LED head: Click here
Reflector: Click here
Barn door/color gel: Click here
Godox AD-B2: Click here
Packaging

Flash, charger, bulb, flash, carrying case.
Build Quality

One solid block, very robust.
Functionality

Flash, strobe, LED, TTL, HSS, built-in receiver – All in one.
User Friendliness

Has a small learning curve. Nothing too bad.
Value

Very affordable for a flexible and powerful light unit.
Overall

Affordable, lightweight, portable, and a good gadget to have.
NAVIGATION
TABLE OF CONTENTS
SECTION A
UNBOXING & FIRST IMPRESSIONS

The AD200 comes in a rather "standard pretty well-designed box". While it does not have that "wow" factor, it was still a pretty good retail therapy unboxing it. 😆
WHAT'S INSIDE?
It is actually quite delightful to unbox the gadget. Because inside the box, is another box. Yep, the Godox comes with a carrying/storage case. Some of you folks who have not heard of Godox might think of this as some sort of a "cheap China knockoff"… But no, Godox has come a long way from that, and they really produce some good affordable equipment. Anyway, you will find the following in the box:
Instruction manual and warranty card.
Carrying case. Not waterproof, although it seems pretty sturdy.
The flash unit.
Flash head.
Bulb head and bulb.
Charger and plug.
Battery.
Lightstand adapter. I suppose they gave this for a good reason, will get into that at the end of this review.
It did not come with a wireless trigger, obviously. You will have to get an additional Godox X1 wireless trigger to pair up with the AD200 (all the links are above in the overview section).
SECTION B
FLASH WALKTHROUGH

With that, let us now go into the details of the Godox AD200 – The build quality, how it works, what kind of accessories does it have, and how well this gadget actually works.
THE FLASH UNIT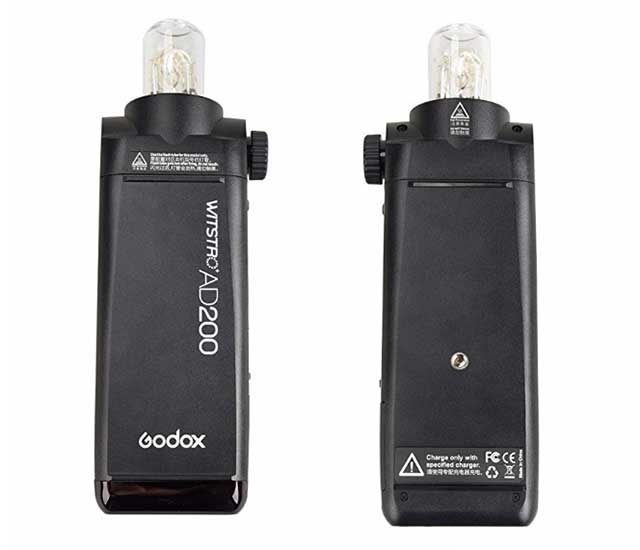 The flash itself has a changeable head, but otherwise, the design is pretty much "one solid block". Nothing much at the top and bottom, only a standard 1/4 inch screw hole for mounting at the bottom.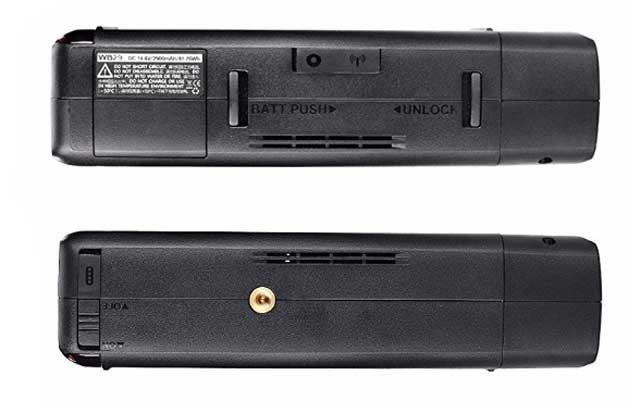 On one side are the release catches for the battery (yes, we can buy spare batteries) and head, plus standard 3.5mm sync cable port should you decide to use wireless triggers from other brands. The other side holds the on/off switch and an additional 1/4 inch screw hole – So you can mount the AD200 either "portrait or landscape".
Some of you guys may have noticed an additional "wireless" port beside the 3.5mm… Which is something that has baffled me. It is a standard USB port and seems to take a Godox XTR-16 wireless receiver… but the AD200 already has built-in wireless? Not sure about the purpose of this "wireless port", maybe someone can shed some light on the mystery here.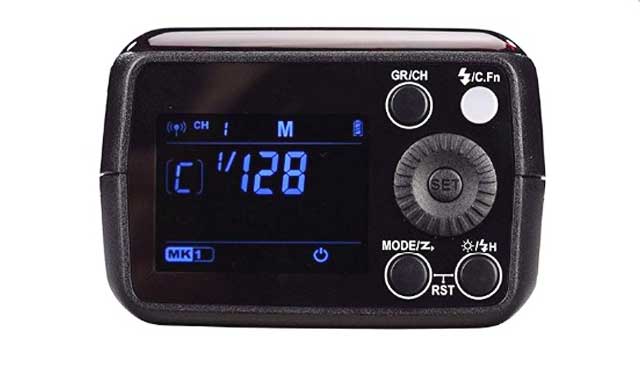 The back of the unit is where all the action goes – the control panel. Pretty simple design, and it only took me 5 minutes to figure out.
BUILD QUALITY
Solid. Just a block of solid hard plastic, but it is not indestructible. A friend of mine had his AD200 mounted on a light stand and toppled with a gust of wind… The control panel at the rear cracked, and replacing it is not cheap.
BATTERY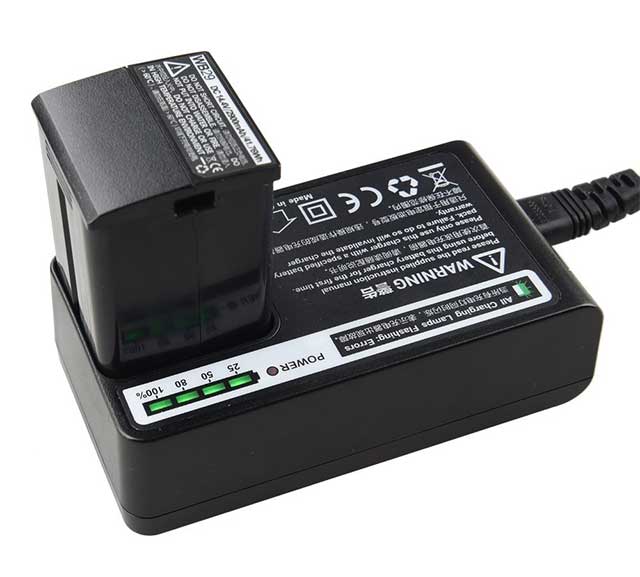 For the technical guys, the AD200 uses a 14.4V, 2900mAh Lithium-Ion battery.
THE FLASH/BULB HEAD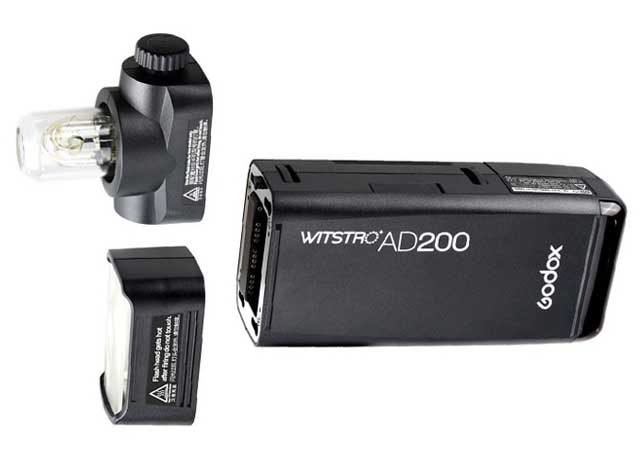 I guess that we do not need further introduction, this gadget is capable of "switching heads". The flash head itself is rated at a guide number of 52m at ISO100, and that is already one powerful flash. Switching to the bulb head will give you GN60, which is capable of throwing out enough power to fill the darker parts back even under daylight.
For you guys who have the AD360 and wondering if the bulbs are the same – No, the AD200 uses a smaller bulb. However, as the mounting design is the same, you can use all the accessories for the AD360 on the AD200.
Also for those who are wondering, yes, the AD200 has the modeling light mode which is sorely missing on the AD360. Either way, there is also a third-party LED head available for the AD200 if you decide to use it as a continuous light.
THE ACCESSORIES
This is what I love about the Godox, a ton of available accessories and you can even use AD360 accessories on it. While they do not come bundled with the "basic package", you can get them pretty cheaply on eBay.
Mini beauty dish
Diffuser dome
Honeycomb
Snoot
Color gels
Barn doors
… and a lot more
TWO HEADS ARE BETTER THAN ONE

As an honorable mention – Is one flash not dishing out enough power? Then combine two of them together. Godox sure comes up with some fascinating ideas, and with the AD-B2, you can use two AD200 like one powerful monobloc studio flash… But that will mean having to buy two AD200 units to make this work.
Note: The AD-B2 is also known as the eVOLV Twin Head Bracket in some countries.
SECTION C
USAGE EXPERIENCE

After months of using the AD200, all I can say is – Never had any major issues with it. No overheating, no misfiring, no bursting into flames.
THE CONTROLS
This is probably the "hardest" part. It does take a while to learn how to set the groups, power, TTL, HSS, and stuff. Not so bad though, considering it can be learned with watching just a YouTube video or two.
BATTERY LIFE
With the flash head, the AD200 seems to last forever. Even on the bulb, it took a full 3 hours shoot without any issues. I don't see a need to buy extra batteries (unless you do full 1:1 blasts for some reason), but they are readily available.
WIRELESS RANGE
Well, the furthest I went was pranking a friend, firing the flash with the wireless trigger over an entire studio room. That is about the distance of a 105mm lens to take a usable shot.
SHOOT EXPERIENCE
Setting up the AD200 has always been a breeze. Since it is a "single-block", just mount onto a light stand, put the softbox on, switch on, and connect. The rest can be controlled wirelessly from the trigger. As for the performance itself:
The flash head just works like… a normal flash. Except without a hot-shoe, this is a "strictly off-camera" flash.
The bulb is strong enough to be used for outdoor shoots, just don't expect it to beat a full midday sun. Don't think of using it bare without a softbox either, it's way too harsh.
LED head is kind of meh. Stick with a legit LED panel or video light.
There really isn't too much to pick about the AD200, the only small complaint is a rather slow recycle time. That's all.
EXTRA
SPECS & USEFUL BITS

That's all for this review, and here is a small section on some extras and links that may be useful to you.
THE SPECS & CONTENDERS
For you guys who are looking at alternatives for the AD200, I can only think of the AD360 (read my review here) – the bigger brother of AD200. While FlashQ has the Q20 (read my review here), a kind of similar system, but that is hardly a contender because of its lack of power. Thus, I will only do a side-by-side comparison of the AD360 here.
| | | |
| --- | --- | --- |
| | AD360 | AD200 |
| Guide Number (at ISO 100) | 80 | 52 (Flash) / 60 (Blub) |
| Battery Life | 450 full-power flashes | 500 full-power flashes |
| Recycle Time | 0.05 to 4.5 secs | 0.01 to 30 secs |
| Color Temperature | 5600 +- 200 Kelvin | 5600 +- 200 Kelvin |
| Weight | 780g | 560g |
| Size | 220*95*75 mm | 168*75*50 mm |
AD200PRO?
Edit: There has been a new version, called the AD200 Pro. From what I gathered from the Internet, this is just a "small updated" version. Upgraded rear panel, flash holder, more accessories, a couple of small redesigns, etc… But otherwise, the technical specs are pretty much still the same. Not a worthy upgrade if you already own an AD200.
THE GOOD
Lightweight and portable.
Very versatile lighting unit.
Affordable strobe alternative.
Tons of accessories available.
Good battery life.
High-speed sync, TTL, and integrated wireless!
THE BAD
Not as powerful as a good studio monoblock strobe.
Slow recycle time.
Not quite a bad thing, but missing the hot shoe as a portable lightweight flash.
It can only be used off-camera.
CONCLUSION
EXCELLENT

I cannot help but be impressed with the Godox AD200. Lightweight, portable, versatile, and decently powerful. While this may be one of the better gadgets, but there is one small hiccup that I still wish to pick on…
The AD200 is made to be a "powerful lightweight flash", but it lacks a hot shoe mount. There is absolutely no way for you to use it as an on-camera flash, and the head does not rotate. I guess the reason why they gave a light stand adapter is that the AD200 is meant to be a specialized off-camera flash unit.
Luckily for you guys, if you are looking for a powerful on-camera flash, there is always the big brother AD-360. Both of which, I will say are good buys.