INTRODUCTION
FLASH OR STROBE?
Welcome to a review of the Godox Witstro AD360, a rather confusing gadget. While Godox brands it as a flash, it uses an external battery pack and has a "full-sized" bulb. It also packs the power of a strobe, when it is using the standard hot shoe mount. Flash, strobe, or both? You decide.
But it combines both the portability of a flash and the power of a strobe. Very affordable too. Just hunt for good deals, and the Godox AD360 can really be a cost-efficient portable studio light alternative. But just how well does it perform? Read on to find out!
OUTLINE
THE OVERVIEW
Price
About USD 399 (As at the time of writing)
Links
Official Website: Godox Witstro AD360
Get AD360II from eBay: Click here
Accessories
Trigger & accessories: Click here
Batteries: Click here
2-to-1 Y Power Cable: Click here
Packaging

Has all the basics – Flash, battery pack, reflector dish.
Build Quality

Solid. Dropped it, still working.
Functionality

Manual flash, missing modeling light mode. AD360 II supports TTL though.
User-Friendliness

Has a small learning curve, nothing too bad.
Value

Affordable and powerful flash-strobe.
Overall

Portable and good strobe alternative.
NAVIGATION
TABLE OF CONTENTS
SECTION A
UNBOXING & FIRST IMPRESSIONS

The AD360 came delivered in a battered box… Nothing too exciting, at least the flash itself is safe.
WHAT'S INSIDE?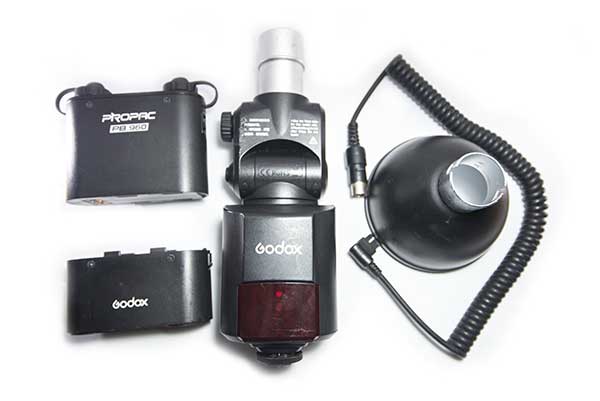 But I must say that it was actually quite a good feeling when I first ripped open the box. Some people might think this is another cheap Godox toy, but the AD360 came in pretty strong. The "basic" package consists of:
The flash unit itself.
Base stand.
Battery.
Bulb.
The reflector dish, otherwise known as "the bowl".
Definitely not some cheap toy, but a complete basic package. But a quick reminder – As with any other flash/strobe, it did not come with a wireless trigger. If you want off-camera flash, get the Godox wireless trigger separately.
SECTION B
FLASH WALKTHROUGH

With that, let us now move into the interesting part. What accessories does the AD360 have, and how well is this flash strobe thing built?
A QUICK WALKTHROUGH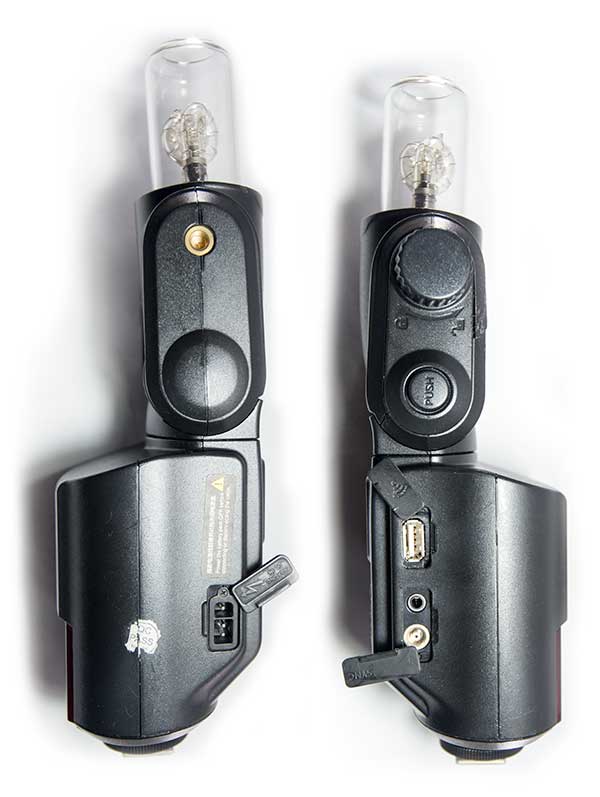 The power port is on one side, and sync ports plus USB on the other. For those who are wondering what the USB port does, it only connects to a Godox wireless trigger and pretty much does nothing else. So… duh. 🙄
On the front is a focus assist light, which I hardly ever use. For those who want to use the flash inside a softbox, the modeling light mode is sorely missing. You will have to use your own torchlight as a focus assist.
Thankfully, the LCD screen is illuminated and there is no menu system. Just turn the knob to adjust the power and press a few buttons to set the mode. The head is capable of rotating 180 degrees backward and tilting up to 75 degrees.
BUILD QUALITY
The wind once blew and toppled my light stand with the AD360 inside. It smashed the bulb and cracked the flash. A painful experience. I super glued the battle scar, and everything is working just fine. The AD360 survived, and it goes to show how rugged it is.
THE BATTERY PACK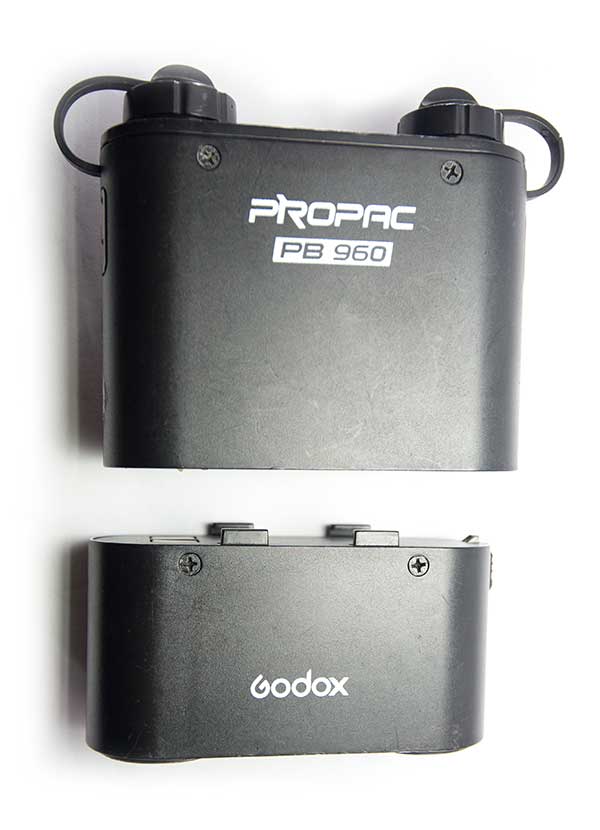 The battery pack is actually pretty light, and the battery/controller unit can be separated. If you need extra batteries, you can always purchase more of them. Anyway, there are two plugs, it is possible to power two flashes at once.
ACCESSORIES
What I do like about the AD360 is that it has a ton of accessories. While they do not come bundled with the "basic package", you can get them pretty cheaply on eBay… and they are very useful.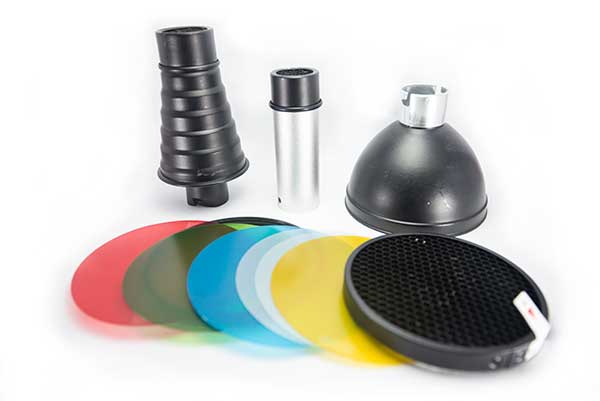 Mini beauty dish – I don't use this. I have a full-sized beauty dish and softboxes.
Snoot
Honeycomb
Color Gels
Diffuser dome
If you feel that the recycle time of the AD-360 is too slow, you can use the Godox DB-02 cable (link in the overview section above). The Y-cable will use both the output terminals of the battery to one single flash unit. That should effectively half the refresh time.
SECTION C
USAGE EXPERIENCE

After using the AD360, I never had any major issues with it… Except for a dead battery, there were no overheating, no explosions.
BATTERY LIFE
So far, battery life is pretty good. It is able to survive full 3-hour shoots… Given that I did not always use full power. Even when it is on 2 flashes, the battery should still last pretty long. Also, take note that the early batches had some battery problems, and I had the good luck to experience it.
The battery pack died only after a couple of months of use, and I had to exchange it with the supplier. They honored the warranty, and there were no more issues afterward. The newer stocks and AD360 II should no longer have any of these dead battery issues.
THE CONTROLS
Even though there is no menu system, there is still a small learning curve to set the power, HSS, and stuff. Nothing too bad, though just watch a YouTube tutorial and that's it.
USAGE EXPERIENCE
As a "flash", it is just way too oversized. Imagine walking around with 300W of power sitting on top of the camera, and a battery pack on the belt… Yep, that definitely gives off a certain "very powerful" photographer aura.
The AD360 makes a lot more sense as a studio light, sitting inside a softbox. It just feels like a slightly smaller strobe or monoblock, only to be in the shape of a conventional flash. Nothing much to complain about it otherwise, maybe for a slightly slower recycle time, that can be made better with the "Y power cable".
EXTRA
SPECS & USEFUL BITS

That's all for this review, and here is a small section on some extras and links that may be useful to you.
THE SPECS & CONTENDERS
When it comes to flash/strobe things, I really can't think of many. In fact, I think Godox is the only one doing it. Let me know if I am wrong. But when it comes to alternatives and competition, I only know one. Also a Godox, the AD200 – Click here for my review.
| | | |
| --- | --- | --- |
| | AD360 | AD200 |
| Guide Number (at ISO 100) | 80 | 52 (Flash) / 60 (Blub) |
| Battery Life | 450 full-power flashes | 500 full-power flashes |
| Recycle Time | 0.05 to 4.5 secs | 0.01 to 30 secs |
| Color Temperature | 5600 +- 200 Kelvin | 5600 +- 200 Kelvin |
| Weight | 780g | 560g |
| Size | 220*95*75 mm | 168*75*50 mm |
Note that both AD360 and AD200 support high-speed sync.  Godox also released the AD360 II which supports TTL, but the specs remain pretty much the same.
AD360 VS AD360 II
The AD360 should be fully phased out by now. But if you are wondering – The AD360 did not come with built-in wireless. The AD360II came with various design changes, and also built-in wireless. Just get the AD360 II, it is better in various ways, even though the specs remain pretty much the same.
THE GOOD
Affordable strobe alternative.
Portable, uses a hot shoe mount.
Tons of accessories available.
Battery life is decently good, and I am sure the later batches have improved even more.
High-speed sync!
THE BAD
Not as powerful as a good studio strobe.
No modeling light. The red focus assist light is literally useless inside a softbox.
Slow recycle time.
Manual only… Although AD360 II has TTL.
CLOSING
THE VERDICT

Some people may piss on the Godox Witstro AD360 for being a "weak and slow" strobe light. But here's the thing – it is a flash that is still way more powerful than any other "normal" flashes out there. Plus, it mounts onto the hot shoe. How crazy is it to have a strobe on top of your camera? Sure thing the recycle time is slow, just don't use it for sports or some crazy shutter flapping action.
Priced at about the same as the top flashes, the Godox is a very good alternative. In fact, I will recommend the Godox if you are not going to do action shots. Put it into a softbox, and you will see this flash strobe thing shine.