INTRODUCTION
GOOD AFFORDABLE LIGHTING
Welcome to a review of the YongNuo YN-300 Air video light. Looking to get started with some simple videography, maybe for YouTube videos? Or maybe take better product and portrait shots? Without breaking the piggy bank?
Well, a lot of affordable LED light panels have popped up over the years, and I personally settled for the YongNuo YN-300. So how well does it perform? Is it worth the money? Read on to find out!
OUTLINE
THE OVERVIEW
Price
About USD $40 (As at the time of writing)
Links
Official Website: Link
Get from eBay: Click here
Packaging

All the basics, but power brick and battery not included!
Build Quality

Solid, hard plastic.
Functionality

Able to adjust the warm/white light amounts. Very portable.
User Friendliness

Has a small learning curve, but nothing too bad.
Value

Very affordable, good value-for-money.
Overall

One of the better options for affordable LED panels.
NAVIGATION
TABLE OF CONTENTS
SECTION A
UNBOXING

Well, having purchased various other YongNuo products before, I wasn't expecting a crazy designer box nor packaging. They still did a good job with a decent package nonetheless.
FIRST IMPRESSIONS
The box came in a little crumpled, a little squished from the air freight, but it survived. Nothing exciting here… Just the "regular box in bubble wrap that can be discarded, and you won't feel bad about it".
WHAT'S INSIDE?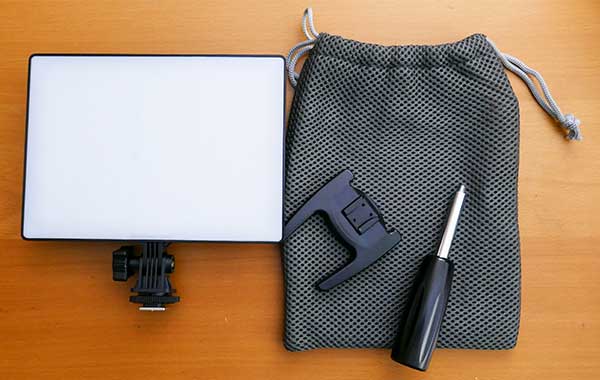 Just the basic stuff.
The LED panel itself.
Hot shoe stand.
The screwdriver thing actually connects to the stand, so we can use the video light hand-held.
Carrying Pouch
Instruction Manual in both English and Chinese.
Take note though – It does not come with a power brick nor battery. That seems to be where the grievance is, and where most of the negative reviews are coming from. A cheap power brick doesn't cost much anyway, and some online sellers package them together for a discounted price.
A SMALL BONE TO PICK…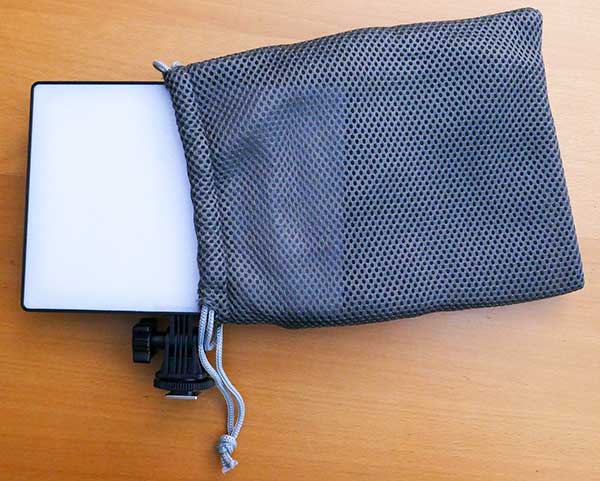 While this is not a life-threatening issue, the carrying pouch is too small with the hot shoe mount is attached. It only barely fits when the mount is turned 90 degrees, with no room for a battery or power brick… This kind of ticks me off. Why did YongNuo even bother to give a pouch that won't properly fit!?
SECTION B
PRODUCT WALKTHROUGH

The boring basic packaging aside, let us now go into the product detail itself.
QUICK WALKTHROUGH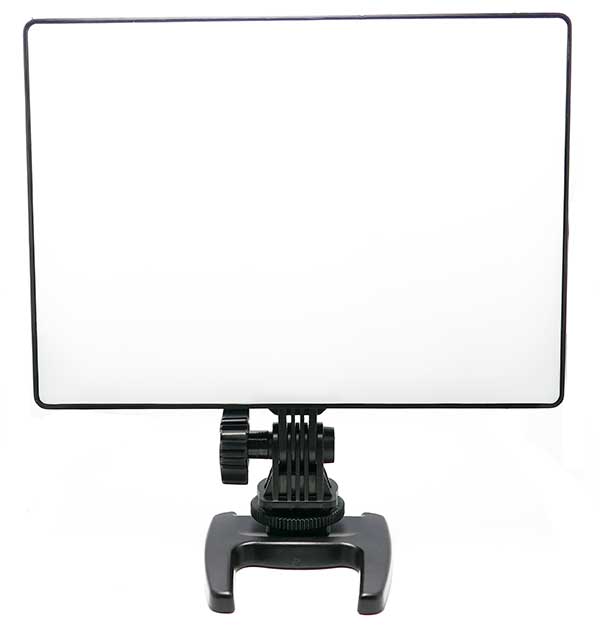 Very clean front side, just the milky white cover and slim bezel. For you guys who are curious, the panel measures 18.5cm X 13.5cm X 2.2cm (about 7.3″ X 5.3″ X 0.08″). That is slightly bigger than "palm-sized".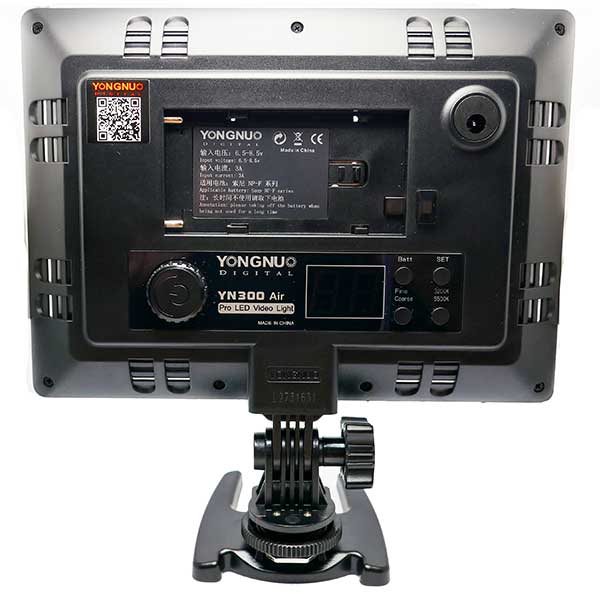 The rear is where all the action happens – The battery "dock", power input, control panel, and a couple of ventilation holes.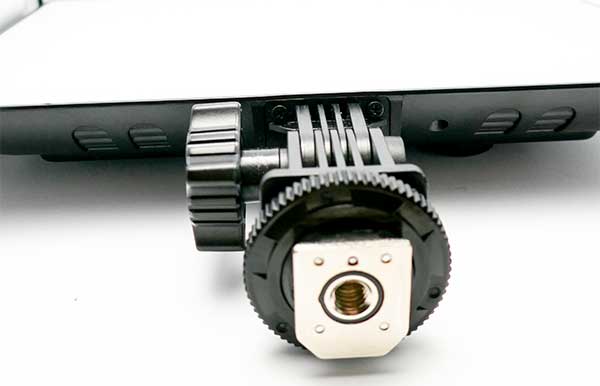 Lastly, Captain Obvious to the rescue – A standard hot shoe. The video light can be directly mounted onto the camera, onto a light stand, or anything that takes in a hot shoe.
BUILD QUALITY
At first, I thought that the hot shoe mount is a little flimsy and might snap after time – But I did drop the panel once from the table, and it is still in one piece. No cracks, no damages. So I have nothing to complain about the build quality of the YN-300 – It is just a piece of solid LED panel.
BATTERY & POWER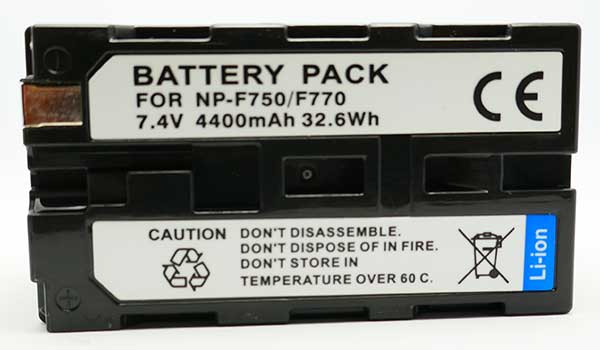 The YN-300 takes in a Sony NP-F series battery… Which, there are plenty of decent third-party alternatives. If not, directly feed a power brick in. Any power brick that can output between 6.5v – 8.5v DC.
How long the battery lasts really depends – The battery capacity, and how bright the panel is set to. But so far, with a 4400mAh battery, it has survived for a few hours easily. Not on "full blast" though.
SECTION C
USAGE & EXPERIENCE

Using the YongNuo YN-300 has been quite an enjoyable experience. While it does require a little bit of learning, it is not too bad.
THE CONTROLS

Yes, that's 4 buttons, one knob, and 2 LED numbers. It did take some time to figure things out with the "one piece of paper manual",  but it really wasn't too difficult.
Press the knob to switch on and off.
Press the 3200K/5500K button to switch between warm/white, then turn the knob to adjust the brightness accordingly.
Optionally, toggle between fine (turning the knob will shift the brightness by 1) or coarse (shift by 10).
That's all, there's no flash power or TTL that sort of things. Just use "eye power" and decide for yourself.
QUITE ANNOYING ADJUSTMENTS
There's really nothing wrong with the panel itself, and it puts out decent lighting. But one small issue that I have to pick with the YN-300 (at least the first version) is that – It is a hassle to change the brightness. We have to manually go up to the panel to adjust it, and there's no way to group multiple panels together, no presets to quickly switch around… Not until the later versions (more below).
STILL PRETTY HEAVY
For you guys who are still curious, here's how the YN-300 looks when mounted on a camera.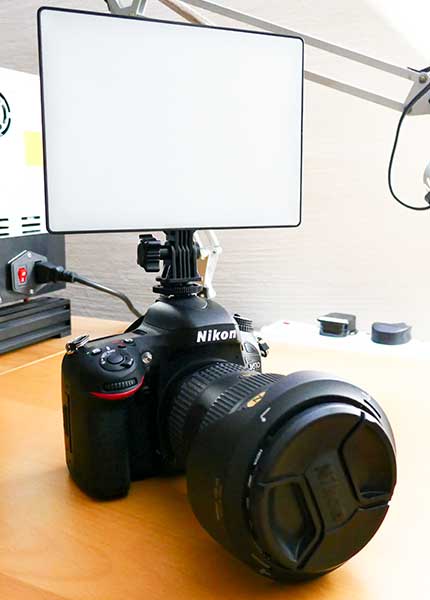 Yep, while this thing weighs a mere 250g, adding a battery to it can still feel pretty heavy over time. It's not really that bad though, there's always the option to use the screwdriver thing or mount the panel on a light stand.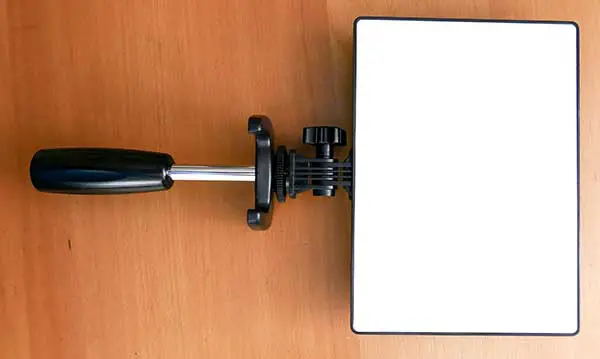 EXTRA
USEFUL BITS

That's all for this review, and here is a small section on some extras and links that may be useful to you.
TECHNICAL SPECS
Color Temperature: 3200K – 5500K
Color Rendering Index: >95
Power: 18W
Lumen: 2000LM
Luminance Angle: 110°
Average Life: 50000 hours
Net weight: 250g
Dimensions: 185 X 135 X 22 mm
THE DIFFERENT VERSIONS
Yes, there are a few different versions of the YN-300 Air, so be careful when buying –
The later YN-300 Air II and Air III have a remote control.
Not too sure if this is confirmed, but it seems like the Air III is also Bluetooth enabled and can be controlled with a smartphone app.
There is also an RGB variant of the YN-300 Air II.
But of course, these later versions do cost more than the "basic" YN-300.
THE GOOD
Very affordable video light.
Mighty decent quality.
Lightweight and portable.
THE BAD
Does not come with a battery and power brick.
Not quite enough for full-body or wide shots.
Adjustment hassle. No remote control, cannot group panels together.
CLOSING
WORTH IT.

Thank you for reading, and we have come to the end of this review. While this is not some "crazy fantastic lighting", it is still mighty decent for its price point. In fact, it offers a very good value-for-money. With a good build quality and decent lighting, there really isn't much to complain about.
If you are looking for a simple LED panel, I will definitely recommend this one. I hope this has helped you, and if you have anything to share with this review, please feel free to comment below. Good luck and happy shooting!