INTRODUCTION
A BETTER YOUTUBE
Welcome to a list of recommendations on Google Chrome YouTube extensions. Looking to download YouTube videos? Play the music only? Block the ads to prevent nasty interrupts in your music? Maybe an equalizer to make things sound better? Yes, all of these are possible with Chrome extensions, and here is a list of all the awesome ones that I know of – Read on to find out!
NAVIGATION
TABLE OF CONTENTS
SECTION A
THE BASICS

Before going into the list of extensions, here is a small section of information for the beginners… Feel free to skip this boring section if you already know.
WHAT ARE CHROME EXTENSIONS!?
Extensions are pretty much "plugins" that you install to make Chrome do all sorts of funky things that it originally could not – Spelling checkers, opening ebooks, text-to-speech, save to PDF, and more. If you are thinking that this is some illegal, "hacker stuff"… Nope, it is not.
Google actually supports Chrome extensions officially, and they can be installed from the official Chrome Web Store – You don't have to be too worried about viruses and malicious software, because Google has scanned all the extensions. The bad ones will not be approved, and those that do not follow the guidelines will be pulled off the shelf.
HOW TO MANAGE CHROME EXTENSIONS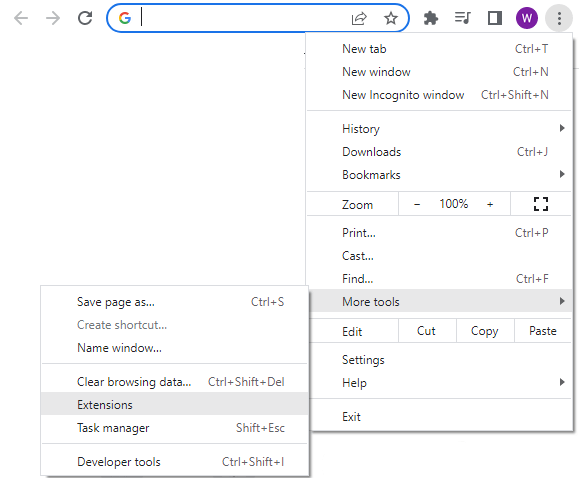 Hit the ⁝ button at the top-right corner > More Tools > Extensions. Or just open a new tab and enter the URL chrome://extensions/.
The rest should be pretty straightforward – Enable, disable or uninstall the Chrome extensions you don't need on this page.
SECTION B
EXTENSIONS LIST

Now that we are done with the basics, here is the list of YouTube-related Chrome extensions.
WHERE ARE THE YOUTUBE DOWNLOAD EXTENSIONS!?
Please take note that you will not find a single YouTube video download extension in the Chrome Web Store. That is because policies in the Google Webstore and Developer Program will not allow this kind of extensions. Before you turn into an angry not-so-intelligent troll and start senseless raging, please take a moment and put yourselves into the shoes of Google and YouTubers.
YouTube can only exist when people support content creators, view ads, and buy their merch. Downloading YouTube videos will literally hurt everyone – Google will lose potential ad revenue, and that affects the YouTubers as well.
Not to mention the possible infringement of copyright when we download the videos… But that said, there are still a couple of websites that will allow you to download YouTube videos:
ADVERTISEMENT BLOCKERS
1) ADBLOCK
There are a lot of Adblock extensions in the Chrome Web Store, and this is one of the top-rated ones that I personally use too – It will block out ads on YouTube, and also on websites too… But please take note that it is not "perfect protection", and some native ads will still show.
P.S. Yes, ads can be annoying at times. But they are what keeps YouTube, content creators, and bloggers alive – Please do consider turning the Adblocker off to support your favorite content creators, and use it only if you absolutely want no interruptions.
2) FAIR ADBLOCK
This is another Adblocker that I will actually recommend… Because it is fair. It comes with options to whitelist and even allows a certain number of ads to show; It blocks out the excessive ads, helps pages to load faster, but you can still support your favorite content creators by allowing some ads to pass.
VIDEO & AUDIO
3) EQUALIZER FOR CHROME
Is the "native Chrome" too boring and flat sounding for you? Then here is an equalizer extension to turn Chrome into a music player.
P.S. Equalizers can only help to push your headphones to a certain limit… It will not turn a pair of crappy headphones into a pair of "miracle headphones".
4) YOUTUBE VIDEO EFFECTS & AUDIO ENHANCER
This is an extension that will add an equalizer to Chrome, and also allow you to "tweak" the videos by adding some effects. Personally, I think that most good YouTubers already do an excellent job of editing their videos… The video effects are kind of a white elephant, but there's no harm in adding your own "personal touch".
5) AUDIO ONLY YOUTUBE
Only want the music? Don't need the video to play? Then try this extension, which will show the video cover and only play the audio.
ADDITIONAL FEATURES
6) LOOPER FOR YOUTUBE
So you like a song on YouTube so much that you want to loop it for 10 hours straight. But strangely, YouTube is still missing that loop button for like… the past 10 years. This simple extension will add that much-needed loop button, and it does allow you to choose to loop a selected portion as well.
7) POCKET TUBE: YOUTUBE SUBSCRIPTION MANAGER
This is yet another good feature that is somehow missing on YouTube for donkey years. YouTubers that you subscribe to are all "packed" into one long subscription list… Which can be very difficult to find when you have hundreds of subscriptions.
This nifty little extension will allow you to create collections, name them whatever you want, and allow you to better organize your subscriptions. For example, tech, sports, finance, blogging, beauty, etc…
8) IMPROVE YOUTUBE!
This is one extension that I think is "too much". It adds a whole load of features to YouTube that you may not even want…
Loop
Screenshot
Rotate Video
Default Volume Level
Playback Speed Button
Popup Video in new Window (if supported)
Auto-play (set always on or off)
Night Mode
Dark Theme
Blue-light filter
Dim mode
YouTube skins and layout
Yep, this is an absolute overkill… But if you want "everything", then this one will work for you.
CREATOR TOOLS
9) TUBEBUDDY
Are you a YouTube Creator? Then check out this tool. It adds various very useful features and analytics to your videos. Not a sponsored post, but there are also paid subscription services with TubeBuddy that will supposedly give you more.
CLOSING
WHAT'S NEXT?

Thank you for reading, and we have come to the end of this guide. I hope this has helped you to better enjoy YouTube, and if you have anything to share with this list, please feel free to comment below. Good luck and may the cyber force be with you.