INTRODUCTION
THE CLEANING MYSTERY
Welcome to a beginner's guide on how to clean the camera lens. If you have been poking around the Internet, then you should have noticed that every photo ninja has their own method of cleaning the lens, and there are various cleaning tools available.
So just who is correct? How do we use all those funky cleaning tools? Do we really need to use all of them? Well, rather than adding "yet another cleaning guide" to the Internet, I am going to do something a little different here by "compiling" the various guides online and picking what I personally think are the better cleaning practices – Read on to find out!
NAVIGATION
TABLE OF CONTENTS
Section A
The Basics

Section B
Dry Cleaning

Section C
Wet Cleaning

Extra
Links & References

Closing
What's Next?
SECTION A
THE BASICS

All right, let us now first get into the basics of lens cleaning – What are the cleaning tools and cleaning methods.
CLEANING TOOLS
There are a ton of cleaning gimmicks, and to name a few of the common ones:
Microfiber Cloth – To wipe off fingerprints and smears. Just don't use rough-textured cloth and damage your lens.
Lens Cleaning Paper – These absorbs oil better than cloth. Good for removing tough smudges.
Wet Wipes – Preferably baby wipes. Used to remove… Really dirty "biohazardous" gunk.
Cotton Bud – For reaching into the corners.
Tooth Brush – For cleaning the zoom/focus rings, get one with soft bristles.
Lens Cleaning Pen – Cleaning tip on one end, brush on the other… Not a fan of these. They get dirty and cannot be washed.
Lens Blower – Removes dirt from the lens.
Cleaning Solution – For super dirty lenses. Take extra note to only buy lens cleaning solutions – Do not use harsh chemicals or you will damage your lens.
DO WE REALLY NEED ALL OF THEM?
Well, no. For the many years in photography, I have only carried an air blower and cleaning cloth around – That is sufficient to get the cleaning done in most cases, but there are also times where wet wipes and a cleaning solution came in handy to remove stuck gunk.
To save yourself from the hassle of getting these one-by-one, just get one of those all-in-one lens cleaning kits on eBay… They are not that expensive anyway.
CLEANING METHODS
There are 1001 different ways to clean a lens… But to simplify things, I am just going to categorize them into 2 different ways:
Dry cleaning – Cleaning without the use of solutions.
Wet cleaning – Cleaning with the use of cleaning solutions, more for "very dirty lenses".
SECTION B
DRY CLEANING
Contrary to what some people might be thinking, lens cleaning is actually very simple. In this section, we will walk through the "dry cleaning" parts, without the use of any liquids.
DUST OFF USING THE BLOWER
Always start by using the air blower to remove the bigger pieces of dust and dirt. The trick is to face the glass downwards, let the dust fall off, and not move more dust into the camera itself. In most cases, this should be sufficient and good enough as the only form of daily cleaning (if the lens is not too dirty).
LENS BRUSH TO REACH INTO THE NOOKS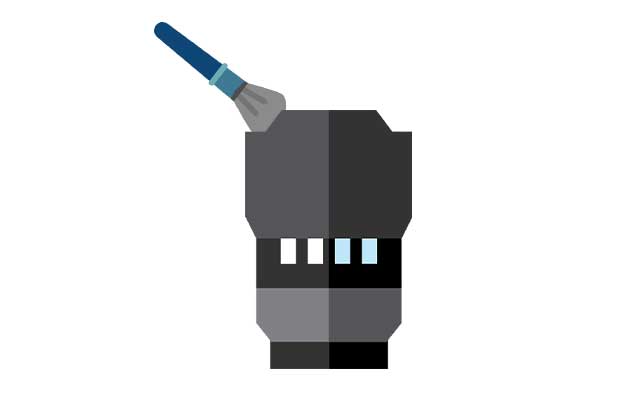 If there are pieces of dirt stuck and the rim and corners, use a brush to gently dislodge it, then air blower to remove it from the lens. One more small thing to take note though – The brush itself becomes dirty over many uses, and you might want to wash it occasionally.
SMEAR OFF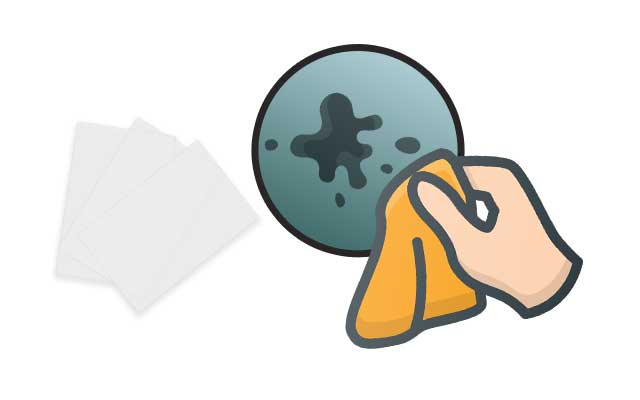 I know, the lens is somehow a fingerprint magnet. Smears will magically appear from time-to-time – Just use a microfiber cleaning cloth to wipe it away. Or alternatively, lens cleaning paper will do a better job, since they are more absorbent.
BODY CLEANING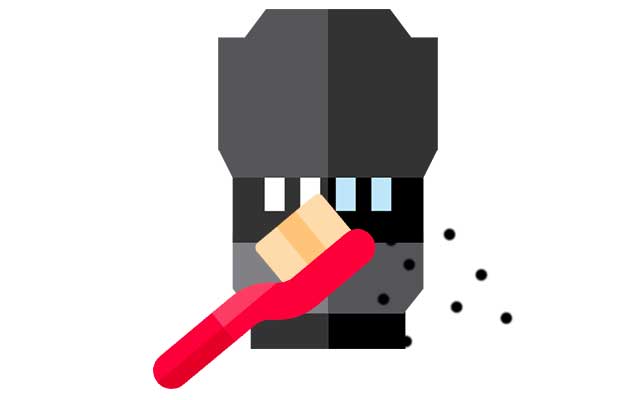 As for this final piece of dry cleaning, dirt will slowly accumulate in those nooks of the focus/zoom rings. Just use a soft toothbrush to remove them – Probably only need to do this once every year, unless you roll in the mud or do some kind of… extreme photography.
SECTION C
WET CLEANING

When the dust is stuck on the lens and won't leave, when the dry cleaning methods only don't work – It is time to add some liquids to the solution. Pun intended.
STUBBORN SMEARS
So someone must have eaten greasy bacon with their bare hands and touched (or even kissed) the lens. The smear simply refuses to go no matter how hard you wipe – This calls for the use of a lens cleaning solution, but don't just spray it on the glass and wipe it off.
This is one effective trick that an angry photographer shared on YouTube – Spray it onto cotton buds instead, and dab it onto the lens in small circular motions instead. This is somewhat like polishing the lens, and yes, it does wonders in removing fingerprint smears.
WET WIPES
So someone must have loved bacon so much that there's grease all over the lens, combined with sweat and dirt from all the work. Sadly, this combination became biohazard over time, and it has to be thoroughly cleaned. Personally, I wipe the lens with a piece of damp (not wet) cloth, with a little dish soap in the mix. It seems to have worked pretty well so far.
Just don't use alcohol, polish, or harsh abrasive chemicals that can cause damage to the lens. Alternatively, baby wipes also seem like a good option.
CLEANING THE ELECTRONIC CONTACT POINTS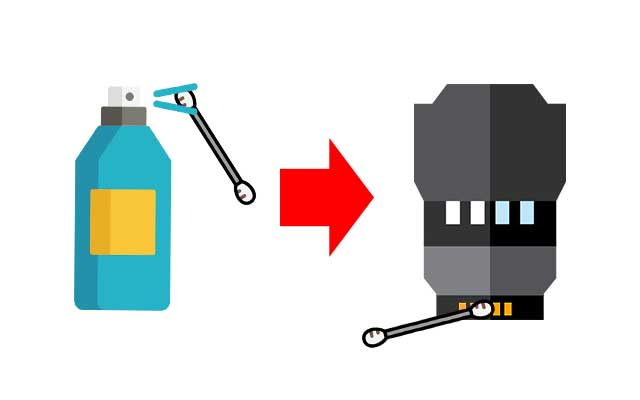 Have dirty electronic contact points? Lens not mounting properly? Don't use soap or "normal water" to clean the electronics… Get yourself a can of electronic contact cleaner, easily available at any hardware or auto shop.
Spray some electronic contact cleaner onto a cotton bud first, then use it to clean the electronic contact points. Lastly, do not attempt to lubricate any joints by applying oils or lubricants – Send the lens back to the service center if you have trouble with the lens mechanics.
EXTRA
USEFUL BITS

That's all for this guide, and here is a small section on some extras and links that may be useful to you.
THE CRINGE – DON'T DO THIS!
After walking through all the tools and cleaning methods, just what is a "bad cleaning method"? Here, this tutorial video on YouTube has pretty good ratings, but sorry to the guys at Photography Concentrate… It got me to cringe in several ways. It's not that using a cleaning pen is bad, it's just the way of how it is being used.
Do not use a brush straight on the glass first! The whole idea is to remove dirt from the lens, not to move it around the lens and cause micro-scratches.
Face the lens down, use a blower to remove the dust instead – The brush can come later for the stuck stubborn pieces in the corners.
Activated carbon or not, the tip gets dirty over time and cannot be washed. It adds dirt to the lens instead of cleaning it.
Use lens cleaning paper or microfiber cloth to remove smudges instead. They can better absorb oil, and the microfiber cloth is washable whenever it gets dirty.
Don't blow and spit saliva on the lens… That's the last thing you want to do.
Use a lens cleaning solution to remove stubborn smudges and dirt.
LINKS & REFERENCES
CLOSING
WHAT'S NEXT?

Thank you for reading, and we have come to the end of this lens cleaning guide. I hope it has been useful to you guys, and help to keep your lens in good shape. As the last piece of advice – Do consider spending a few bucks on a UV filter, put it on permanently to protect the lens.
If you have anything to add to this guide, please feel free to comments below. Cheers and happy shooting!