Welcome to a quick review of the Lenovo LP6 TWS gaming earbuds. When it comes to gaming laptops, Lenovo sure ain't a new kid with their Legion line of laptops. But when it comes to "gaming TWS earbuds", I had my fair share of disappointments. How well will Lenovo's affordable pair of earphones fare? Read on!
THE OVERVIEW
| | |
| --- | --- |
| Price | About USD $30 (As at the time of writing) |
| Links | Get from eBay: Click here |
| Packaging | Has everything – Earphones, charging case, charging cable, extra earbuds, manual. |
| Build Quality | Good solid build quality. Rather insensitive touch controls. |
| Design | Pretty cool "black toothbrush with LED". |
| User Friendliness | Took earphones out of the case, paired with the phone. No manual is required. |
| Sound Quality | Overwhelming BASS. Shallow vocals and sometimes over-pronounced highs. |
| Value | A pair of decent budget TWS earphones. |
| Overall | The build quality is not bad, just not digging the BASS. Yes, all capitals BASS. |
TABLE OF CONTENTS
THE PACKAGING

I am not expecting much from a pair of affordable earphones, won't complain either – Lenovo is a big player, and they do have some decent packaging.
FIRST IMPRESSIONS & UNBOXING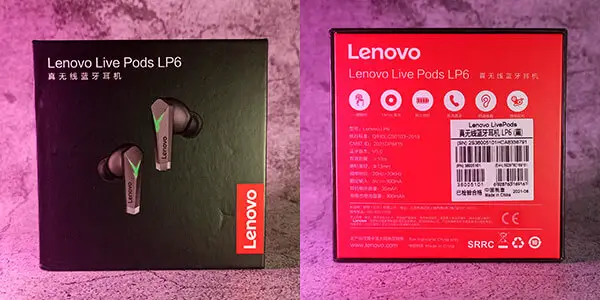 A decent first impression, but what pisses me off is the box itself. You probably can't tell from the photo, but it's a square box. As in, so perfectly squared that you have to stick a penknife into the crevices to pry it open. What is so difficult with adding a "pull here to open tab"?
WHAT'S INSIDE?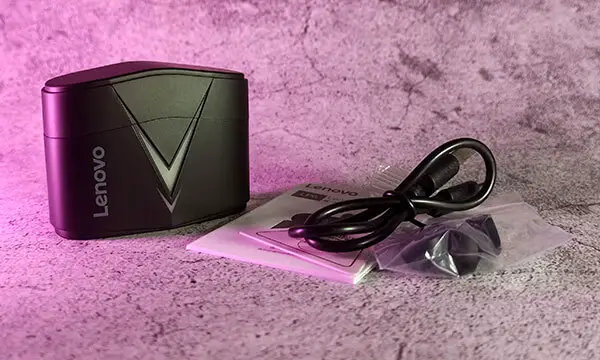 Earphones.
Charging case.
USB-C charging cable.
Extra earbuds.
Instructions in English and Chinese.
Warranty card (only valid in China though).
BUILD & DESIGN

Putting the cumbersome unboxing aside, the actual product itself is actually pretty cool.
QUICK WALKTHROUGH
I won't say that the design looks bad, but the first thing that actually came to my mind is… AHEM. Razer. The build quality is pretty decent and solid, doesn't feel like some cheap gadget. The box also stays closed when turned upside down, the earpieces stay in the box even when it is opened. It will take some very aggressive shaking to lose the earpieces by accident.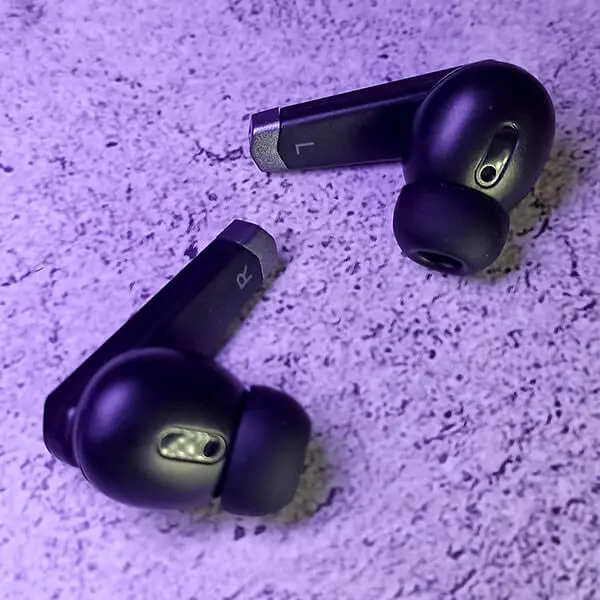 Nothing much to say about the earphones, they have the "typical black toothbrush" design. They work well and are pretty robust, should survive a couple of water droplets, just don't drop them into water.
INSENSITIVE TOUCH CONTROLS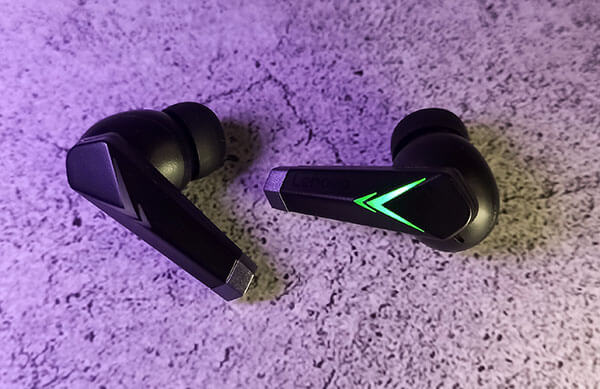 The earpieces themselves are touch-sensitive, and the controls go:
Press and hold for 5 seconds to power on/off.
Press and hold for 2 seconds to switch between
Tap on the left earpiece once to lower the volume, tap on the right to raise the volume.
Tap twice to play/pause.
Tap thrice on the left earpiece to go back to the previous track, tap thrice on the right to go to the next track.
Problem is, the touch-sensitive controls are not sensitive enough. I know, it's a real struggle trying to make it sensitive enough, but not overly sensitive to mistake every touch – But the LP6 is simply not responsive enough in my opinion. To the point where it's annoying, and it's faster to control from the smartphone itself.
SOUND QUALITY

Well… You have already read that in the summary on top – It's all about the bass for the Lenovo LP6.
SOUND PROFILE
Lows – Too much bass. Overwhelms mids and highs.
Mids – Shallow vocals and instruments.
Highs – Tries too hard to drive some high notes that it's painful.
Clarity & Soundstage – Tries to be THX, but fails.
Lenovo's product development team – "Oh look, it's a gamer. Just give them LED, BASS, and they will be happy!"
Me, a gamer and audio enthusiast – "What!?"
Dear Lenovo, please realize this – Gamers and bass heads are two different creatures. Not all gamers dig extreme bass, this one here prefers a balanced sound profile. Voice-overs and instruments sound bad on the LP6. It is something that I cannot enjoy.
GAMING & MUSIC MODE!?
The LP6 comes with a function to switch between "gaming" and "music" mode, but it has only been a mystery so far – There is totally no difference between these two modes. So… I am guessing this is a gimmick.
NOISE CANCELLATION
Being in-ear earphones, they do provide a certain degree of passive noise cancellation. Don't expect too much though, change to your own foam earbuds if you want better noise blocking.
BATTERY & WIRELESS

For this last section, let us walk through the battery and wireless features of the earphones.
WIRELESS RANGE
The Lenovo LP6 is stated to use Bluetooth 5.0, and it has a technical range of up to 10m (30 feet). It is what it is, works well across a living room. Unblocked, that is.
BATTERY LIFE & CHARGING
Truthful confession – I have not done an endurance test to fully deplete the battery. But after 1 hour of usage, there is still about 80% battery remaining. So I will say that their "up to 4 hours playtime" is pretty accurate and as advertised.
As for the charging time, it is stated to be using USB-C 5V 300mA. The battery case itself is rated 300mAh and earpieces at 35mAh. Do a quick online calculation, and that will be like a 1 to 1.5 hour charging time. Not sure how true that is, but charging an 80% earpiece did not even take 30 minutes.
SUMMARY & AFTERTHOUGHTS

That's all for this review, and here is a small section on some extras and links that may be useful to you.
TECHNICAL SPECS
Bluetooth: 5.0
Range: About 10m
Drivers: 13mm
Frequency Response: 20Hz to 20KHz
Impedance: 32 ohm
SNR: 70DB
Charging Port: USB-C 5V 300mA
Earpiece Battery Life: 35mAh
Carrying Case Battery Life: 300mAh
Play Time: About 4 hrs
As given on the box itself.
THE GOOD
Affordable.
Decently good build quality.
Good overall value for money.
THE BAD
Insensitive touch controls.
Too much BASS.
AFTERTHOUGHTS
After using the Lenovo LP6 for a couple of months – My ears seem to have gotten used to the sound signature, but I still don't like the exaggerated bass. Not that this is a pair of bad TWS, but it will never be my "primary" pair of earphones; It just sits in a drawer as a pair of "spare earphones". Maybe the bass heads will give this more love, not me.
VERDICT

Don't get me wrong, I don't hate the Lenovo LP6 – It is reasonably priced, and it has some pretty good build quality. But personal opinion, the bass is too overwhelming for my liking. This should not be marketed as "gaming TWS", but as "bass head TWS".
Thank you for reading, and we have come to the end of this review. I hope this has helped you, and if you have anything to share, please feel free to comment below. Good luck and may the cyber force be with you.