Welcome to a review on the AnyCast M4, and this is a cheap $15 wireless screencast dongle that is floating all over eBay and Amazon. Yep, the so-called better part of this device is that it is a Chromecast clone… and some even call it a knockoff.
But just how well does this knockoff work? My curious dark geek side took over, and I got my hands on one of these. Read on to find out my experience with this gadget, and whether it makes a good Chromecast alternative.
THE OVERVIEW
Price
About USD $15 (As at the time of writing)
Links
Official Website: AnyCast
Get from eBay: Click here
Build Quality

Copied the design of Chromecast. Rugged thumb-drive-sized dongle.
Functionality

Does not offer a lot of security, options, and features. Not HDCP compliant.
User Friendliness

Initial setup is a total disaster.
Value

It is cheap, and it works sufficiently well.
Overall

Don't expect plug-and-play usability. At least this one works.
TABLE OF CONTENTS
PACKAGING AND FIRST IMPRESSIONS

What good impressions do I have when "unboxing" the AnyCast M4? None. Because it literally came bubble wrapped in a sealed plastic bag. It does not even have a proper box or packaging. Well, at least it survived a rough trip, and that goes to show a rugged device.
THE "PACKAGE"

Nothing interesting to see here. A dongle, USB cable, and instruction manual. Let's move on.
THE DONGLE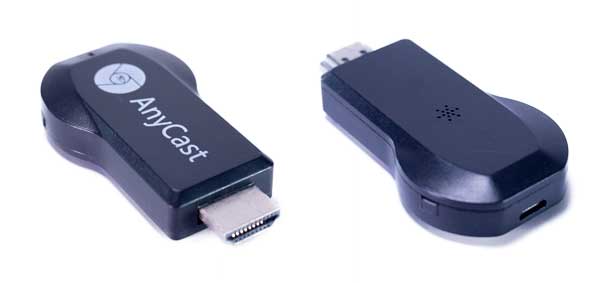 A blatant copy of the first version of Chromecast. While this looks like a thumb drive, the connector in front is HDMI; You plug this dongle directly into the HDMI port of the TV or monitor.
THE CABLE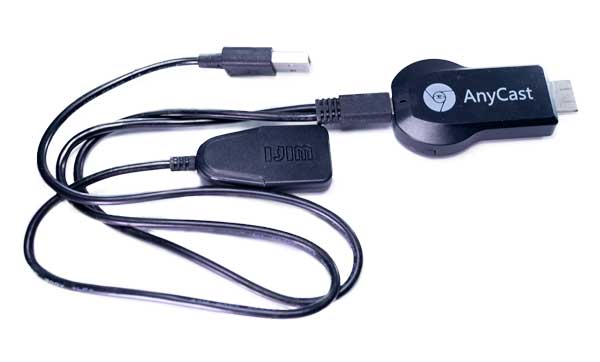 The dongle is powered by a micro USB port on the rear, and the provided cable is not a standard one. It has an attached WIFI antenna.
MY INITIAL SETUP EXPERIENCE

Just how easy or difficult is it to set up this dongle? Well, my experience with the initial setup is fully riddled with pain and frustration. The broken English manual did not offer a lot of help, but thankfully, years of technical experience cracked this one.
I shall share all of my setup experiences here. For those of you who already have an AnyCast, I hope this will help you solve some issues as well. For those who are intending to buy one, this is what you can expect…
STEP 1 – CONNECT TO TV/MONITOR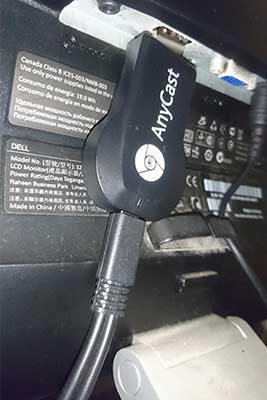 Now, my very first instinct is to power up the dongle with the provided USB cable, then plug it into the TV or monitor. Sounds straightforward enough, but in my case, I faced an immediate failure… The HDMI port on the back of my Dell monitor is facing downwards, and it didn't have a lot of room to fit the dongle plus USB – This is why Chromecast V2 has a cabled HDMI connector instead. Well, a small hiccup nonetheless, and a simple $2 HDMI "L extension" fixed the problem.
STEP 2 – WIFI CONNECT TO DONGLE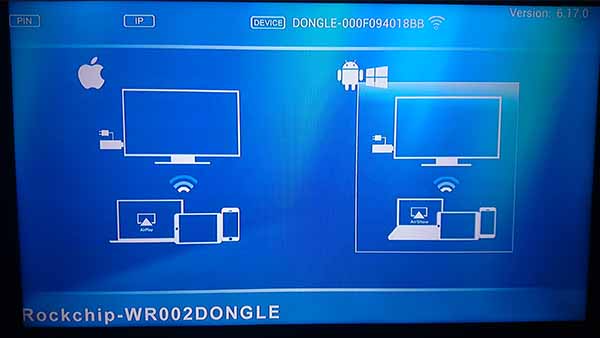 The AnyCast shows a landing page upon firing up, displaying the factory default IP address, SSID, and password. I almost immediately figured out that I needed to connect to my phone to the dongle. This is daily bread-and-butter for me, but I am not too sure if non-technical people can do this without any on-screen instructions.
For the non-technical people – Simply go to the "wireless settings" on your phone, and connect to the dongle using the given on-screen SSID and password.
STEP 3 – SWITCH ON MIRRORING ON PHONE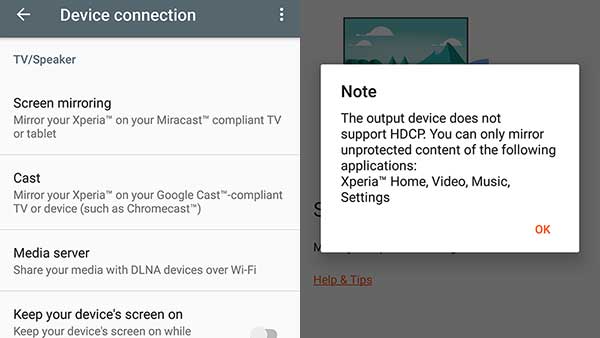 The dongle is now working, and my phone is now connected to it via WIFI. All that is left is to set the phone into screencast/mirroring mode. Sounds simple enough again, but welcome to nasty surprise number 2. While it did connect, the AnyCast is not HDCP compliant. I literally couldn't do anything much with the AnyCast, except to play some videos and music.
Just what is HDCP? High-bandwidth Digital Content Protection. The main purpose of it is to stop unauthorized copying of video content over wireless streaming, but you can also think of it as a security measure to stop people from eavesdropping on your wireless video stream.
STEP 4 – CONNECTING THE DONGLE TO YOUR HOME NETWORK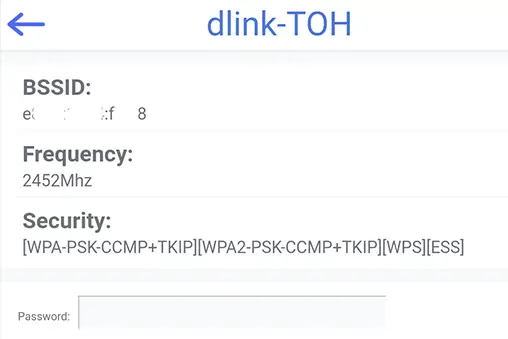 Getting over HDCP is where I got stumped. So… do I need to update the firmware of the AnyCast? Do I need to connect both the dongle and phone to my home wireless network? Or do I disable HDCP on my phone?
Thus, I tried to connect the dongle to my home network – So I can do some firmware updates, plus it will also be easier to test the wireless screencast on my desktop. Not a difficult task. Simply fire up the web browser, and access the dongle via it's IP address. Very simple menu too – Just select your wireless router, and enter the password.
STEP 5 – FIRMWARE UPDATE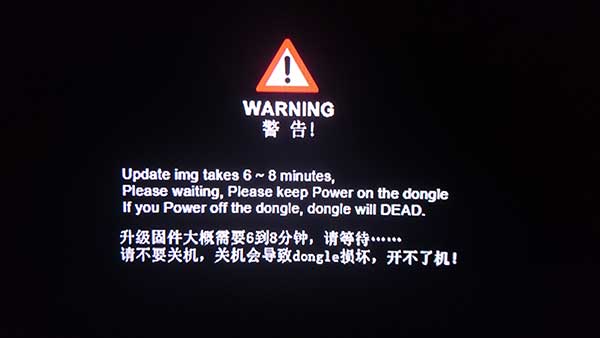 After connecting the dongle to my home network, a new firmware update is detected. Initiating it is simple enough, just press the small hidden button on the side of the dongle. The firmware update is kind of slow though.
STEP 6 – TESTING WITH WINDOWS 10 DESKTOP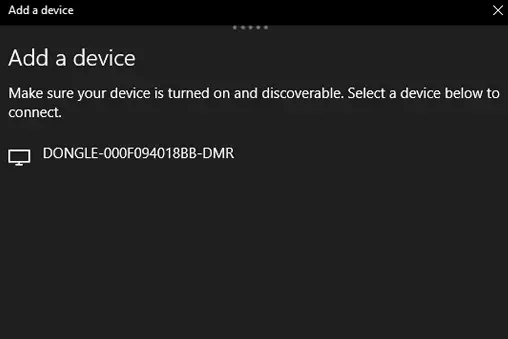 This is the only thankful part that is smooth. Connecting to the dongle in Windows 10 is as easy as adding the dongle in "add a device", then simply switch to the project mode. This got my hopes up a little, and the streaming quality is actually pretty decent. But do keep in mind that the AnyCast is only capable of streaming up to full HD resolution (1080p).
STEP 7 – "FIXING" HDCP
The final step – Firmware updated, both phone and dongle connected to the home network, verified working on a Windows 10 PC. I then tried to screencast with my phone once again, but the same HDCP warning popped up.
Yep, you will face this very same issue on a phone that is painfully insistent on HDCP. If the phone settings allow you to turn off HDCP, life is good for you. If not, you will have to find a way to turn it off – via rooting and "hacking" your own device.
Hack alert. Below is a video I have found on disabling HDCP on a Sony Xperia. This may differ on various phones. I highly discourage rooting your phone if you are not a developer, do this at your own risk.
CONCLUSION

Hey, this cheap clone actually works! While it does not have the ability to stream in 4K and is lacking in security, what else can you expect from a $10 piece of gadget? Given that it took an experienced techie some time to figure stuff out, the "normal humans" are probably going to struggle a little with the setup.
Also given that it does not support HDCP, people who do not know how to get past it are going to be stuck with just music and videos. Not the best situation, but sufficiently good for "stereotypical usage"; It however 100% plays well with Windows 10.
So is the AnyCast a good Chromecast alternative? No. If you want more features, security, and things that simply work – Fork out a little more money to get a legit Chromecast.
THE GOOD
It works… somehow.
Full HD streaming.
Excellent value for money.
THE BAD
Does not support 5 GHz wireless networks.
Non-HDCP compliant.
Doubt future firmware updates will do any good.