SECTION A
COSPLAY PHOTO SHARING
1) WORLD COSPLAY
One of my personal favorites. World Cosplay is one of the world's largest cosplay website with a huge international community, and they have even curated the Cosplay Token cryptocurrency. Yep, World Cosplay is not just open to cosplayers, but also to the photographers, makeup artists, prop makers, and just about any cosplay lover.
2) COSPLAY.COM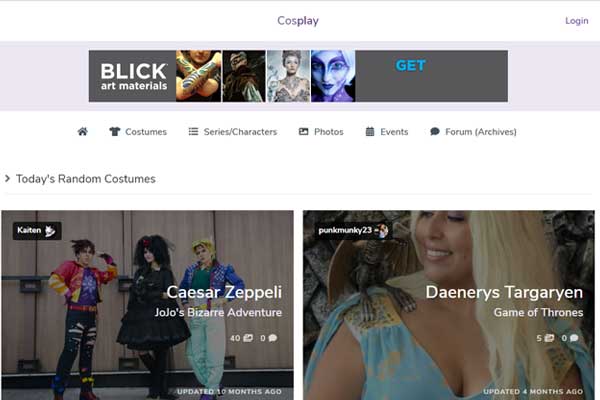 Cosplay.com is one of the oldest cosplay websites that has been around since 2002. While it does have a huge Canadian, US, and European community, I personally don't quite like the "environment" of it. It seems to "strictly cosplayers only", and I don't find my place there as a cosplay photographer. But that is just me… Anyone can just join as a stalker to enjoy the pictures. 😆
3) SOCIAL MEDIA
The best places to share your cosplay photos online, where else other than social media? Facebook, Tumblr, Instagram, and Twitter. There are many cosplayers who have their own dedicated accounts and various cosplay groups online – You just have to do a simple search and join in the fun.
SECTION B
COSPLAY MAGAZINES
4) COSPLAY MODE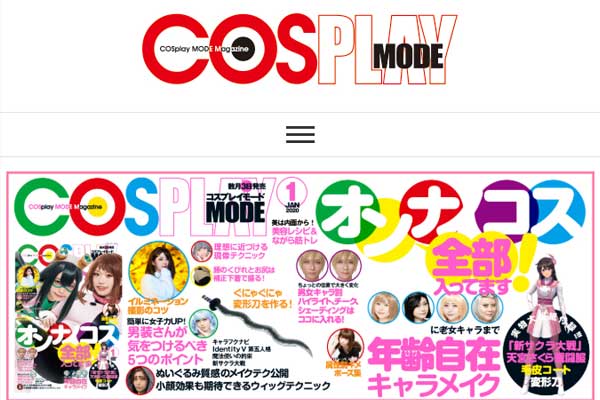 If you have been in the cosplay circle for a while, you might have already heard of COSMODE. These guys are one of the earliest pioneers of cosplay magazines, and I personally love their style. Sorry for English speaking folks though – This is a "Japanese only" magazine, although they do have an English Facebook Page.
5) COSPLAY REALM
One of the newer kids on the block, with their first issue published in Mar 2017. Truthfully, I don't find the covers of the first issues of Cosplay Realm to be too impressive… But they seem to be actively publishing and improving along the way. Do check it out.
6) CREATIVE COSPLAYS MAGAZINE
From the vibe and covers of their releases so far, it would seem that Creative Cosplay Magazine is heavy on superheroes and western cultures. Even though they claim to be a seasonal (or quarterly) magazine, the website seems to be pretty active and accepting submissions from readers.
7) COSPLAY CULTURE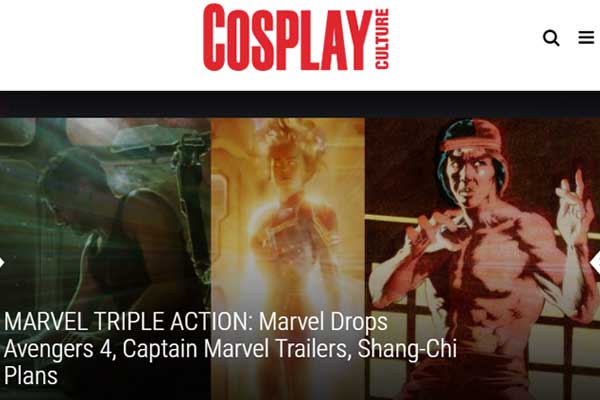 This is a Kickstarter funded magazine established in 2015, and they seem to be doing pretty well with plenty of content to chew on. Although I am still kind of wonky over their long-term plan… Will this be another one of those "Patreon funded magazines"?
8) ISSUU
This is not quite a "standalone magazine", but Issuu is a website for individual and indie publishers to publish their own magazines online – For free. Just do a search for "Cosplay magazine" on Issuu and you will find quite a number of magazines to browse through.
SECTION C
COSPLAY BLOGS
9) KOTAKU COSPLAY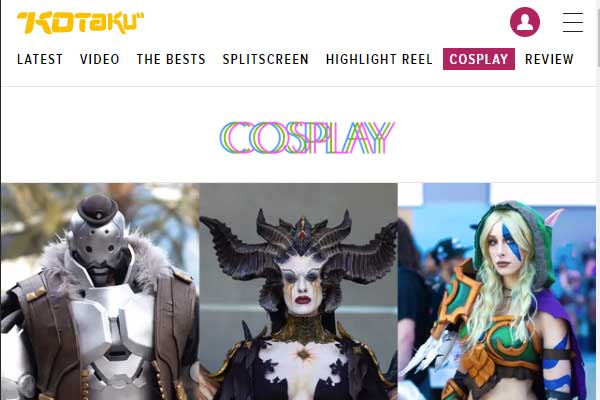 Yes, Kotaku has a cosplay blog! If you do not already know Kotaku is, they are one of the "big boys website" in the gaming industry. Well, they don't offer "tutorial type" articles, but still have plenty of good pictures, props, and costumes to gawk at.
10) COSPLAY TUTORIAL BLOG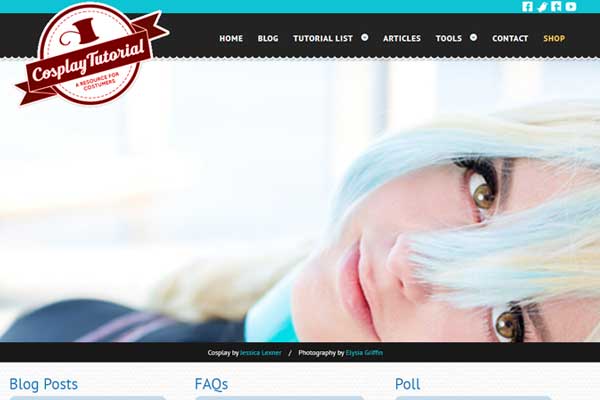 As the name implies, this blog is all about cosplay tutorials… But it is actually not a blog, but a huge collection of links to the useful stuff all over the Internet – How to create props, how to do poses, how to sew, and just about everything else.
11) YOU CAN COSPLAY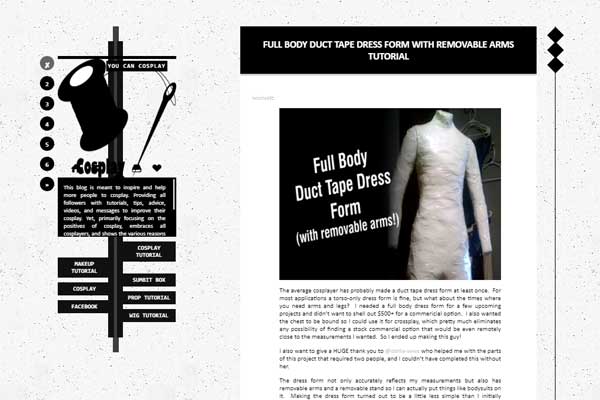 This is another useful blog with plenty of useful information on styling wigs, making props, makeup, and more.
SECTION D
COSPLAY SHOPS
12) TAO BAO
What is not made in China these days? Tao Bao is one of the largest Chinese eCommerce portals online, and it carries a ton of consumer goods. Of course, you can also find all sorts of cosplay related stuff here, for a very good price. The problem, however, is that the site is in Chinese and they are not really that "International friendly" yet.
13) EBAY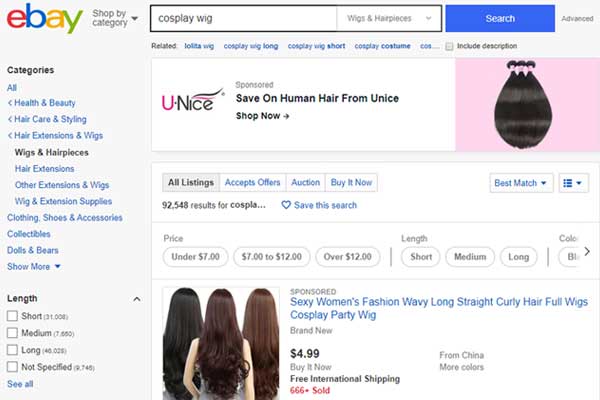 I don't do cosplay personally, but I have to confess that I get all sorts of photography props from eBay – flowers, petals, screens, confetti, fabric, fog cakes, etc… Yeah, eBay may not be a "specialized cosplay shop", but you can find literally everything here – costumes, makeup, wigs, props, and materials.
14) ETSY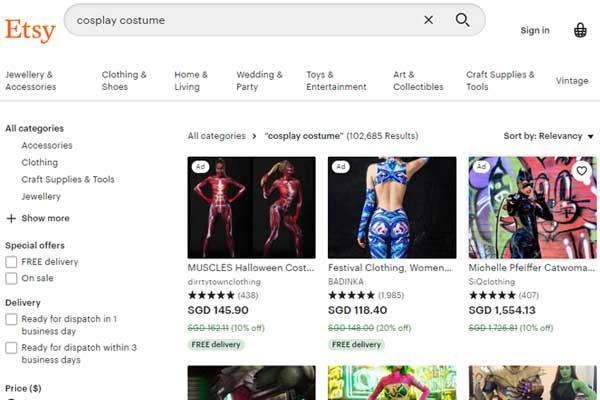 For you guys who already know, Etsy is an online portal for creatives to sell their works – From accessories to props to art and all kinds of stuff. Of course, you will find some very skilled prop and costume makers here. Just send them a message, and ask them if they are willing to custom make stuff for you.
15) LIGHT IN THE BOX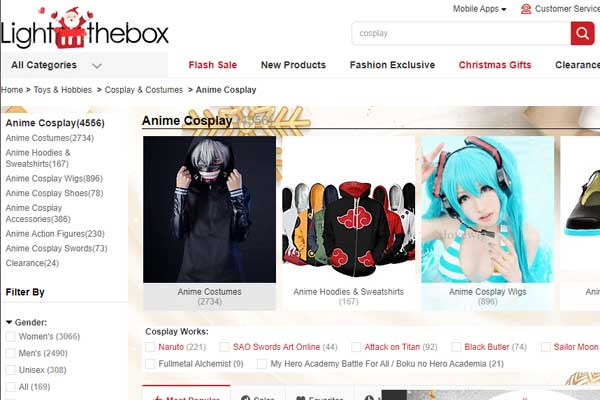 An old eCommerce website that has been around since 2007, and they tout themselves to offer "affordable goods". Yes, they indeed have factories in China, and they do offer a competitive price – Although all their stuff are pre-made and you will have to do the alterations yourself.
16) COSPLAY SHOPPER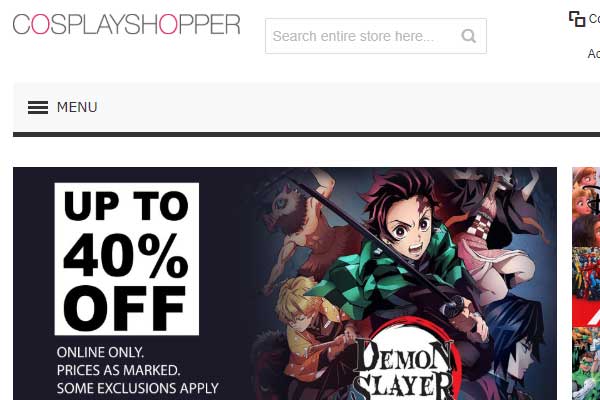 A New York-based cosplay shop that ships to quite a lot of countries internationally. While their prices are not really that "friendly to the wallet", they do carry a huge collection of costumes, props, and do customizations too.