Welcome to a list of extensions to block websites in Google Chrome. So you want to set up a computer at a workplace, and restrict access to selected websites? Or maybe you are a parent who wants to make sure that your child is safely kept away from those "funky websites".
Yes, there are thankfully ways to block websites in the Chrome browser by using various Chrome extensions. This guide will walk you through the popular extensions to do exactly just that. Read on!
TABLE OF CONTENTS
THE EXTENSIONS LIST

All right, let us now start with the list of website blocking and parental control extensions.
1) BLOCK SITE – WEBSITE BLOCKER FOR CHROME
This is one of the most popular Chrome extensions for blocking websites, and it is not difficult to see why. It is loaded with tons of blocking features.
Automatically block all the "mainstream adult sites" in one click.
Manually block by URL.
Block if webpages contain certain words.
Password protection to prevent people from removing websites.
Even give a "grace period" to allow people some time to browse websites.
Another interesting part is that BlockSite also has an Android app, the block settings can be synchronized for both PC and mobile devices.
2) STAY FOCUSD
This is another one of the highly-rated website blocking extensions on the Chrome Store. While it does not seem to have as many features as BlockSite, but it still does a very decent job at blocking out websites that you have specified. Plus, there are features to block websites on a specific day and time.
3) SAFE WEB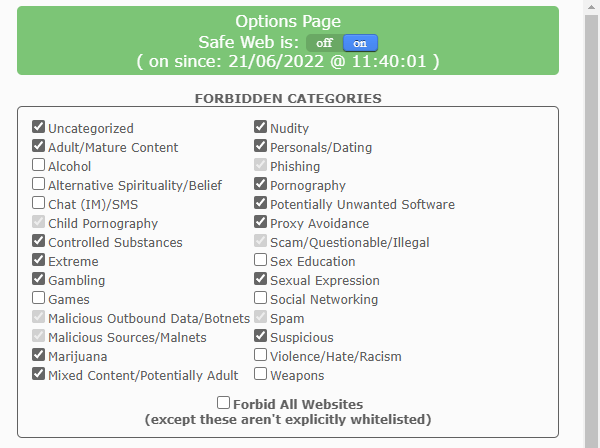 Safe Web is one of the easiest and fuss-free options for parents. Just install, set which categories of websites to block and that's it. You can even manually add your own whitelist and blacklist websites.
4) A9 WEB PROTECTION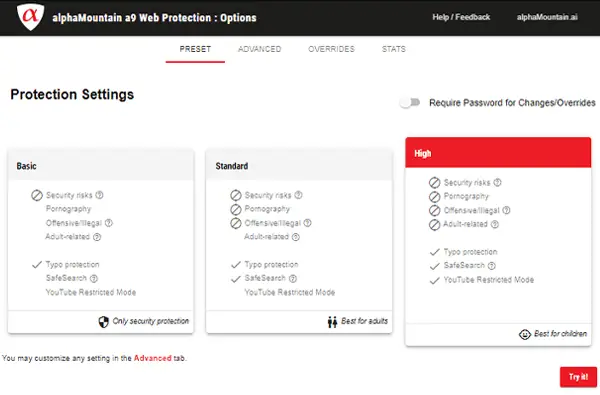 Dear parents, here is another featured extension that will help to block out all the "adult stuff" websites. Just like the others, this one is very easy to use. Set a password to prevent children from switching off the extension, you can also add your own list of websites to block.
5) UMATRIX
If you are a techie and want a more "sophisticated blocking" extension, then check out uMatrix. This is an extension that is really more like a "development tool firewall" with micro-management controls. You can set to allow/disallow where the browser can connect to, effectively blocking websites, even protect your own privacy by blocking trackers.
6) UBLOCK ORIGIN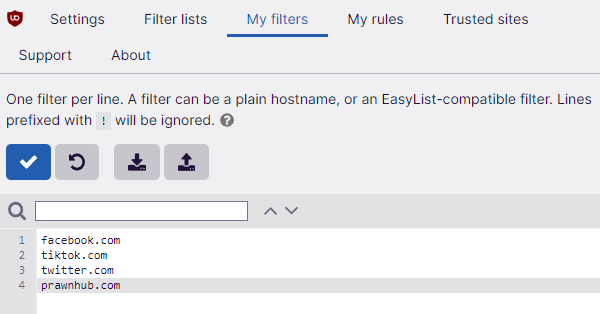 Here is another top-rated "technical blocker" on the Chrome Store. Nope, it does not have a feature to "one-click block all prawn sites". But instead, you have full control to block whatever you want with this extension, and this snappy little tool will not slow down the browser too much.
7) WOT WEBSITE SECURITY & PRIVACY PROTECTION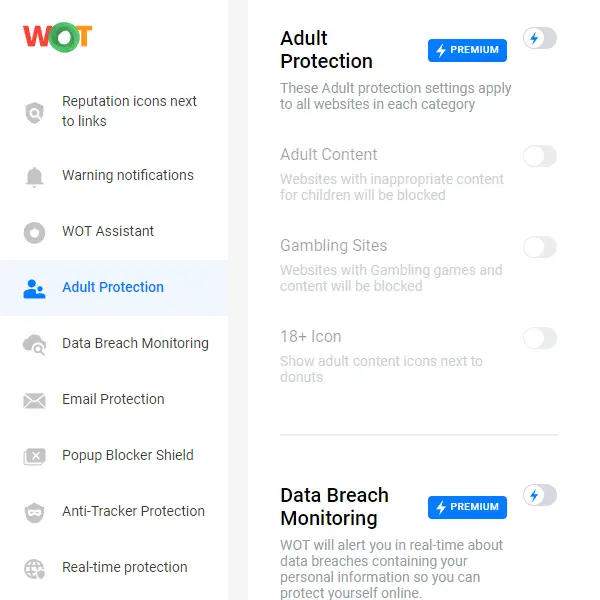 Finally, this extension is one of the hottest in the Chrome Store with over 1 million users. While some of the features are on a subscription basis, it is not difficult to see why it is so popular – This is not just a simple website blocker. It also offers real-time protection, gives warnings for bad websites, email protection, anti-tracker, and so much more.
USEFUL BITS

That's all for the list, and here is a small section on some extras and links that may be useful to you.
CHROME SURFING HISTORY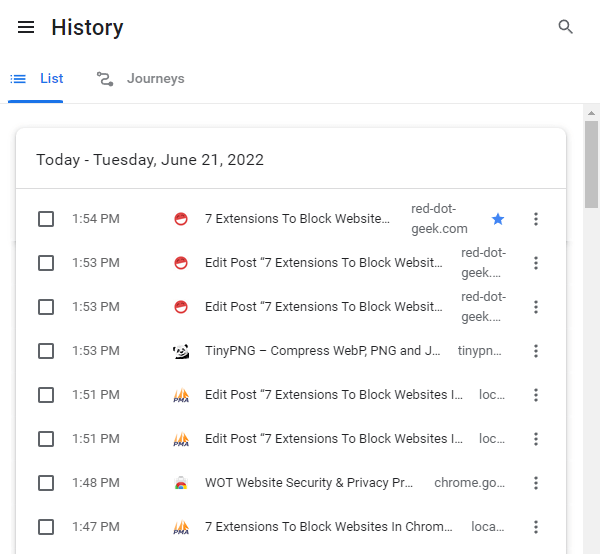 This is not a Chrome extension, but something that you can use to monitor the websites accessed.
Click ⁝ at the top-right to open the menu.
Then select History > History.
Or simply press the shortcut key CONTROL+H (or COMMAND+H on Mac).
That will show you a history of all the websites previously accessed… But of course, there is this whole thing about privacy, so cut your workers and children some slack. Check this only if you suspect a case of possible computer abuse.
WEBSITE BLOCKER EXTENSIONS ARE NOT FOOLPROOF
Yes, we can install the website blocking extensions and set up all kinds of blocking gimmicks. But the thing about Chrome extensions is that it is more of an "honor system", rather than an "actual lock".
The experienced power users will know exactly how to bypass the "blocking" – Disable the extensions, download another browser, or just use another "unlocked" device. Not to say that Chrome extensions are entirely useless. They still work, and they are good as a "free-and-easy" first line of defense.
A BETTER WAY TO BLOCK WEBSITES?
If you truly want some serious "enforcement", then it's time to look into better solutions.
Android and iOS – Just do a "block website" search in the app store, there are plenty to choose from.
Use your router to block websites if it has a built-in firewall.
For the tech-savvy people – Install an actual firewall to block shady websites, and protect your home network too. There are firewalls for home and small office networks, and they don't cost much.
HOW TO MANAGE CHROME EXTENSIONS
If you have never heard of Chrome extensions, they are basically "plugins" to add features to Chrome. No, these are some funky and illegal "hacker stuff". The Chrome Web Store is officially run by Google, and all bad extensions that don't follow guidelines will be taken down. Also, you can manage your extensions at any time.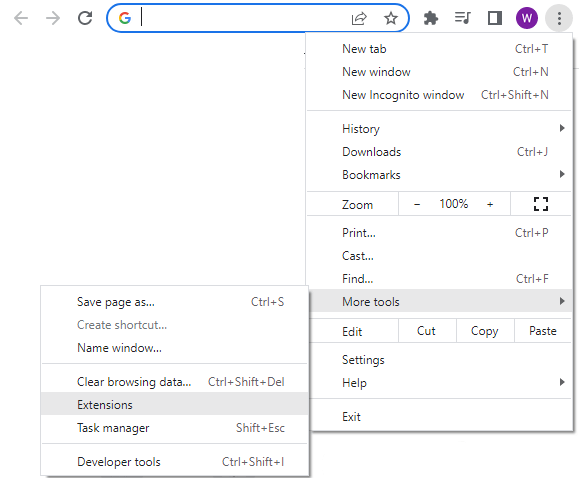 Hit the ⁝ button at the top-right corner > More Tools > Extensions. Or just open a new tab and enter the URL chrome://extensions/.
This page should be straightforward – Enable, disable or uninstall the Chrome extensions you don't need.
THE END

Thank you for reading, and we have come to the end of this guide. I hope this has helped you to better understand, and if you have anything to share with this guide, please feel free to comment below. Good luck and may the cyber force be with you.