Welcome to a guide on how to zoom in and out in Google Chrome. The Internet has millions of websites, but sadly, not everyone is a good website designer. When it comes to illegible websites, some unknowing folks will just choose to squint, or even go back to using an old-school magnifying glass.
Well, as cool as an actual magnifying may sound, please don't do that… There are various ways to control the zoom level and font sizes in Google Chrome, let us walk through some of those. Read on!
TABLE OF CONTENTS
ADJUST ZOOM & FONT SIZE

All right, let us not move into the various ways to set the zoom level in Google Chrome, and how to change the font size for better legibility.
1) ZOOM WITH KEYBOARD & MOUSE

Zoom features are already built directly into Google Chrome. But for some reason, it is not really upfront and is kind of hidden inside the menus. So firstly, one quick way to zoom is to use the keyboard and mouse together:
Zoom in – Press and hold the CONTROL key (COMMAND on Mac), then turn the mouse scroll wheel up.
Zoom out – Press and hold the CONTROL key (COMMAND on Mac), then turn the mouse scroll wheel down.
Reset Zoom – Press CONTROL and 0.
As you have noticed, the hidden zoom menu will appear as you zoom in and out. You can also use this to help you to navigate, otherwise, it will hide after a couple of seconds.
2) ZOOM USING THE KEYBOARD ONLY
If you are using a mouse or trackpad without a scroll wheel, it is also possible to zoom using the keyboard shortcuts only:
Zoom in – CONTROL and + (COMMAND and + on Mac).
Zoom out – CONTROL and - (COMMAND and - on Mac).
3) MENU ZOOM CONTROL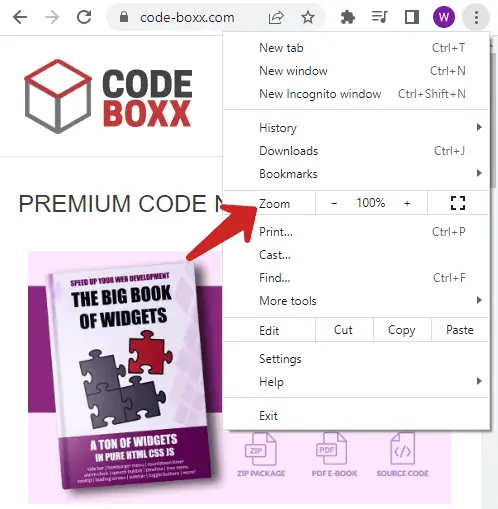 You can also control the zoom level from the menu. Simply hit the ⁝ button at the top-right corner, and the zoom controls are right there on the menu.
4) SETTING THE DEFAULT ZOOM LEVEL
The above methods to zoom using a keyboard and mouse are all cool. But the problem is, that it only applies to one website; You will have to manually zoom every website that you visit. To save time and make things a little more convenient, we can actually set a default zoom level in the Chrome settings.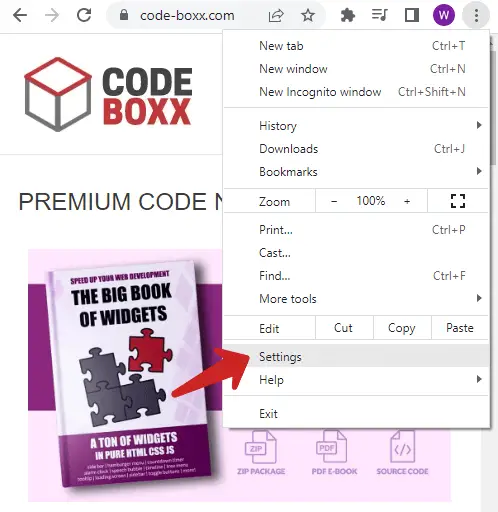 Press the ⁝ button at the top-right corner, then go into settings.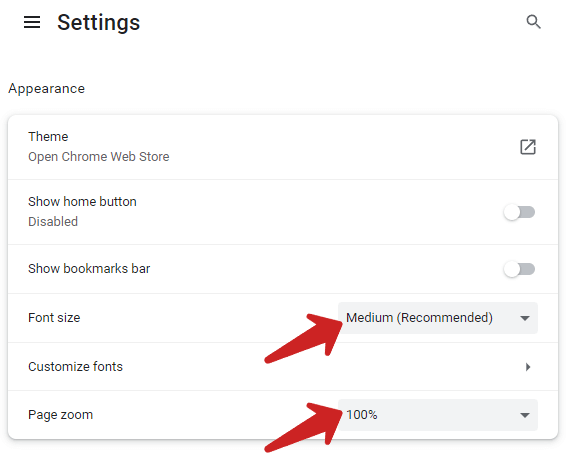 Under the appearance section, there is a font size and page zoom setting. Simply change these to however much you need, and that's it. Every page that you visit will default to this preset default font size and zoom level.
5) MAGNIFYING GLASS EXTENSION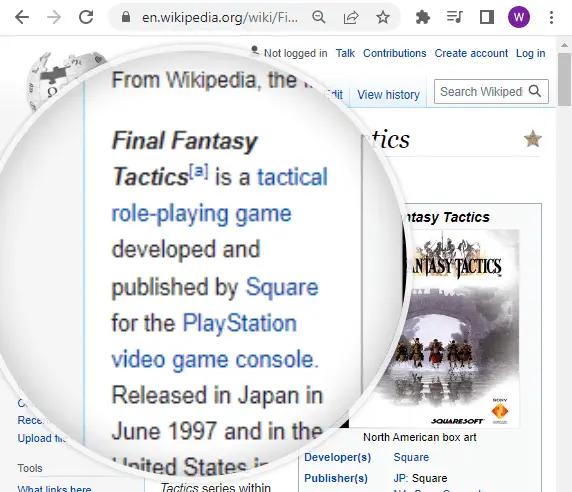 What if we only want to magnify a certain part of a webpage? Sadly, Google Chrome does not have the ability to zoom into a selected area only. But thankfully, Chrome is also a very flexible browser in allowing extensions – Or installing plugins to add on to Chrome's functionality.
Simply install this Magnifying Glass extension from the Chrome Web Store, press ALT and Z to bring up the magnifying glass. There are several other extensions if you do a "magnifying glass" search on the Web Store.
P.S. For you guys who are worried that extensions are "illegal hacks" – Nope. They are officially supported, and the Chrome web store is run by Google themselves.
6) FULL-SCREEN MODE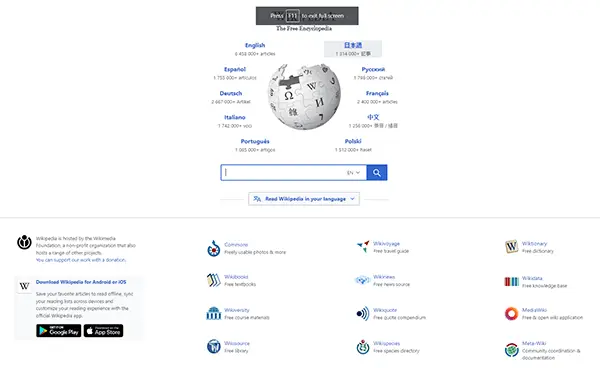 Well, this is not quite "zoom". But you can press the F11 key to engage full-screen mode in Google Chrome (press F11 again to exit). While this does not zoom or enlarge in any way, it does reduce a lot of clutter and maximizes the screen area for web browsing.
7) ZOOM ON THE ANDROID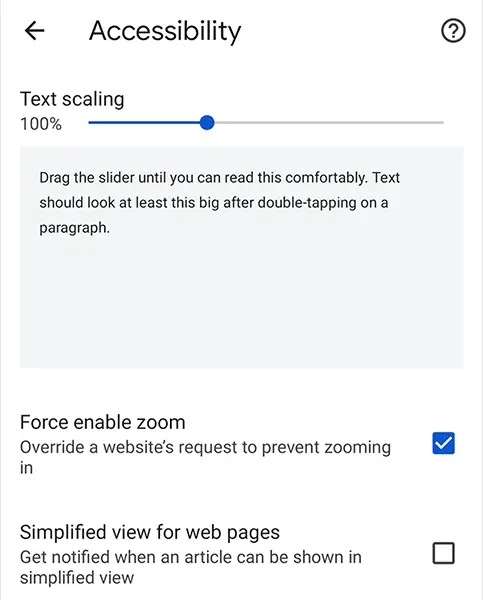 On mobile Chrome, we can easily do pinch zooms. But some websites will disable that pinch-zoom to retain the layout of their page. To override it and enable zoom regardless:
Press the ⁝ button at the top-right corner > Settings > Advanced > Accessibility.
The settings on this page should be pretty self-explanatory. Change the text size to however much you need, and check "Force enable zoom".
USEFUL BITS & LINKS

That's all for this guide, and here is a small section on some extras and links that may be useful to you.
LINKS & REFERENCES
THE END

Thank you for reading, and we have come to the end of this guide. I hope this has helped you to better understand, and if you have anything to share with this guide, please feel free to comment below. Good luck and may the cyber force be with you.