INTRODUCTION
THE WORLD OF THE UNSEEN
Welcome to a review of the Hoya R72 Infrared Filter. Ever wondered how the world in IR looks like? Want to do IR photography but don't want to modify your camera? Then the R72 is something that you can consider getting.
But as much as some people like to think that it "converts" a normal camera into an IR camera – It does not. The R72 filter does not "convert" anything, but only blocks out visible light. So before you buy the Hoya R72, please check if your camera is actually capable of capturing lights in the IR range first.
So if you are ready to take a dive into the surreal world of IR Photography with the filter – Read on to find out more!
OUTLINE
THE OVERVIEW
Price
About USD 38 to 100 (Depending on filter size)
Links
Official Website: Hoya R72 Infrared Filter
Get from eBay: Click here
Build

Solid build, excellent optical quality.
Usefulness

It offers a different perspective.
Value

Decently priced.
Average

An interesting filter.
NAVIGATION
TABLE OF CONTENTS
Section A
Walkthrough

Section B
What is R72?

Section C
Useful Bits

Closing
The Verdict
SECTION A
R72 FILTER WALKTHROUGH

Hoya is known for producing value-for-money gadgets, but the R72 is a little on the expensive side. Just how does it fare? Let us walk through in this section.
PACKAGE & OPTICS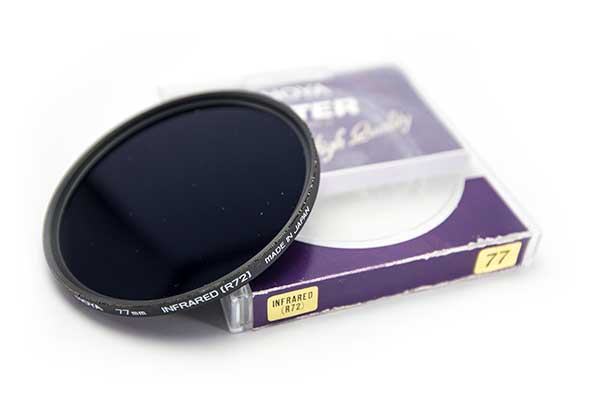 I got my Hoya online, and it came in a very uninteresting "default plastic case for filters". On the first look, the R72 just feels like a piece of very dark 15 stops ND filter. But looking through it reveals a piece of dark red glass instead. The effects of this filter can only be fully understood when you take it outside and look through it – A sea of red. It will cut off most of the visible light, allowing only Infrared to pass.
P.S. Yes, our eyes are still capable of catching some near IR, we can still see something through this filter.
THE PROFILE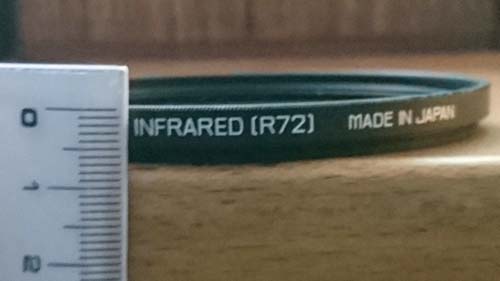 The ring is made of metal, and the profile is at 7mm. Pretty slim, and it should not cause any vignetting problems – You can stack more filters on top if you want. Overall the filter just feels pretty solid and has good optics… It is also made in Japan if it matters to you.
USAGE EXPERIENCE
The Hoya R72 may just a piece of glass, but it really is a different creature than the rest. It requires quite a lot of skills, understanding, trial-and-error to make it work properly… Here is a small sharing of my "beginner's struggle" with this filter.
DAYTIME IS THE ONLY TIME
First, the R72 is a filter that only allows IR light to pass. Meaning, the only best window of time to use it is at noon on a clear day, where IR lights are "maximum power". Yep. That is pretty much under the hot sun while shooting with this filter.
CLUMSY GLASS
The R72 is not an easy piece of glass to use, and how it works is somewhat similar to a 10 stops ND filter. Once the R72 is put on, the camera will "go dark" and we can't see anything… So it is best to shoot on the tripod, focus and compose without the R72 first – Attach the filter and switch off auto-focus when the composition is correct.
The settings are kind of another grey area because the raw photo will be entirely red-tinted. We can still guess if the exposure and composition is correct, but everything else is a mystery and has to be done in Photoshop.
HEAVY ON POST PROCESSING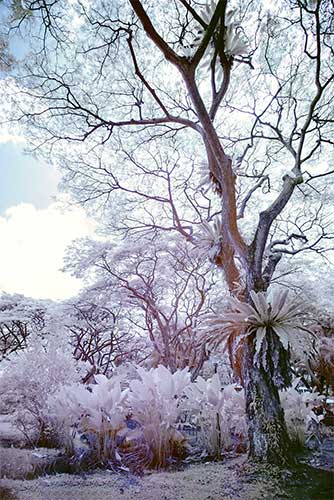 As discussed, photos taken with the R72 have a deep red color cast. The photos are pretty much useless straight out of the camera, so expect a lot of Photoshop work. You have to get rid of that red color cast, do your color adjustments and the "usual" touch-ups. But the result of the hard work is a rewarding beautiful surreal photo.
SECTION B
WHAT IS R72?

To fully understand what the R72 does, there is quite a lot of science and geeky stuff… But this is a review after all, and I shall just leave a short section here to touch on IR photography for the beginners – Will leave a link to another IR photography tutorial in the extras section below.
THE LIGHT SPECTRUM
In layman terms, there is something called the "electromagnetic waves" or simply energy traveling through space. Some of these energies are invisible to the human eye (such as radio waves and microwaves), and there are those that are visible to the human eyes… Otherwise known as "visible light".
As you can see from the above chart, visible light (what humans can see) is within the 400 nm to 700 nm range of the electromagnetic spectrum. Beyond that, we have the invisible Infra-red (IR) that extends from 700 nm to 1 mm.
Some of you smart ninjas should have figured it out – The R72 filter blocks out all visible light below 720 nm, which means, it will only allow light in IR range to pass.
SECTION C
USEFUL BITS

That's all for this review, and here is a small section on some extras and links that may be useful to you.
USEFUL LINKS
COMPETITION & ALTERNATIVES
Hoya is actually on the more expensive end for IR filters. But there are plenty of alternatives from Neewer, Zomei, Opteka, and Fotga – You can find many of these IR filters on eBay.
THE GOOD
Offers an alternative way of photography
Good optics, solid build
THE BAD
Clumsy to use, not your conventional filter
Needs a camera capable of IR photography
Needs some post-processing work
SECTION E
THE VERDICT

The Hoya R72 is what I call a "daylight filter", probably useless at night. Technically, it still works at night, but it will require an insane amount of artificial IR light. Still, this is one very special filter that allows you to have a peek into the invisible world.
Post-processing is the only downside of it. But with a unique photo at the end of the day, it is well worth all the effort. I will definitely recommend this filter to those who are looking for "alternative photography".
P.S. There are probably cheaper alternatives, but the R72 has so far served me well. Plus, with Hoya, it is "quality assured". Made in Japan, sorry for being a weeb.