Welcome to a review of the KZ KSN Pro Earphones. Yes, this is yet another pair of Chinese earphones. But KZ does have some credible people behind – A former Audio-Technica engineer and a classical musician at the helm. What good (or bad) will they make? Read on to find out!
THE OVERVIEW
Price
About USD $22 (As at the time of writing)
Links
Official Site: Link
Get from eBay: Click here
Packaging

Has all the basics – Earphones, ear caps, manuals, carrying case.
Build Quality

Solid metal-plastic earbuds, replaceable cables.
Design

Dirty brown cable paired with transparent earbuds. Yuck.
Sound Quality

A balanced sound profile. Less the sometimes harsh highs.
Value

Highly affordable, good value-for-money.
Overall

Small design miss, but performance is good for the given price.
TABLE OF CONTENTS
THE PACKAGING

Even before making the purchase, I have already heard a couple of good things about KZ. The fact that they have been around for a while goes to show something good about their products… But I need to say this – The earphones are pretty good, but the packaging is underwhelming.
FIRST IMPRESSIONS & UNBOXING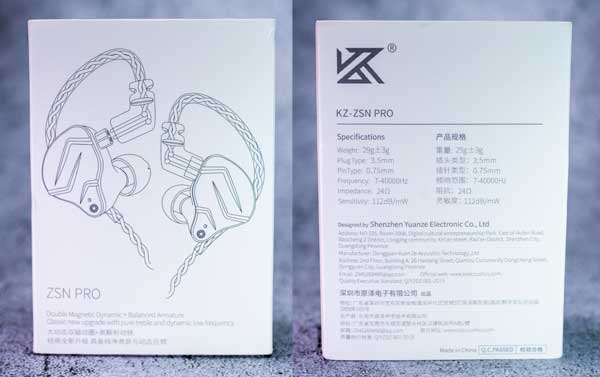 The first impression I got after tearing this out of the envelope – Why!? Just why does everyone want to copy Apple's packaging style? There are so many people and designers in China, can't anyone come up with their own original design ideas?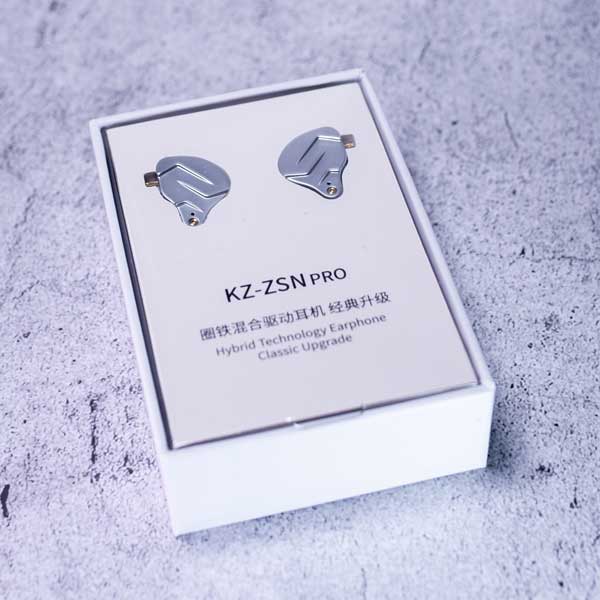 But I won't lie though, the presentation inside of the box caught me a little off guard – It is clean and actually looks pretty cool.
WHAT'S INSIDE?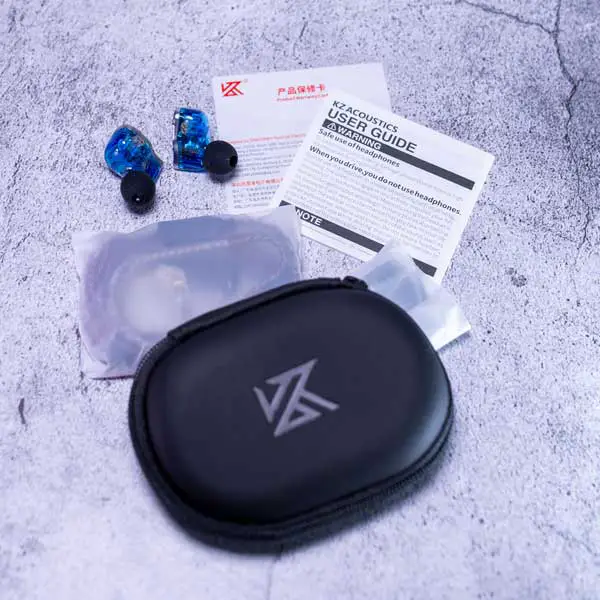 The small package comes with all the essentials:
Earphones.
3.5 mm cable (with a microphone attached).
Ear caps – Small, medium, large.
Instruction book.
Warranty card.
The carrying case is not in the box but came in the envelope itself.
Nothing to complain about, someone has learned and adapted well from the Japanese company – A complete package is very important to value add and wow your customers.
BUILD & DESIGN

Putting the disappointing "Apple-inspired" packaging aside, I would say that ZSN Pro has some good and solid build quality… But again, the design really needs some serious work.
A QUICK WALKTHROUGH OF THE ZSN PRO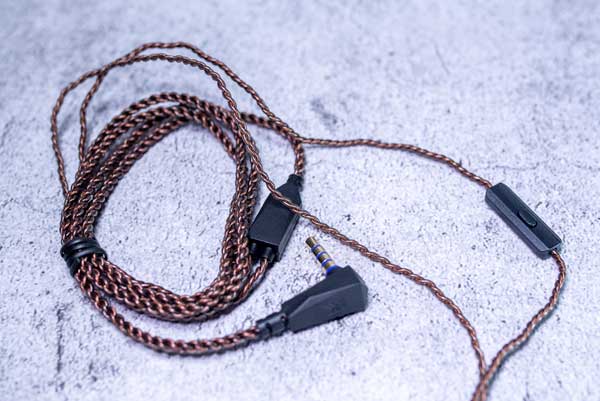 Well, it's a braided brown cable with "rectangular black Minecraft blocks". Not that it's bad, and the braided cable is in fact very durable. It's just that some people may like the so-called "industrial" or "vintage steampunk" look, but my personal preference is – Dirty brown? Yuck.
Anyway, the microphone is on the right-hand side, and it only has one play/pause/accept call button. The cable is also totally replaceable, a good redeeming point for the design.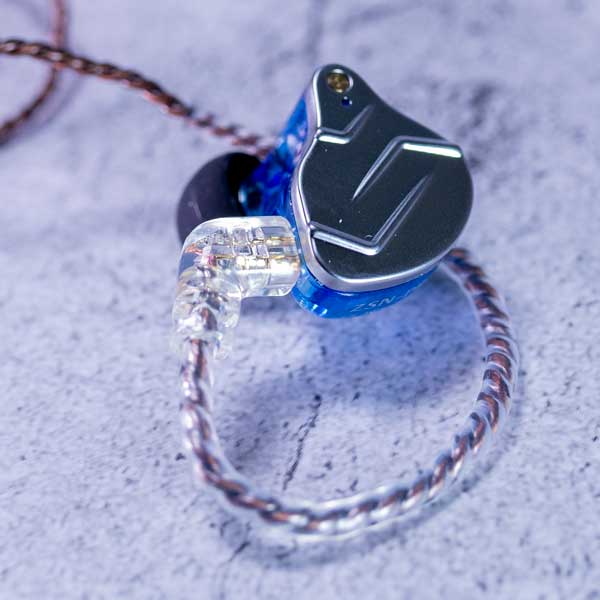 Another hiccup happened when I tried to connect the earbud to the cable. Just which side is which? That took a lot of squinting to figure out. Not sure if you can see it, but there is actually an "R" embossed on the crystal connector. I know it's a one-time connection effort, but can't the designers make "left" and "right" clearer? Don't make us squint so hard?
But credits have to be given where due, the metal-plastic earbuds have some serious good build quality. No sharp edges and they are solid.
CONFUSED DESIGN STYLE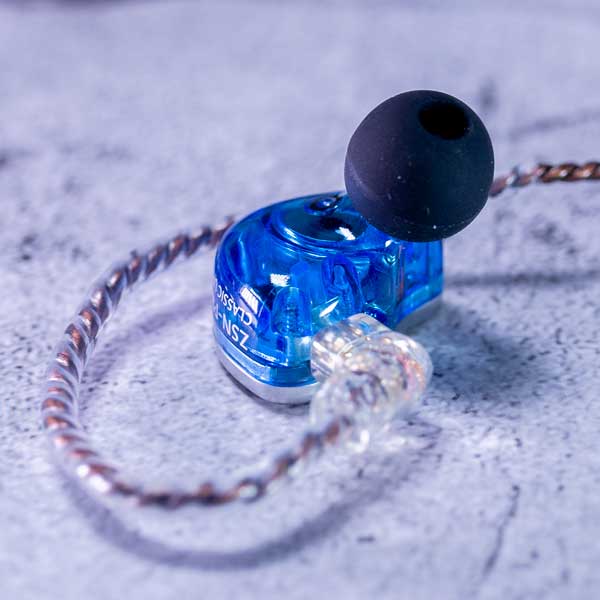 I have no complaints about the build quality so far. But the design… Sorry to the people who like it, but I really have some beef with it:
Dirty brown cable with sheet metal earbuds. What is it supposed to be? Vintage and/or industrial?
Combine that with colorful clear plastic. What is that supposed to look like again?
Overall, I will just call this a "very confused design theme".
SOUND QUALITY

The sound quality is kind of hard to describe in words, but I will give it an overall "mighty decent good".
BALANCED SOUND PROFILE
Lows – Not really "powerful bass", but more of "balanced bass". Not too deep, not intrusive.
Mids – Produces some good mids and vocals.
Highs – A couple of high notes hit irritating-sharp… Something about the driver is trying to push things way too hard.
Clarity & Soundstage – Good clarity and soundstage. More wide than deep (direction, not distance).
Overall, the ZSN Pro has a decently good balanced sound profile. It will do just fine… Just avoid Soprano and "sharp instruments" such as violin and cymbals.
GOOD NOISE ISOLATION
This thing has some good passive noise isolation. I guess the big metal earbud does block out noises quite a bit, and as the manual warns – Don't wear this while driving. Slap some of your own foam ear tips on, and I am guessing that will make it perfect.
SUMMARY & AFTERTHOUGHTS

That's all for this review, and here is a small section on some extras and links that may be useful to you.
TECHNICAL SPECS
Frequency Response: 7Hz to 40KHz. Something I don't understand. The average human hearing range is 20Hz to 20KHZ, so what's the point? You get to boast "my earphones can produce sounds that dogs can hear"?
Impedance: 24 Ohms
Sensitivity: 112 dB
THE GOOD
Respectable balanced audio profile.
Good and solid overall build quality.
Replaceable cables.
Excellent value-for-money.
THE BAD
Highs can be piercingly bad at times.
Not visually appealing.
AFTERTHOUGHTS
It has been months since I bought the KZ KSN-Pro. Nothing is broken, and this is still one of my "main earphones". So yes, these supposedly "cheap earphones" have some good quality.
Also, KZ offers some good versatility with swappable accessories – Foam earbuds to further improve the noise isolation, silver/gold cables if you don't like the dirty copper, even a Bluetooth adapter to turn this into a pair of wireless earphones. I can easily use this for many more months to come.
VERDICT

The ZSN Pro came in strong with a good build and sound quality, but it is not without flaws. The high range is a bit of a bummer, and the design… is up to your preference. However, for only 20 bucks, this is an easy no-brainer – This is a really good buy if you are on a budget. Highly recommended.
Thank you for reading, and we have come to the end of this review. I hope this has helped you, and if you have anything to share, please feel free to comment below. Good luck and may the cyber force be with you.