Welcome to a review of the Ulanzi VL120 LED RGB light. This is yet another one of those affordable pocket-sized LED lights, but I have an upfront confession to make – This is definitely one of the better mini LED lights that I have used to date. No, I am not sponsored to say that. I bought this gadget with my own money, and it is actually amazing for its price. Read on for more!
THE OVERVIEW
Price
About USD $30 (As at the time of writing)
Links
Official Website: Link
Get from eBay: Click here
Packaging

Has all the basics – Box, light, hot shoe mount, manual, charging cable.
Build Quality

Mostly plastic, but seems to be rugged enough.
Functionality

Warm and cool lights, plus RGB. "Scene mode" for the movie makers.
User Friendliness

Takes some fumbling and reading the manual for 5 minutes.
Value

A good quality RGB light with a built-in battery – For just $30.
Overall

Excellent gadget for photography and videography, value-for-money.
TABLE OF CONTENTS
A QUICK WALKTHROUGH

All right, let us now take a quick walkthrough of the simple LED RGB light.
UNBOXING & FIRST IMPRESSIONS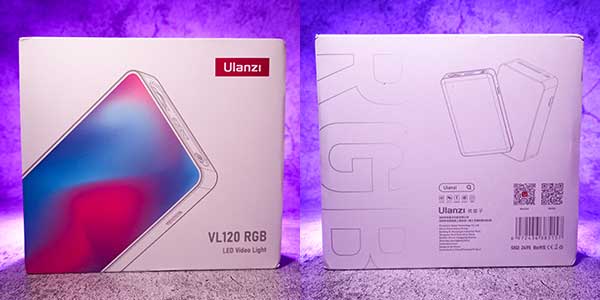 My first impression – Did they send a smartphone by mistake? Wait, oh no. It's just a LED light with packaging that looks like a smartphone. Anyway, a sealed box and good design is a refreshing change from the usual "LED light in a brown cardboard box".
WHAT'S INSIDE?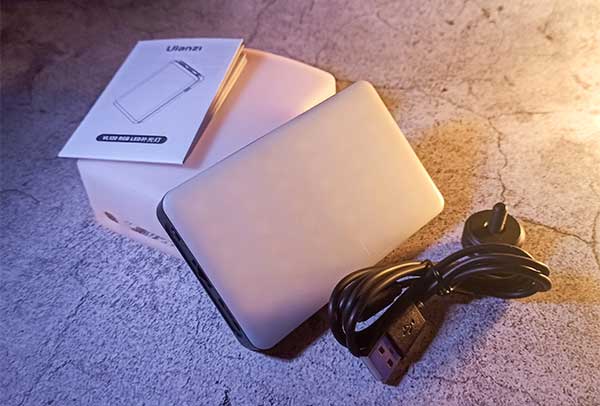 The LED light itself.
Silicon diffuser cap/cover thing.
Instruction manual (in English, Chinese, Japanese).
USB Type-C charging cable.
1/4″ hot shoe mount.
Not bad, the packaging has all the basics. Could have value-added a small drawstring carrying bag, but I am happy with what I got.
VL120 RGB LED LIGHT QUICK WALKTHROUGH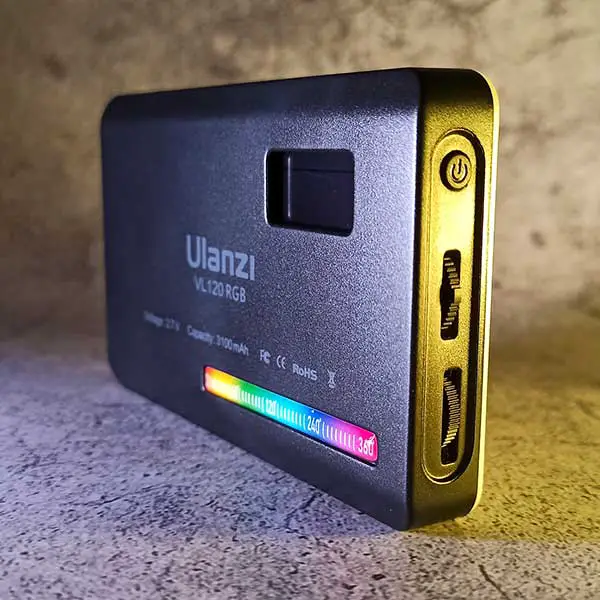 The VL120 is a simple pocket-sized RGB LED light. The controls are on the left-hand side (looking from the front), and a display LED is at the rear.
Power/mode button at the top.
The center is an "up/down" rocker switch.
The bottom is the brightness dial.
Operating and switching modes around is actually quite clumsy, more of that in "usage experience" below. Otherwise, that strip of "RGB hue" at the bottom? It does absolutely nothing. It's just there as a "reference chart", for you to set the RGB color.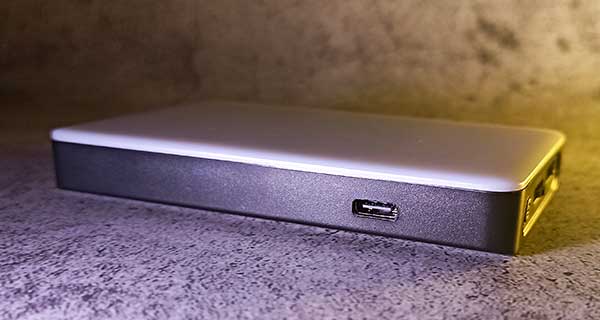 At the top, we have a standard USB type-C charging port… Thank goodness, it's not some outdated and slow charging micro USB.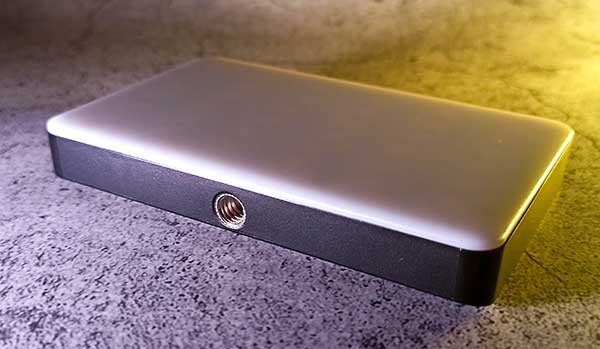 At the bottom, we have a standard 1/4″ screw hole – This can be mounted onto any light stand or tripod, or mount onto a camera using the provided hot shoe mount.
SILICON DIFFUSER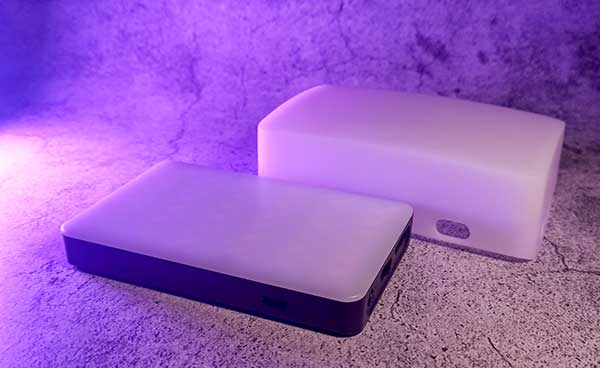 Interestingly, the VL120 came with its own "default diffuser cap". Something that I don't see other manufacturers do. In any case, take note that the diffuser cap will "more than double" the thickness. This will not fit into a pocket unless you are Doraemon.
The diffuser will also turn the LED light into a bar of soap. Pretty useful for somewhat softening the light, but I personally don't like how it obstructs access to the controls. Yes, this still works, but people with big fingers like mine are going to find the buttons hard to press.
BUILD QUALITY
Mostly made out of plastics, but I have nothing to complain about the build quality. The entire gadget just feels like a single solid piece, and there are no "soft squishy spots" that will break open. Lastly, take note that the VL120 is not waterproof. Although the silicon cap can fend off some droplets, it is not healthy for this LED light to be wet in any case.
USAGE EXPERIENCE

The pocket and palm-sized Ulanzi is not the brightest, but it does produce some nice soft tones.
SOMEWHAT CLUMSY CONTROLS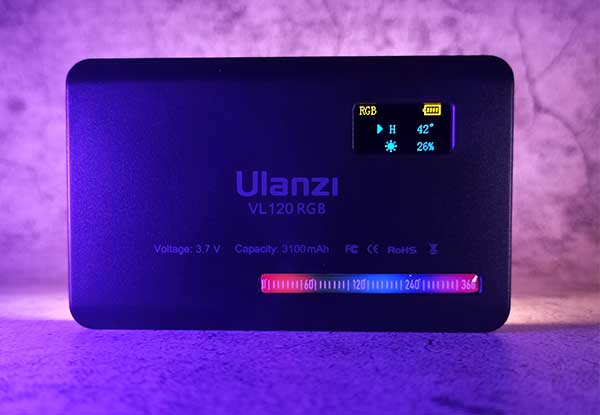 There is only 1 button and 2 dials, how difficult can it be? In the first 10 seconds of using the VL120 without a manual, I couldn't figure out how to set the RGB color with just intuition. Here's how the controls work:
Press and hold the power button to switch on/off.
Press the power button to cycle between the modes –

Movie Scenes
CCT (Warm and cold white)
RGB
HSI

Once set to the desired mode, use the up/down rocker switch to "change the settings".

Movie Scenes – Cycle between the scenes (Lightning, Cop Car, Ambulance, Strobe, TV, Candle, etc…).
CCT – Change the color temperature (warm to cold).
RGB – Change the color hue.
HSI – Change the color hue.

Lastly, use the dial at any time to adjust the brightness.
It's not that difficult once you have read the manual, but it is still kind of clumsy to do the settings. Especially with the silicon cap on.
WISH LIST – BLUETOOTH & MOBILE APP
This light will work great for both photographers and videographers:
For product or even portrait shots. Not quite bright enough as a main light for portraits, but good enough as a fill light, or to add some colors.
Plenty of scene modes for amateur video makers.
But the VL120 is not really that strong. When you need multiple lights, setting them up with the rather clumsy controls can take some time, and getting them to sync is going to be quite a challenge. Sadly, this does not come with Bluetooth nor a mobile app. I would have easily given it a full 5 stars if it did.
BATTERY LIFE & CHARGING
To be truthful, I have not "stress-tested" this gadget until the battery is totally drained. But it did survive an hour-long testing session (not on full blast) with 2 out of 4 battery bars left. Pretty good, I will say. As advertised, it should last about 1.5 to 3 hours of usage.
As for charging, this is thankfully using USB-C. A quick check with an online "battery charge time calculator" says that it will take about 2.5~3 hours to go from "flat to 100%". I have not verified that, but it did charge decently fast in about an hour (or so) from "2 battery bars to full".
USEFUL BITS & AFTERTHOUGHTS

That's all for this review, and here is a small section on some extras and links that may be useful to you.
TECHNICAL SPECIFICATIONS
Input: USB Type C, 5V 1.5A
Battery Capacity: 3.7v 3100 MAH
LED: 42 yellow, 42 white, 36 RGB
CRI: 95%+
Color Temperature: 2500K to 9000K
Working Time: About 1.5 to 3 hours.
Dimensions: 66mm X 106mm X 15mm
Weight: 120g / 4.2oz
THE GOOD
Excellent value for money.
Lightweight and portable.
Easily charge with a power bank.
Many "lighting scene modes" for the movie makers.
THE BAD
Controls are kind of clumsy. Setting to the right color and brightness can take some time.
Kind of difficult to work and sync with multiple lights.
AFTERTHOUGHTS
After using the VL120 for months, it is still one of my "main lights". It is just so very useful – Good for smaller product photography, to add some colors to the background, as a focus assist light, and it can also act as a fill light in some cases. No regrets, definitely a good buy.
THE END

Thank you for reading, and we have come to the end of this review. The controls of the VL120 are a small miss, but that does not take away its value. For only $30, this offers some really excellent value-for-money.
If you are into casual photography or videography, don't want to spend too much on a large LED panel – This is a good alternative and an extremely good buy. Highly recommended. If you have anything to share with this review, please feel free to comment below. Good luck and happy shooting!