INTRODUCTION
THE NEW OLD
Welcome to a list of the best places to buy used cameras online. Don't have a big budget? No problem, you can always get a used camera and they are really not so bad if you choose carefully. Confession – I got various used cameras and lenses over the years from reputable online sellers. They are usually way below the market price and in good/mint condition; It is well worth the time to dig for some treasure online.
But where do we find used cameras? Which reliable websites should we get them from? This guide will list some of the good reliable websites that we can get used cameras, read on to find out!
1) EBAY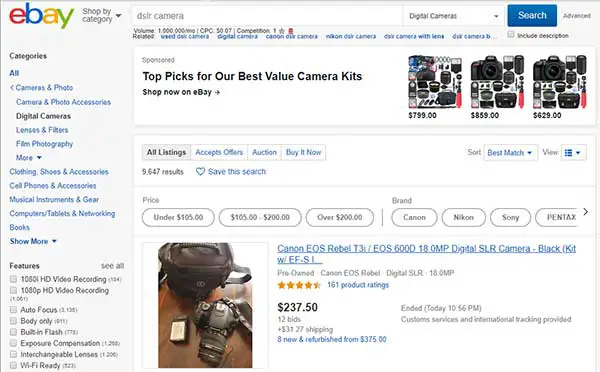 eBay is one of the world's largest e-commerce website, and it is not just good for hunting new stuff. If you have not already heard of it, eBay is a portal where people and businesses from all over the world register and list their stuff for auction/sale. In other words, there is a treasure trove of used camera equipment waiting to be dug up. I have personally sold and purchased a number of lenses and cameras off eBay, made some regrettable purchases but also some really good deals.
Even though eBay offers buyer protection, the key to a happy purchase is to do your own due diligence before buying, since we cannot test or see the physical camera. Research on the equipment that you are buying, read the item description, look at the pictures, and know exactly what you are buying. The best part is, you can ask the seller questions – Such as if the camera still has a valid warranty.
2) AMAZON
Amazon is another one of the largest eCommerce websites in the world. Similar to eBay, Amazon is also a platform for people to sell their stuff. But slightly different from eBay, Amazon is more business-oriented when it comes to sellers – They are all third-party dealers and businesses. While most of the camera stuff on Amazon is new, we can also find some used/refurbished items. Just filter the search results by checking "used" under the condition section on the left menu.
As much as the third-party sellers on Amazon are businesses in their own way, you still need to be careful with online purchases. The usual due diligence applies – Do your own research, read the reviews on the seller, read the item description, look at the product pictures. If the prices are way too good to be true – Something is very wrong. While Amazon does protect their buyers as well, they do not have control over everything. Thus, my usual way is to go with the reputable sellers even though they cost a little more.
3) B&H PHOTO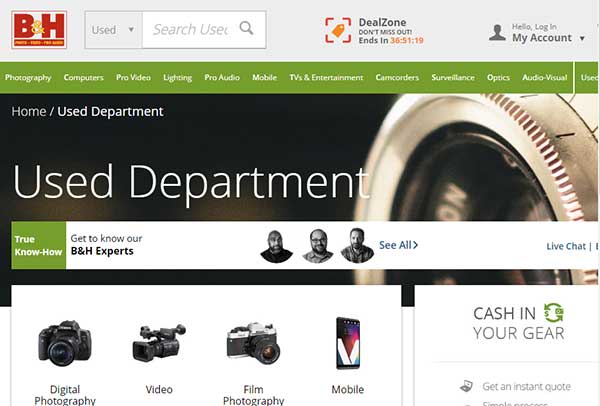 B&H Photo is a good old reliable camera gear retailer in the world, and they carry virtually every brand of camera and lens – Canon, Nikon, Sony, Pentax, Olympus, Tamron, Tokina, Sigma, etc… The even better part is, they also deal with used camera gear. You can find several used camera equipment under their "used" section, and even ask them for a quote if you have one to sell.
While I personally find the prices of B&H to be not as competitive, but they do properly check every piece of used equipment before listing them out for sale on the website. In the description of every used item, there will be a numeric score of 1 to 10 (10 being in mint condition) for the item. Apart from that, they also offer support and returns – You can buy from B&H with a piece of mind and not worry too much.
4) ADORAMA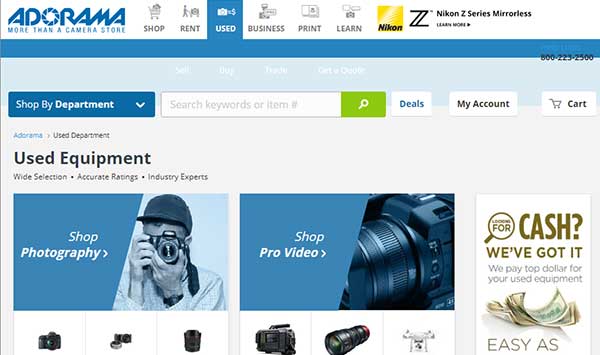 Adorama has been around since the 1980s and is another one of the old reliable photography retailers. Much like B&H photo, they also deal with used cameras – You can buy and sell your camera to Adorama.
One thing I like about Adorama is that their technicians do a very thorough check on the used cameras. Not just do they categorize the condition, they also list the defects in every listing on the website. With a 30-days return policy, you can rest easy with your purchase.
5) KEH CAMERA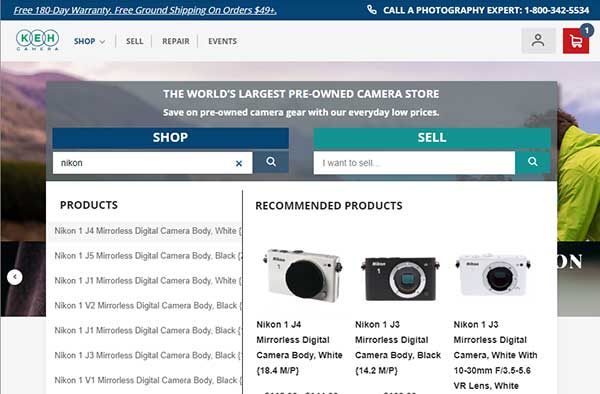 Even though KEH Camera is one of the lesser-known retailers, it has been around since the 1980s just B&H and Adorama. Actually, I prefer to shop with KEH for the used stuff… They have massive stock and they especially deal with pre-owned cameras.
Just like the other big boys, KEH checks each piece of equipment before listing them on the website. You can choose between the various conditions, and they will be priced accordingly. Even though KEH does not offer cut-throat competitive prices, I still find them to be pretty good. Considering that they offer 180-days warranty and 14-days return policy, this is pretty much a no-brainer good place to hunt for deals.
6) USEDPHOTOPRO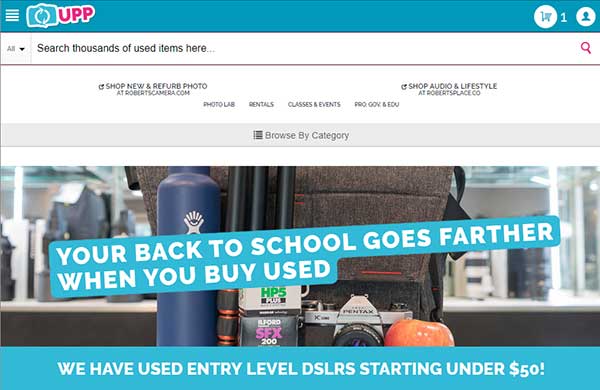 Used Photo Pro (UPP) is one old used camera shop that has been around since the late 1950s… Kind of surprising that it is not more popular. They do carry quite a number of used cameras, and you just might be able to find a few good deals with them. As with the rest of the big boys, they do offer free shipping within the US, and also a 180-days warranty.
7) CANON REFURBISHED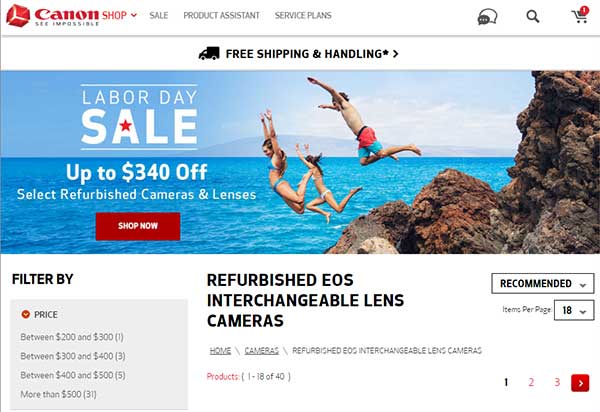 If you are looking to buy used cameras, then why not buy directly from the manufacturer? Yes, I will actually not recommend buying new cameras directly from their official website, as it will likely be priced higher to keep the retailers happy. But if you dig deeper, Canon does sell refurbished cameras at a discounted price.
For those who do not know what refurbished means – These are the cameras that have failed quality checks, or maybe are returned cameras with minor flaws such as dead pixels on the screen. However, they have been repaired and resold back to the market at a much lesser price. Sadly, they only ship within the US and you might need to use a forward shipping service.
8) NIKON REFURBISHED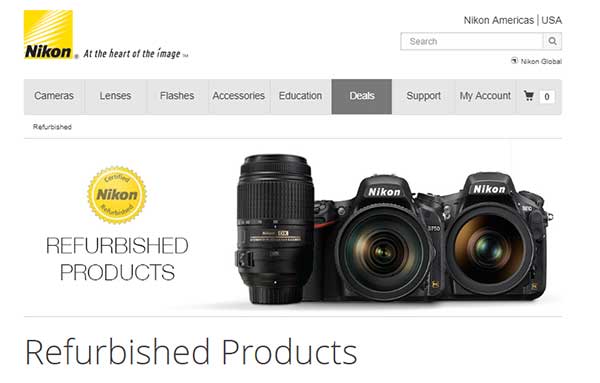 If Canon has it, so does Nikon. Similarly, I will not recommend buying new equipment from the official Nikon store… You know why. But look a little deeper, and there is the refurbished section. Only ships within the US as well, use your own forward shipping service if you must.
9) CAM-ALL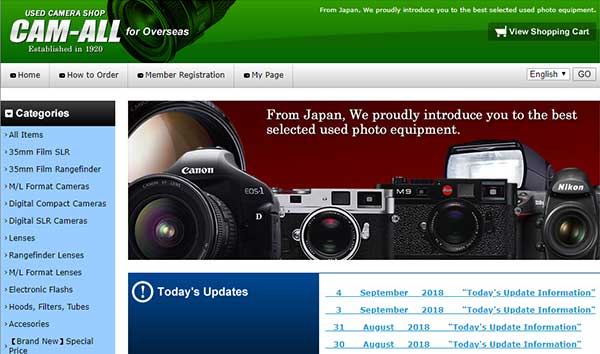 CAM-ALL is a used camera dealer based in Japan and a pretty uncommon one to run an English website. As you can expect from a Japanese dealer, they really catalog each and every one of their items well. Apart from a grading system on the condition of the item, you will find pictures of the actual item itself, along with a short description of the flaws.
So even though they don't offer the best prices in the market, this is why I love to purchase from Japan – You simply won't get a nasty surprise when you receive the item.
10) SUNRISE CAMERA
Sunrise Camera is another dealer based in Japan, and they tout themselves to be the biggest used camera exporter in Japan. Again, they don't offer the best prices, but as with any other Japanese dealers – They grade each piece of used equipment and have actual photos of the item itself. Dig around their website, and who knows, you just might find a good deal or two.
11) MPB
MPB is established in 2011, and a newbie when compared to the likes of Adorama and B&H. While they do have quite a collection of used camera gear, I personally don't find their offers appetizing. Because they charge in pounds (GBP), and the conversion rate is just horrible for someone living in Asia like me.
Adding on to that horrible conversion rate is an expensive shipping fee, and I just cannot find any good deals from MPB. But if you live in the US or Europe, you may still be able to catch a few good deals with them. Otherwise, I keep my fingers crossed.
12) CRAIGSLIST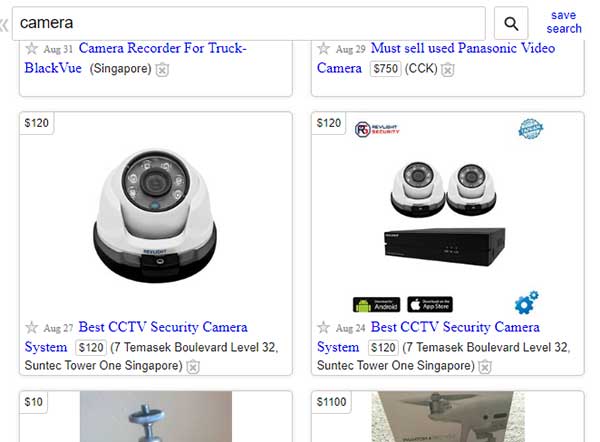 Well, not just Craigslist, but any of the free classified websites in your country that deal with the photographic gear. These are kind of hit-or-miss deals, depending on the person you are dealing with. I have gotten a few good buys with people who are genuinely looking to switch systems and pushed a number of scammers aside… You just can't avoid the pest scammers anywhere on this planet.
The key to a good deal is always to do your research, and understand the gear really well. If someone is giving you an impossible deal, the only way is to meet up, test the camera out, and pay only when you are satisfied with the condition.
CLOSING
WHAT NEXT?

Here comes the end of the list of websites to find used cameras, lenses, and accessories. Please feel free to comment below if you have more good websites to share, or if you want to share your purchase experience from any of the above websites.
I hope that this article has given you more places to hunt for good deals and that it has helped you to save some money in the process. Good luck and happy shooting!