INTRODUCTION
BEST BUY?
Welcome to a review of the YINYAN CY-20 flash. This is a cheap Chinese flash that is floating all around eBay and Amazon, priced at an unbelievable $10. Yep, this may be the cheapest flash that I have ever bought out of curiosity. But just how well does it work? Is it useful by any means? Read on to find out!
OUTLINE
THE OVERVIEW
Price
About USD $13 (As at the time of writing)
Links
Official website: Kang Hui Photo
Get from eBay: Click here
Package

A box, a flash, an instruction manual… Can't complain about a $10 product.
Build Quality

Plastic. It holds together.
Functionality

A manual flash, no way to set power, no slave mode.
User Friendliness

Can't go wrong, only need to put the batteries in.
Value

It is dirt cheap, and it is better than tiny pop-up flashes.
Overall

It works, but it is wiser to spend a little more for better options.
NAVIGATION
TABLE OF CONTENTS
SECTION A
UNBOXING & FIRST IMPRESSIONS

Surprisingly, this piece of $10 flash actually comes packaged in a box. My experience with the online cheapies has almost always been "spartan bubblewrap packaging". So yep, boxes are usually a pretty good sign that the company actually gives a f*** about the quality of their products.
WHAT'S INSIDE?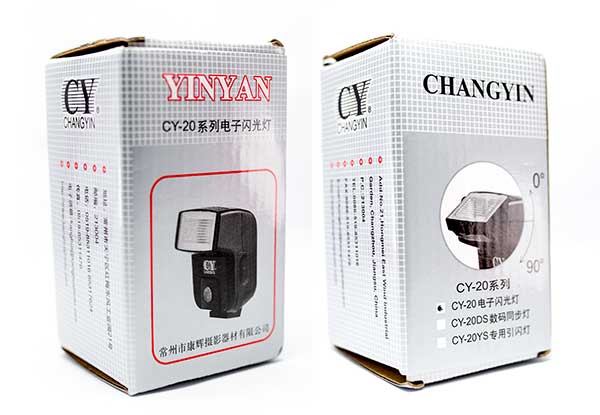 Not being a racist here, but this is an undoubtedly "typically Chinese" gadget. Instead of a photographic flash, the box somehow gives the vibe that it is one of those light bulbs that you install at home… Anyway, there is nothing much to the packaging.
A "very Chinese" confused box.
The flash inside.
The manual (a piece of paper) is written in Chinese only.
Batteries not included.
No flash stand/base either. Yep, they cheap out on that too.
SECTION B
FLASH WALKTHROUGH

So what can you expect from a $10 flash? It does not have an impressive packaging, but it is actually still a decent usable flash… without a lot of performance and missing out on all the features.
A QUICK WALKTHROUGH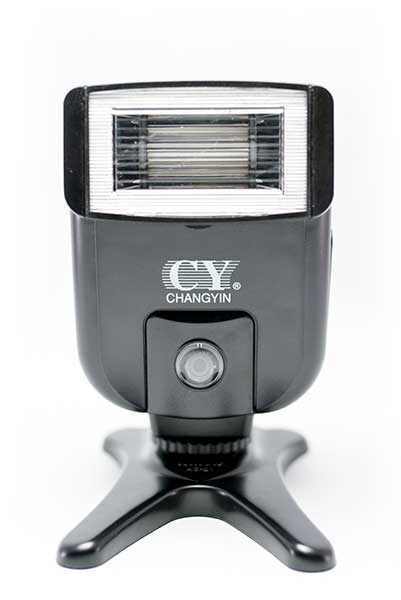 The front side of the flash just looks like a decent flash. But for you guys who are wondering, that circular "eye" on the front should have been where the IR receiver is located… But it just seems to be a dummy here. Also, that is my own Nikon flash stand.
Nothing much on the side. The head tilts up 90 degrees, and it does not turn sideways. A small inconvenience, but that will work.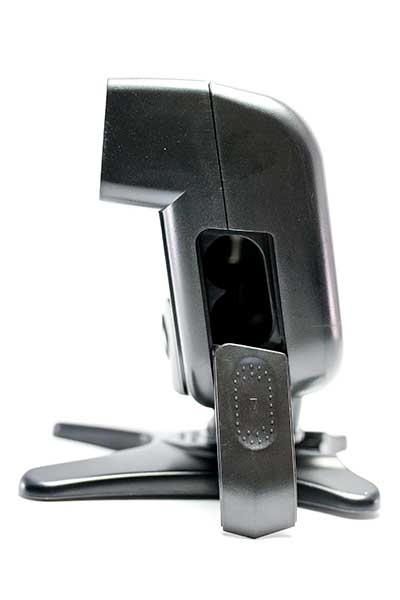 The battery door is on the other side. Takes 2 AA batteries, but they did not mention how many cycles it will last. That is probably not a big issue since this flash is only rated at a weak GN20 and will last long; AA batteries are easy to find and replace in any way.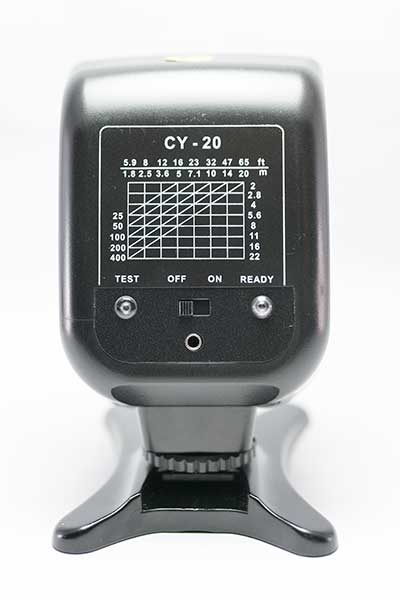 The "control panel" is located at the back of the flash unit, and there is pretty much nothing except for the on/off switch plus test button; It does not have any controls for power settings, nor does it have a slave mode. That 3.5mm audio jack, however, takes a wireless trigger.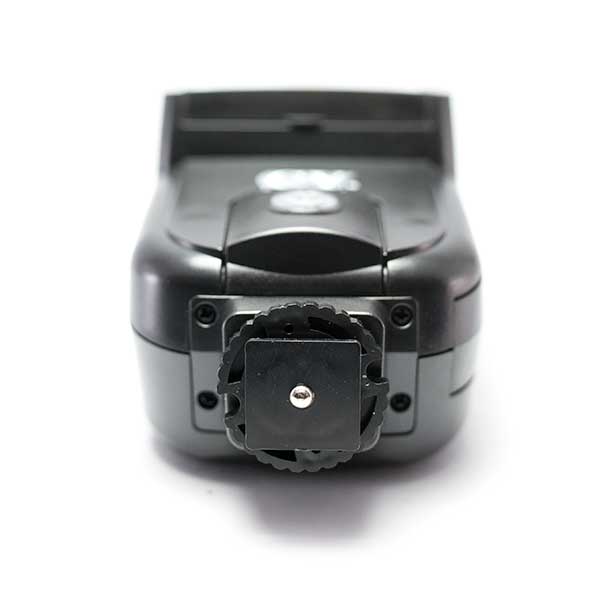 A single pin on the hot shoe mount – Meaning, full manual flash that will go onto most cameras – Nikon, Canon, Pentax, Olympus… Except for Sony, since they use a different design.
BUILD QUALITY
The CY-20 is made out of decently good quality plastic, nothing interesting otherwise.
SECTION C
USAGE EXPERIENCE

The cheap flash actually works pretty well… but it has quite a number of flaws that ticked me off.
THE $10 CRUNCH
Slow recycle time.
As this flash does not have manual power settings, the only way to control it is to move it further back… Or "pad" it with even more paper to further diffuse the flash.
A real hassle and restriction, having to move the flash around to control it.
The Head cannot swivel sidewards, further restricting how the angle of the light.
BATTERY LIFE
I used GP Recyclo cells, and it lasted hours, long enough for my testing and entertainment. I am guessing it might even last an entire day on good AA cells. Why? Because the recycle time is so slow, there won't be any "fast and furious" bursts – Slow and not-so-powerful flash equals power saving… Get it?
TEST & GALLERY (CLICK TO ENLARGE)
So yeah, this flash works, but it is not a flash for serious work. 😆
EXTRA
SPECS & USEFUL BITS

That's all for this review, and here is a small section on some extras and links that may be useful to you.
THE SPECS
Power: GN20 (At ISO100)
Color Temperature: 5600K
Recycle Time: 7 sec (tried this, and more like 10 seconds)
Max. Sync Speed: 1/1000 sec
Weight: 100 grams
Size: 65 x 60 x 98 mm
THE GOOD
Dirt cheap.
Very simple, beginner-friendly.
A functional flash… It works.
THE BAD
Weak. Not for professional use.
Slow recycle time.
Cannot adjust power.
Fully manual and basic flash, don't even have a slave mode.
CLOSING
VERDICT

The CY-20 is a bare-bones flash without all the "advanced" features. It does not have buttons to set the power and does not even have an IR receiver for slave mode. It is a flash that works better than the tiny built-in pop-up camera flash, and that's about it.
I really cannot recommend people to buy the Yinyan CY-20. This is not a good flash if you are planning to do photography seriously, and it does not serve a lot of purpose in the long run. So please save yourself some money and get an actual decent flash instead.
Buy this only if you are desperately low on cash… Or if you want to challenge your own photography skills – There are a lot of good, affordable, proper beginner entry-level flash. Just do a search for Godox or Yongnuo.