Welcome to a review of the Andoer KM-72B RGB LED light, and this is a tiny gadget that I think deserves more credit. There sure are a lot of LED panels these days, but getting a good RGB one can still cost quite a bit.
Even though this Andoer is small, it costs lesser than $15. It is also "stackable" to create a bigger panel to cover larger areas – It is small but still pretty versatile. Is it a good buy? Read on to find out!
THE OVERVIEW
| | |
| --- | --- |
| Price | About USD 15 (As at the time of writing) |
| Links | Get from eBay: Click Here |
| Package | Bare basics – Has a box, light, and instruction manual. |
| Build Quality | Plastic, but hard to break. |
| Functionality | Warm and cool lights, RGB lights. |
| User Friendliness | Turn on the power. Press to cycle through modes, turn the wheel to adjust power. |
| Value | $15 for a portable RGB light is dirt cheap. |
| Overall | The only downside is the lack of Bluetooth connection, hard to sync when using multiple pieces together. |
TABLE OF CONTENTS
LED LIGHT WALKTHROUGH

All right, let us now take a quick look and walk-through of this simple RGB LED light.
UNBOXING & FIRST IMPRESSIONS
Yep, my first impression of this is… Nothing exciting here. Just a white box. Even the packaging inside this box is "very straightforward", it only has 2 things – The LED light in bubble wrap and an instruction slip. That's all.
MIGHTY DECENT GOOD BUILD QUALITY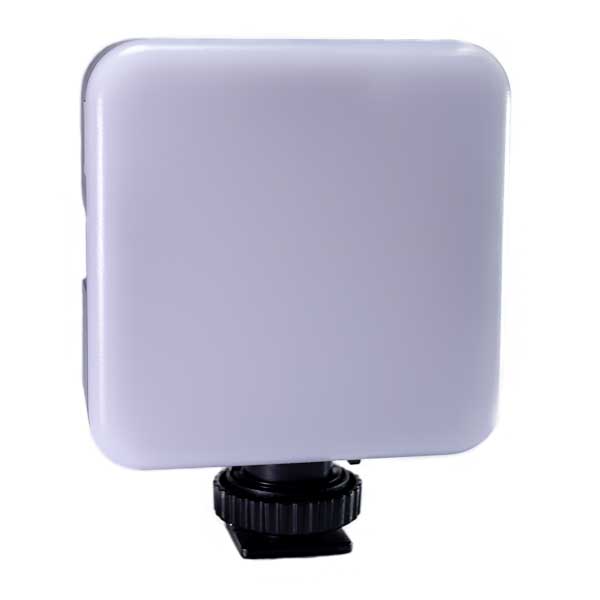 I think the build quality does not need a lot of explanation, one look and you know instantly. There is only one way I can describe the material of the Andoer – Plastic. But thankfully, this is not the cheap flimsy type and it is surprisingly well-built. It is almost like a single piece with no parts that will break.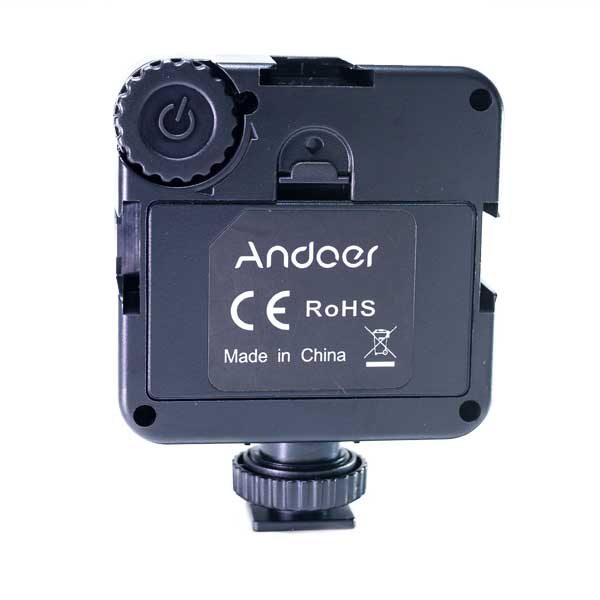 The "control panel" is at the back, which is essentially nothing but a wheel that doubles up as the power button.
Press-and-hold to switch on/off.
Short press to cycle the modes, and there are 7 of them. The first 5 modes are warm/cold white lights, 6th is a blinking SOS, and the last is RGB.
Warm/cold white is self-explanatory. Just turn the wheel to adjust the brightness.
The RGB mode is kind of funky though. It will automatically cycle through the various hues, and we press the button to lock the color we want… Miss the color, and we have to go through the entire "wait for the color to come".
A STACKABLE LED LIGHT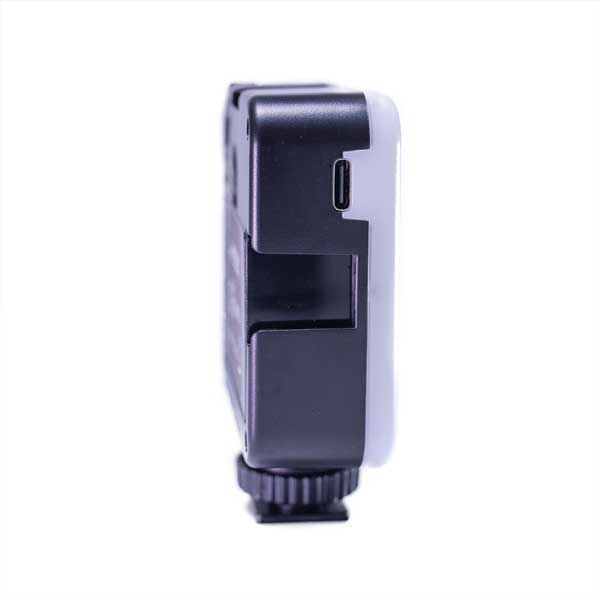 There are hot shoe mounts on 3 sides of the light, we can potentially stack a bunch of these together to create a bigger panel. Although, getting all of them to sync to the same color temperature and brightness can be a real problem with the "automatic RGB cycle".
BATTERY & LIFE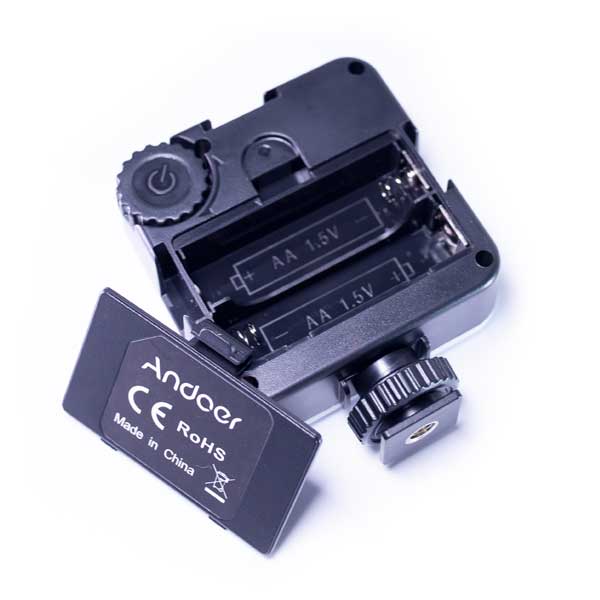 There are 2 versions of the KM-72. The one I got here is KM72-B, and it takes in 2 AA batteries. The other version is KM-72A, and it has a built-in battery. Both of them accept an external USB-C, so you can use a power bank with it.
While I cannot attest to the battery life of the built-in version, 2 GP rechargeable AA batteries lasted for an hour or so (on full blast). These things do drain quite a lot of power, but the light is also pretty bright for something this small.
USAGE EXPERIENCE

While the small LED light is interesting, but I have to be completely honest – It really does not have a lot of uses as a "main light" for a professional. It does do good as a back, side, or "supplement" accent light.
NO SYNC, DIFFICULT CONTROLS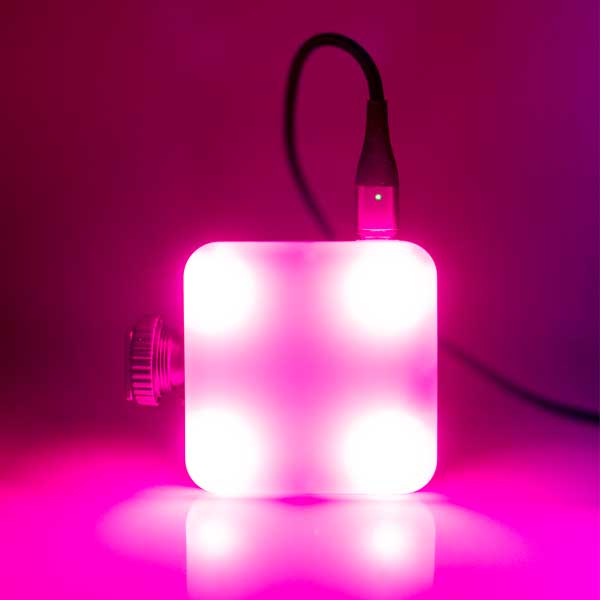 Yes, it's lightweight, portable, and stackable. But what good is it for? Maybe for some small objects, products, or food photography. Apart from that, the KM-72 really suffers from a lack of controls.
As mentioned previously, there is no way to sync the lights to the same brightness.
There is no way to get all the lights to the same color.
The brightness in RGB mode is also not adjustable.
It is an absolute pain trying to adjust many of these lights.
So Andoer – Please come up with another version with Bluetooth and a smartphone app. I don't mind paying the slight extra cost. Just some additional software features to sync and group them together will turn the KM72 into an ultimate mini light.
USEFUL BITS

That's all for this review, and here is a small section on some extras and links that may be useful to you.
THE SPECS
Power: 5W
Battery Capacity (KM72-A): 2000MAH
Working Time: About 1.5 hours (depending on battery for KM72-B)
Weight: 90g (KM72-A) 50g (KM72-B)
Color Temperature: 3200K to 6500K, RGB
Dimensions: 83 X 66 X 26 mm
LED: 68pcs. 4 RGB, 32 yellow, 32 white.
USB interface: USB-C
Color Rendering Index (CRI): >95%
THE GOOD
Very affordable RGB LED lights.
Extremely portable, literally fits in a pocket.
Stackable, buy more to create a bigger panel.
Uses 2 common AA batteries, USB-C interface.
THE BAD
Cannot sync brightness, RGB color when using multiple pieces.
The brightness level of RGB colors cannot be adjusted.
Not very useful as the main light for professional work.
THE VERDICT

Sure thing, this tiny light is not perfect, and it could use a better control interface. But at the measly price of only $15, there's really nothing much to complain about something that is so useful.
While it may not apply to some professional work, I am sure it will still come in handy in many ways – The Anoder KM72 has my approval, and it is definitely a recommended good gadget to have. Especially for beginners with a limited budget.