Welcome to a review on the Bluedio TN Active Noise Cancelling Sports Bluetooth Earphone. Yikes! The 3.5mm earphone jacks are disappearing from smartphones and tablets. Ready or not, even the earphones are slowly moving toward wireless… The time to get a pair of Bluetooth earphones has come.
Sadly, not everyone has the money to burn, and some may cringe at the idea of buying a pair of brandless dubious Bluetooth earphones. But there are actually a few good affordable ones, and we shall take a look at one such affordable goodie in this review – The Bluedio TN Bluetooth Earphone.
THE OVERVIEW
Price
About USD $20.00 (As at the time of writing)
Links
Official Website: Link
Get from eBay: Click here
Packaging

Has all the essentials in the package.
Build Quality

Pretty solid plastics. Reinforced cable joints.
Functionality

Bluetooth 4.1, active noise canceling, up to 12 hours of playback.
User Friendliness

5 minutes of reading the manual, not difficult to figure out.
Sound Quality

Decently good, on the bassy side.
Value

Insanely affordable, excellent value for money.
Overall

Decently good Bluetooth earphones, unbeatable value.
TABLE OF CONTENTS
THE PACKAGING

Cheap, and made in China? With these 2 "infamous combinations", many will instantly start to expect a crappy product and non-existent packaging. But Bluedio actually made a good effort on the packaging.
FIRST IMPRESSIONS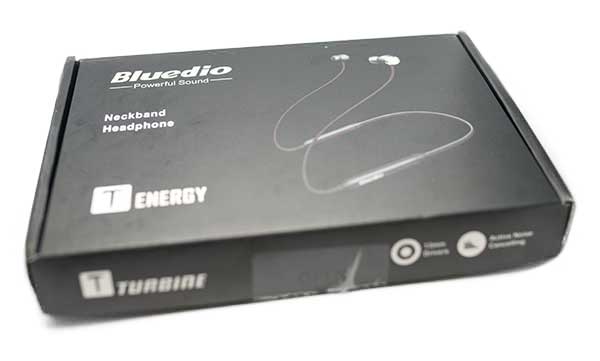 The Bluedio came well-protected in air packs and it is in surprisingly good shape – Pretty impressive and very professional actually. Because most cheap products usually don't even have a box or are crushed during transport.
WHAT'S INSIDE?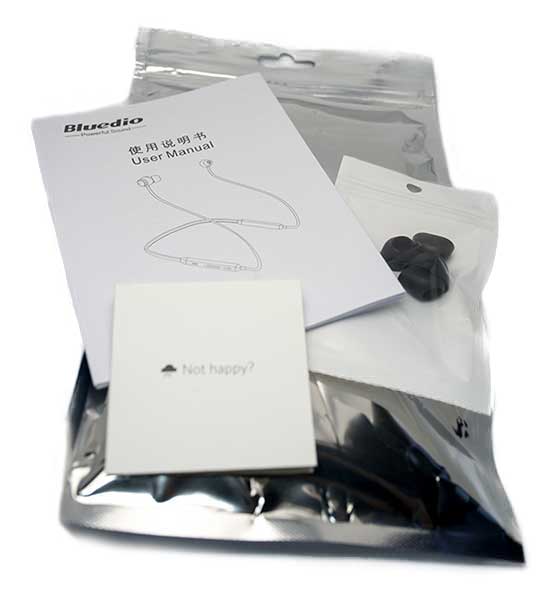 Sealed in anti-static foil pack – The earphones and USB-C charging cable.
Quick start guide in English, Chinese, Spanish, German, French, Japanese, Russian, and Italian… These guys are serious.
Contact information and where to do product feedback.
Extra earbuds, in case the default one does not fit your ears.
Even though these may be basic for some people, it is still a very impressive package for a measly $20.
BUILD & DESIGN

Good first impressions and the packaging aside, the more important part is how well-built and designed the earphones are… And it really isn't too bad for a pair of $20 earphones.
THE DESIGN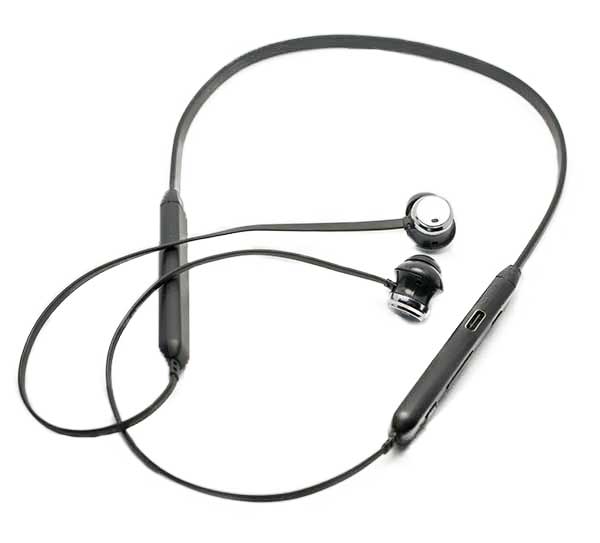 Nah, this one sure does not have a designer's touch. It is meant to be worn as a neckband, and it folds neatly to fit into your pocket or backpack. Overall, just a plain Joe that works. If black is not your color, it is also offered in yellow and blue.
THE BUILD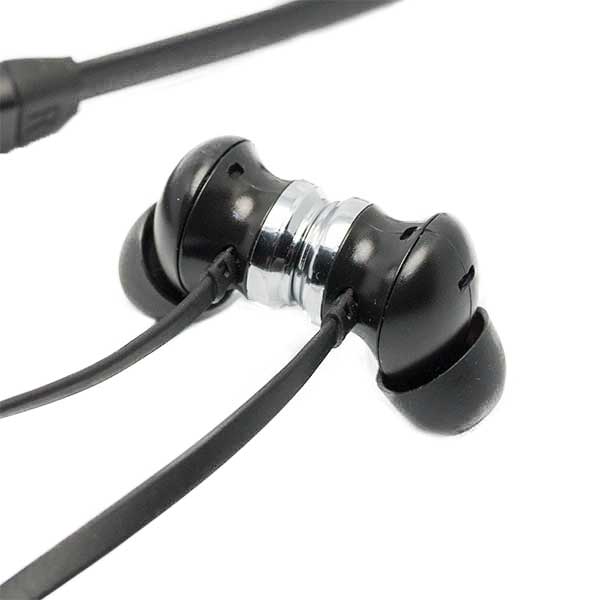 Traditional round cable lovers are not going to like this one. It uses flat cables, and there are pros and cons to it:
Flat cables are tangle-free… Or a lot less prone to tangling.
Flat cables are also known to put less stress on the "joints" when accidentally pulled on; They will usually last longer than round cables.
But as you can guess, flat cables are not as flexible; we cannot coil it.
As for the rest of the build:
The cables are reinforced at the ends, not that easy to break.
Earphones are magnetic and snap together back-to-back.
The "two pieces" are made of hard plastics.
Respectable all-around quality. Just don't slam it against the wall, abuse it, and it will last a good long time.
THE CONTROLS

The controls are all on the right side of the earphones, from the left to right:
The "small hole" is the microphone.
On/off button with LED indicator.
The volume rocker switch, or used to control next/previous track.
Active noise cancellation.
At the top is a USB-C charging port.
WATERPROOF?
Well, even though Bluedio brands this as a pair of "sports earphones", they did not state that it is waterproof. With an open USB charging port, you will want to keep this away from the rain to be on the safe side.
BLUETOOTH CONNECTIVITY ISSUE
Edit: After using the Bluedio for a month, I noticed a very obvious Bluetooth connection issue with it. It will connect, disconnect, then reconnect before finally settling down. Also on my Windows PC, it will sometimes connect in voice mode, and not in music mode. Forcing me to have to disconnect and reconnect just to get it into music mode. While this does not break the earphones, but it is still annoying.
P.S. Nope, it is not a driver nor hardware issue on my computer – My Anker Soundcore 2 and Bluetooth controller connect perfectly without this hiccup.
SOUND QUALITY

Now for the next million-dollar question – How do these affordable earphones sound like? Will it cause ears to bleed?
THE SPECS
Drivers: 13mm dynamic
Response Frequency: 20Hz -20000Hz
Impedance: 32Ω
Sensitivity: 116dB
Meh. This seems to be pretty mediocre on paper, as one would expect from an affordable earphone.
SOUND PROFILE
The TN sounds rather surprisingly decent for the given price.
Lows: Actually quite bassy. Respectably deep, not lame pops.
Mids: More on the dull side. Vocals don't sound rich on this one… Leaning slightly towards "telephone monotone".
Highs: Good enough, but not lush.
Clarity: Does not sound flat at all, and the cymbals don't make ears bleed.
Overall, this is a pair of earphones that is rather tilted towards the bass. Decently good enough quality, don't expect too much otherwise… This is still a $20 pair of earphones. With a little more nudge with the right EQ settings, this can be made a little more pleasant to your own liking
ACTIVE NOISE CANCELLATION
Definitely not the best in the world. It does muffle out some of the background noises such as cars, trains, fans, and low humming noises; Better than nothing.
BATTERY & LIFE

For the final million-dollar question – How long will the battery last? How fast does it charge?
BATTERY LIFE
The battery is rated at 170 mAH, and up to 12 hours of playback time (8 hours with active noise-canceling on). But of course, we should all know already how marketing works. Give a slightly better promise than it actually is.
So far, I have pushed the TN to 11 hours of playback, and about 7 hours with noise cancellation on. Not exactly what is written on the spec sheets, but it is good enough – It should last you for an entire day before requiring a recharge.
CHARGE TIME
It charges pretty fast on USB-C. On a wall plug, it only took slightly over an hour to fully charge from about 10% to 100%.
SUMMARY & MORE

Here is the Bluedio TN Bluetooth earphones in a nutshell.
THE GOOD
Insanely affordable, excellent value-for-money.
Highly respectable specs and performance.
Decent sound quality.
Good battery life.
THE BAD
Really nothing much to diss about a pair of $20 earphones that performs significantly well.
If you want to put it out blatantly – It does not have the best sound and build quality in the world.
Has some Bluetooth connection issues. Does hiccup from time-to-time.
TN VS TN2
There is a newer version, the Bluedio TN2 sports – The difference is pretty much in the design, a slightly improved noise cancellation, a small increase in price, and the rest of the specs are pretty much the same. Personally, I don't like the TN2 because of the design of the neckband.
It does not seem as flexible enough, nor is it "pocketable by folding"… The small improvement in the noise cancellation is also not enough reason for an "upgrade" for me. But who knows, it may do well for you.
WORTH IT.

Sure thing, the Bluedio TN does not have "world-class" sound nor build nor design. But given the price tag, this gadget is an absolutely good steal! So if you are considering hopping onto the wireless audio train without spending too much, I will highly recommend this entry-level earphone.
Thank you for reading, and we have come to the end of this review. I hope that this has helped you to a better choice, and if you have anything to share with this review, please feel free to comment below. Good luck and happy shopping!