INTRODUCTION
GETTING ORGANIZED
Welcome to a beginner's tutorial on how to manage files and folders in a computer. Once upon a time in the stone age of computing, things were a lot simpler. We keep our files in the hard drive and copy them into floppy disks for backup. That's it, fuss-free and straightforward.
But these days, there are all kinds of tech gimmicks. Flash drives, external hard disks, network drives (NAS), and even storage on the Internet, cloud drives. Do we really need so many gadgets? How do we keep our files organized over so many types of media? How do we properly backup and manage our files? This guide will explain all the mysteries – Read on to find out!
SECTION A
THE BASICS

New to computers? Here is a quick crash course on how we work with files and folders in Windows and Mac. Please feel free to skip this section if you are already a computer ninja.
THE TUTORIAL VIDEO
Not good at reading? Here is a video tutorial by Professor Adam Morgan:
FILE MANAGER
For a start, we use "File Explorer" in Windows, and "Finder" in Mac to manage our files.
WINDOWS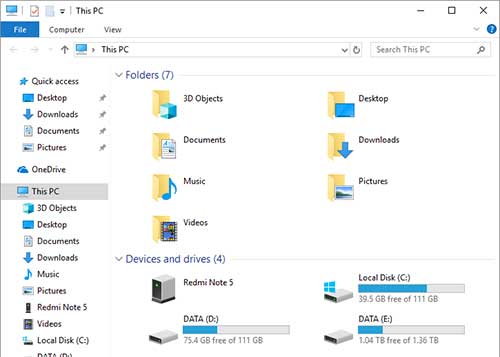 To launch File Explorer in Windows, go to Start > File Explorer (or This PC). Alternatively, the shortcut key is Start-E.
MAC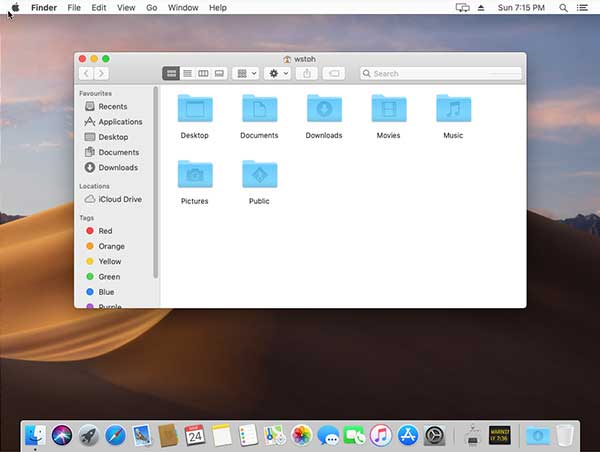 It is easier on a Mac, just start Finder from the dock or launchpad. The shortcut key is Command-Shift-H.
DEVICES & DRIVES
All your hard disks, flash drives, memory sticks, external hard disks, and storage devices will be listed in the File Explorer/Finder.
WINDOWS

Windows will register the devices under "Devices and drives", and attach a corresponding drive alphabet to it. Access a drive by double-clicking on it.
MAC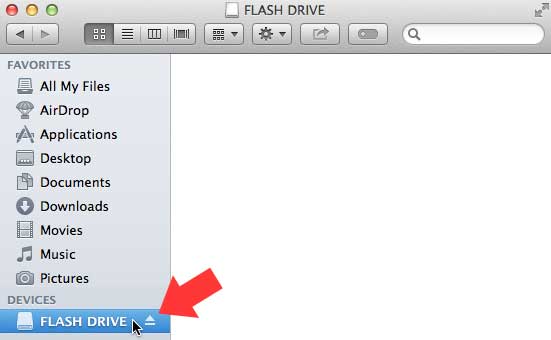 Mac will register the devices under "Devices", but there is no concept of drive alphabets. Simply click on the device to access it.
FILES

Guess this one does not need a lot of explanation. Files are simply documents on your computer, and there are many different types of files:
Image
Video
Audio
Spreadsheet
Slides
Word
In fact, there are so many different types of files in the world that it is impossible to list all of them. To open a file, simply double click on it. But you will need to have the respective application installed – For example, to open a video file, you need to have a video player installed first.
FOLDERS
Guess this one does not need a lot of explanation either. Folders are just like their real-world counterpart, used to organize files. For example, we can create a folder called "video" and put all our video files inside.
WINDOWS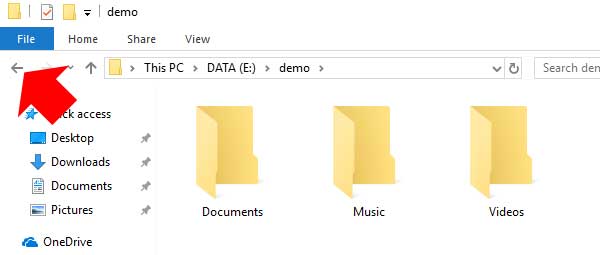 Similar to devices and files, we open folders by double-clicking on it.
To return to the previous folder, we can use the breadcrumb trail, click on the back button, or hit the backspace key.
To create a folder in Windows, right click on an empty space > New > Folder.
MAC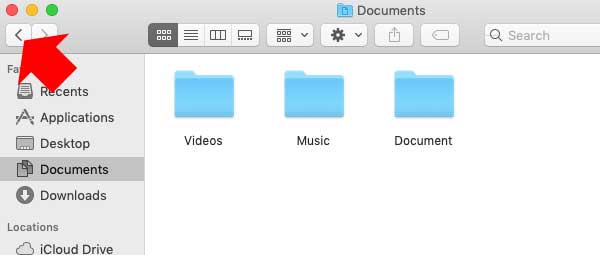 On Mac Finder:
Double click to open a folder.
To go back, hit the back button to go back, or press command-up.
To create new folders, it is similar to Windows. We right-click on an empty space > New Folder.
Alternatively, use the "Shift-Command-N" shortcut key.
MOVING & COPYING

There is no rocket science in moving files and folders. In both Windows and Mac, simply drag-and-drop the file/folder into another folder. To copy a file or an entire folder:
First, select the file or folder by clicking on it.
Press Ctrl-C (Command-C on the Mac) to mark the file/folder for copying.
Navigate to the folder that you want to copy the file/folder into.
Press Ctrl-V (Command-V on the Mac) to paste it into the file/folder.
DELETING FILES & FOLDERS
This is thankfully the easiest to do, same on both Mac and Windows – Just select the file/folder that you want to delete, then press delete. 🙄
SELECTING MULTIPLE FILES & FOLDERS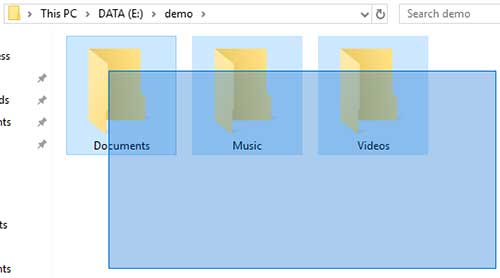 If copying, moving, or deleting files one-by-one is too slow for you, we can select multiple files by click-and-dragging an empty spot to create a selection box.
SECTION B
FILE ORGANIZATION TIPS

Now, as tempting as it might be to just dump all your files on the desktop – It is just plain messy, lazy, and not the best way to keep your files. It is actually not that difficult to keep things organized. So instead of giving a long brain-damaging list of "organization rules", here are just a couple of simple things to keep in mind.
1) SEPARATE THE SYSTEM & DOCUMENTS
Computers these days come with a very convenient memory card slot or even an extra hard disk – Try to make full use of it. Personally, I like to keep my documents in a separate hard disk or memory stick. That is, dedicate an entire hard disk to the operating system and installing apps. Keep all the personal videos, music, and documents on the extra hard disk or memory stick instead.
The main reason for doing so is not only for the sake of organization – If something bad were to happen to the "main system disk", we can safely eject the extra hard disk (or memory stick). Then plug it into another computer, and still be able to retrieve all our data.
2) FOLDERS TO KEEP YOUR STUFF
Don't be afraid to create folders. It really helps to sort things out, and helps you to find things faster. For a start, try to create the following, and organize your folder as such:
Pictures
Music
Videos
Documents
Misc
If you like, you can even add sub-folders within. For example, music by category, or even by the artist. No need to go into the micro-management level of organization though… As long as it is good enough for you know where all your own stuff is kept.
3) CLEAN UP SEMI-REGULARLY
As much as we all love to keep all the stuff in one place without any worries, the unfortunate reality is that we don't have unlimited storage space in computers… Nor do storage devices last forever. This is where the semi-regular cleanup session comes in.
Delete all the old files that are no longer needed.
Move and archive the files that you want to keep into an external hard disk, flash drive, or memory stick.
That's it. Quite a hassle, but necessary periodic maintenance.
SECTION C
BACKUP & CLOUD STORAGE

So, where do those "cloud drive" and "network-attached storage (NAS)" tech gimmicks sit in? Are they necessary? What good do they do? Let us explore them in this final section.
WHAT IS A CLOUD DRIVE?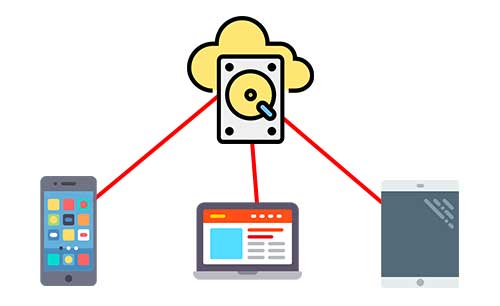 In a nutshell, a cloud drive is basically just storage space on the Internet, where you can upload/download your files to. Since the cloud drive is on the Internet, you can literally connect all your devices to it, use it as a shared drive, and access your data from everywhere. There are various companies that offer cloud storage for free:
But as convenient as it is, cloud storage is usually limited in space, and you will need an Internet connection. Security is a concern as well, since… It's the public Internet. Feel free to use cloud drives to store some of your extra non-sensitive files, but keep the confidential ones safe in your own computer.
WHAT IS
NETWORK ATTACHED STORAGE (NAS)?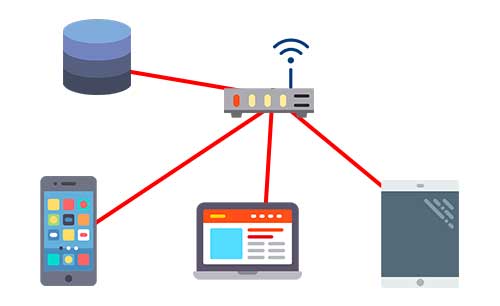 In the layman terms, I guess you can call a NAS "private cloud storage". A NAS drive is essentially just a WIFI enabled box of hard disks; It adds those hard disks as network drives to your WIFI network. So when any of your computers are connected to the WIFI network, they will also have access to the NAS drive.
ARE THEY NECESSARY?
By all means – No. Not until you run an office and need the convenience of sharing files across multiple devices quickly.
Free cloud drives are great in giving that extra bit of storage space, sharing your files with friends and family.
A NAS is great for offices as a file server.
EXTRA
USEFUL BITS

That's all for this guide, and here is a small section on some extras and links that may be useful to you.
LINKS & REFERENCES
CLOSING
WHAT'S NEXT?

Thank you for reading, and we have come to the end of this guide. I hope that it has helped you to better understand and organize. If you have anything to share with this guide, please feel free to comment below. Good luck and happy computing. May the cyber force be with you.