Welcome to a review of the IPEGA PG-9167 Dual Thorn Bluetooth Game Controller. Now, IPEGA is probably one of the better known mobile gaming accessories brands, and they do produce some mighty decent controllers. But truthfully, I was quite hesitant to get this one at first.
At the time of writing, Android games are still rather notorious for the poor support of game controllers, and… I don't play PUBG, Free Fire, Counter-Strike Mobile, nor Mobile Legends. It took a special offer and my curiosity to finally get it – Will this controller really turn a smartphone into a "mobile gaming console"? Read on to find out!
THE OVERVIEW
Price
About USD $35 (As at the time of writing)
Links
Official Website: Link
Get from eBay: Click here
Packaging

Done right, has all the basics.
Design

Works, but has some understandable slips.
Build Quality

Has a bit of unavoidable flex, but still solid nonetheless.
User Friendliness

Took some reading and testing to figure things out.
Functionality

Connects to Android, iOS, PC. Wired and wireless.
Value

Well priced, good value-for-money.
Overall

Mighty decent Bluetooth game controller.
TABLE OF CONTENTS
UNBOXING & PACKAGING

As expected from an industry veteran, the controller came with all the "basic expectations" done right.
FIRST IMPRESSIONS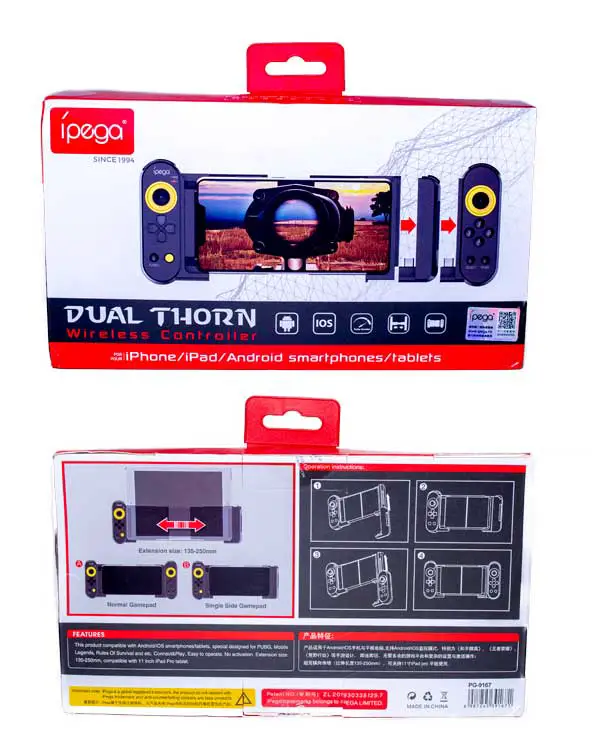 Well, the box is a little battered from the postage, but still arrived in one piece nonetheless. Nothing much to say about it except that it has all the "basic good packaging" done right – A well-designed box that is worthy of a place on the shelf, and security seals are in place.
WHAT'S INSIDE?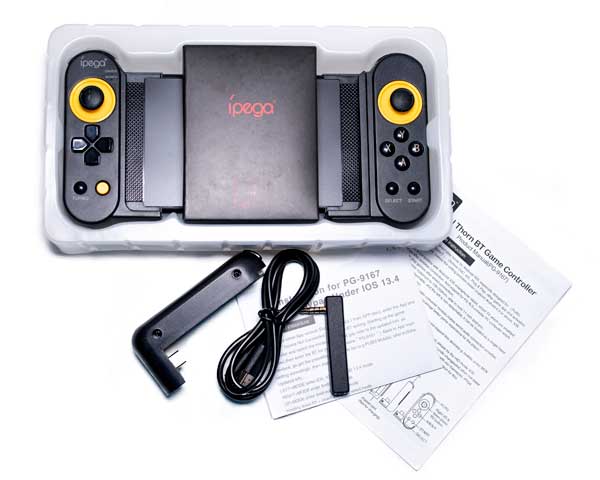 The controller itself.
"Alternate mini" right controller.
3.5mm right-angle audio jack extender.
USB-C charging cable.
Manual and quick start guide (in English and Chinese).
BUILD & DESIGN

The controller itself though… Does not have a perfect design, and definitely somewhat suffers from some understandable issues.
A QUICK WALKTHROUGH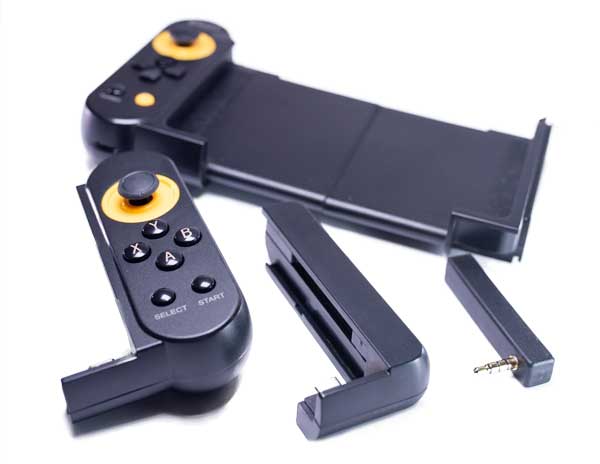 The first thing that will probably strike right after unboxing – What are all of these "bit-and-pieces"? What are they for? Well, I will explain it this way – There are 4 parts to the IPEGA Dual Thorn:
The "main" game controller with the left gamepad and "smartphone cradle".
The right gamepad is swappable between a "full gamepad" and a "lightweight single-button version".
Lastly, an optional 3.5mm right-angle audio jack. For the people who prefer to use wired earphones.
The main piece itself is easy enough to understand – The "cradle" stretches to fit phones of different sizes (up to 11 inches tablets), and a button at the rear to swap the right gamepad.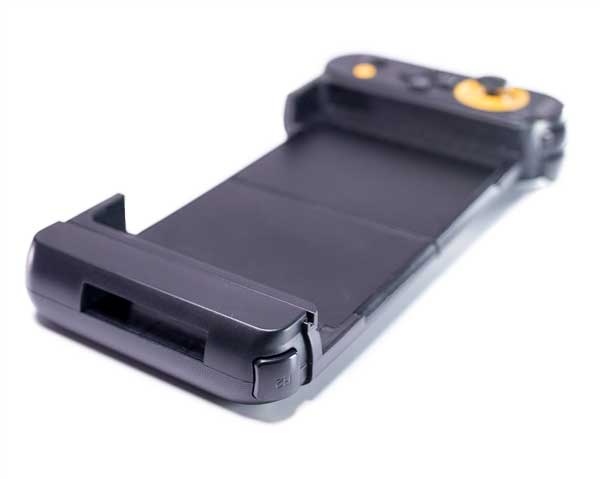 So… Why do we even want to swap out a "full right controller" for a "lightweight version"!? Isn't that dumb? As it seems, I can think of 2 reasons:
To keep the size manageable, not all games use that many buttons.
The "lightweight" version has a cutout, making it possible to still charge the phone and use the 3.5mm jack.
NOT-SO-CLEVER DESIGN
As you can see, the phone charging port will be blocked with the full right controller. This is something that I don't understand… The designers thought of giving a right angle audio jack extension to support wired headphones, but didn't think that giving a simple right angle USB cable (instead of a straight one) would help!?
Also, the audio jack extension is so long that it blocks the charging port. Yep, choose your poison – Full controller without charging, audio without charging, charging without audio, or lesser buttons with charging and audio.
Can't really blame the designers though. There are a ton of different phones in the world, and supporting all of them is an impossible task.
BUTTON LAYOUT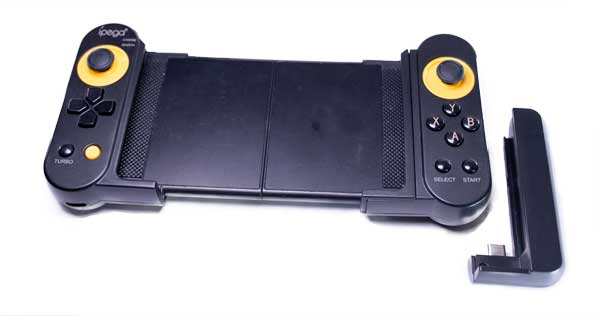 In the "full gamepad" configuration, this is just about the same as any game console controller.
Left and right analog.
Left direction pad.
X, Y, A, B buttons (or square, circle, cross, triangle).
Select and start.
Turbo and home.
L1, L2, R1, R2.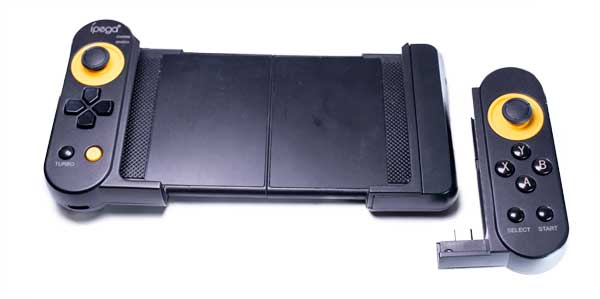 The "lightweight" configuration loses all the "important controls":
Right analog.
X, Y, A, B.
Select and start.
R1.
Yep, all of these replaced with a single R2.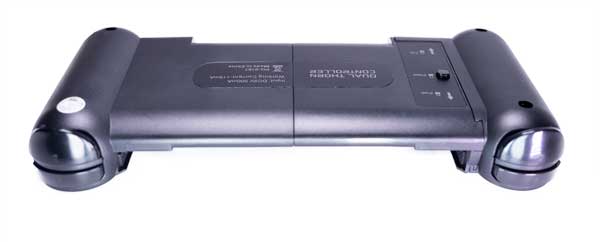 So far, I have no complaints about the buttons – The analog sticks are responsive, and the buttons are tactile enough. But coming from a long history of game consoles, I find the layout confusing. The analog sticks and buttons in reversed positions from "the usual" and definitely needs some getting used to.
BUILD QUALITY
The controller is mostly hard plastic and can withstand some punishments. But the stretchy bit in the center definitely flexes when bent – This is unavoidable to make the controller thinner. So be warned you rage gamers, do not bend or throw this controller. It breaks.
BATTERY & WIRELESS

Now for the boring part – The battery and wireless.
SLOW CHARGING & BATTERY LIFE
The rated battery life on the Dual Thorn is 15 hours. Personally, I never really tracked that, but it lasted an entire day without any issues. So, good enough, I will say. As for the charging, it took about 1.5 hours to charge from "low to full". Can't say that is the fastest by today's standard, but could have been better.
STABLE WIRELESS CONNECTION
Nothing to complain about the wireless connection either – It stays connected and is stable so long as it is within one room distance. Unblocked, of course.
SETUP & EXPERIENCE

Finally, here is a section on my own user experience of the IPEGA… How difficult can a game controller be? You will be surprised that it is not straightforward.
CONNECTOR PAINS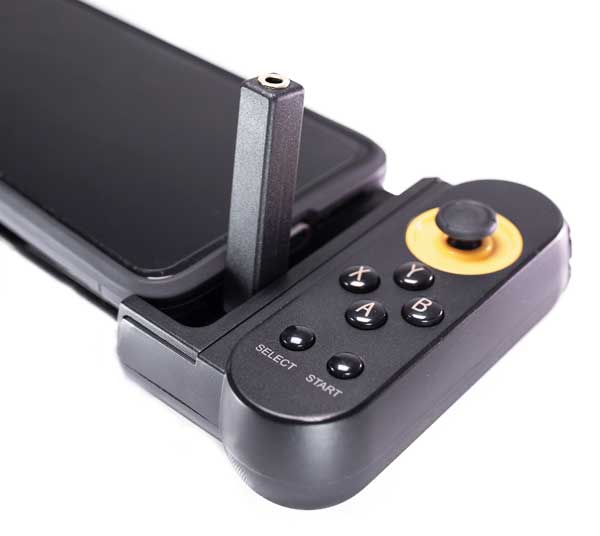 Right after unboxing the device, as you guys can guess, I am immediately faced with some connector pains. A low-bat smartphone really doesn't sit well with this IPEGA, I decided to just set some time aside to let the smartphone and controller charge.
Next, is something that I thought is really dumb with the design – If they just gave a shorter right-angle audio connector and right-angle USB cable – Both charging and audio could have existed together… Although it just looks a little ugly with the audio port in front.
CONNECTION CONFUSION
The next pain is something that I already expect as an "experienced gamer and techie". For you guys who are new to the mobile gaming world – Be warned, controllers are an absolute pain to connect because nobody has come up with a "universal standard". On this IPEGA:
Direct play mode for Android – Press right + home buttons.
Direct play mode for iOS – Press left + home buttons.
Standard game mode – Press up + home buttons.
Wired (PC mode) – Press R1 + connect via USB.
What is the difference between all of these modes?
Direct play mode is the least painful, connect-and-play. But it is only supported if the game itself implements native game controller support.
Standard mode connects as a "regular controller", but needs a third-party key mapping app.
The wired mode is self-explanatory.
Yep, if you are thinking "connect and play out-of-the-box", it's not happening on most parts.
KEYMAPPING APPS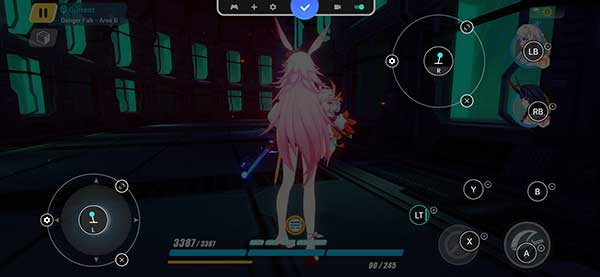 What do we do on games that do not natively support gamepads? Use a third-party keymapping app. Well, since this is not sponsored – There will be no links and I will do some trash talking. 😆 One popular keymapping app on Android is Octopus. Easy enough to use, just drag-and-drop where you want the keys to "click", and that's it.
But be warned – While Octopus is free, it has become an "annoying app". A video ad has to play before starting a game, and supporting Google Play through Octopus is a "paid add-on". Yep, as a developer myself, I understand we need money to keep working, but this is kind of low-handed.
STILL ENJOYABLE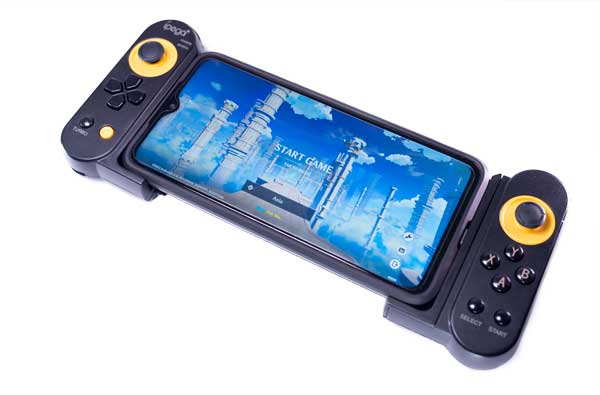 Despite all the hiccups, I won't say that the controller is bad… It's just that the entire gaming industry has not come up with "universal gamepad support", and that makes things difficult for all manufacturers. The controller itself is still a good gadget, and it is enjoyable to use once things are set up.
SUMMARY

That's all for this review, and here are the technical specs and a small summary.
TECHNICAL SPECS
Working Voltage: DC 3.7V
Input voltage and current: DC 5V, 500mA
Battery: 380mAh.
Playtime: >15 hours.
Charging Time: Around 2 hours.
Standby Time: 30 days (when fully charged)
Wireless: Bluetooth 4.0, range of about 8m.
THE GOOD
Portable "add-on" controller for smartphones.
Mighty decent build quality.
Good value-for-money.
THE BAD
Rather slow charging.
Not the best button layout.
Design can be rather meh. If one works, the other doesn't. Put the right controller on but lose the charging port in exchange. Put the audio jack on, block the charging port… Just get your own wireless earphones and right-angle USB cable.
MIGHTY DECENT CONTROLLER

Thank you for reading, and we have come to the end of this review. Did the IPEGA Dual Thorn turn an Android smartphone into a gaming console? No. Am I winning by using the controller? No.
Sure thing, the IPEGA is not perfect in design, but it still does well in supporting the various platforms. Nothing is broken, but a little more creativity would have made it better. For now, I shall just leave it as a mighty decent controller that comes with an affordable price tag. Definitely a good recommendation.
If you have anything to share with this review, please feel free to comment below. Good luck and may the cyber force be with you.