INTRODUCTION
HOW OFTEN DO WE NEED TO REPLACE COMPUTERS?
Welcome to a guide and list of the signs you need to buy a new computer. As according to one good old computer website called Computer Hope, we should be replacing our computers once every four years – That is based on cost analysis and the average lifespan of most computer hardware. But is that really so?
I have known some people who held on to their good old reliable computers much longer than that, and some unfortunate folks much lesser than four years. Even though computers will eventually break down like any old machinery, there are still several telltale signs that the end is near. Just what are these signs, and when do we finally call it quits to get a new computer? Read on to find out!
NAVIGATION
TABLE OF CONTENTS
SECTION A
THE SIGNS

Just how do we tell if a computer is about to break down? Here are some of them…
1) FREQUENT FAILURES AND CRASHES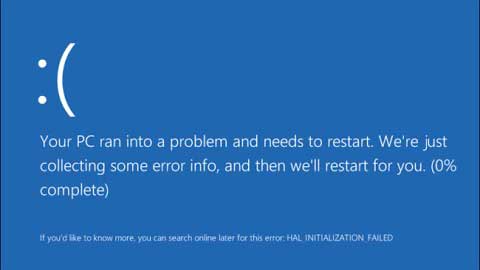 This is the number one sign of a computer that is at the end of the line. If you are experiencing frequent hangs and crashes, there could be a good chance that something is wrong with your installation of the operating system.
But if it still crashes after you have reinstalled and reset everything back to factory default – It could only point to problems with the failing hardware. Time to back up your data, and start looking for a new computer.
2) ODD NOISES & OVERHEATING
Following up with the point on failing hardware, there might be some moving parts in a computer such as fans and mechanical hard disks. They make some noises for sure, but if you hear some very disgusting scrapping, clicking, or popping noises… That could be a good hint of a failing hard disk or computer fan.
A very clear sign of failing mechanical hard disks is a slow read/write speed, or getting some errors when trying to manage your files. As for failing fans, the CPU might overheat – Either forcing it to throttle, slow down significantly, or emergency shut down entirely.
3) WHEN SUPPORT FOR THE OPERATING SYSTEM IS DROPPED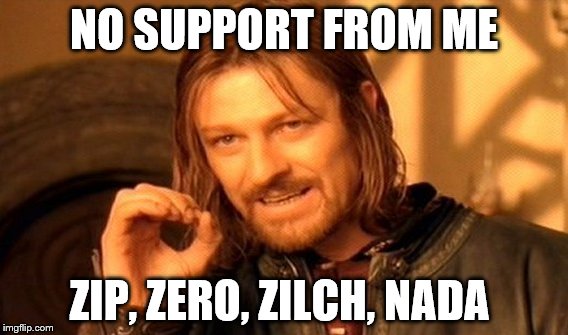 For you guys who do not know – Companies continue to support, roll out updates, and do security patches for their operating systems even after their initial launch. This will usually last at least 5 years or more until they deem it to be obsolete and come up with a new version.
So yeah, if the support for the operating system on your computer is dropped, that will also mean that your computer is more than a few generations behind time. Not to mention that service centers will no longer be able to help you, and there will be no further updates and patches.
4) CANNOT SUPPORT THE NEW GADGETS
Technology will forever change over time, and newer gadgets are always more capable… Which, unfortunately, also means more demanding about the requirements. Every tried plugging a spanking new and fast flash drive into an older computer? Chances are that it will still work, but the read/write speed will be limited due to the older interface.
So yes, when your computer can no longer catch up with the blinding fast new gadgets, it is time to consider upgrading… Or be happy with using it in backward compatibility mode.
5) A SLOW COMPUTER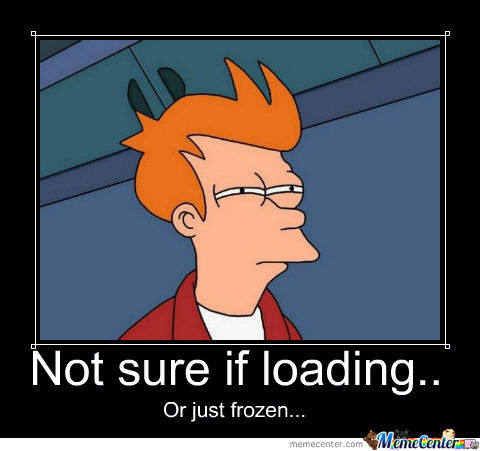 Will a CPU slow down over time? Well, as an article on HowToGeek explains it – They do slow down a little from dust build up and aging, but otherwise, it is not significant at all. So what the heck is causing computers to slow down over time?
Well, there could be several other factors – A dying hard disk, overheating problematic hardware, or maybe it is just software applications getting more demanding on the specifications over time. Whichever way it is, a slow computer calls for proper system maintenance… If it is still slow after that, it is time to seriously consider a new computer.
6) CANNOT RUN LATEST APPS & GAMES
Following up on the point of a slow computer again – If your PC is struggling hard to run the latest games and applications, there is always the option to tone down the graphics quality in the game or application. But if your computer is still having a hard time, then you know it's time to let go.
7) ALWAYS RUNNING OUT OF SPACE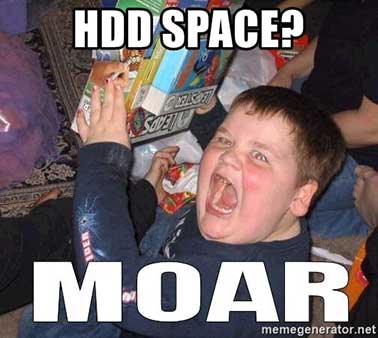 Ah, it is actually quite common for us to run out of space installing all kind of applications, downloading all kinds of videos and music. A new memory card or external storage will usually solve the problem… But if you are always running out of space on the "main drive", then it is perhaps the best to get a new system with plenty of space.
8) OUT OF WARRANTY, END OF LINE
The rather sad part about computers these days is that they are not made to last for a long time; Even with an extended warranty, that will be at most 3 years. So when a computer runs out of the warranty period, it is about time to consider it as old. When the service center doesn't even have the parts to repair your computer, it is time for a new one.
9) WHEN UPGRADING MAKES NO SENSE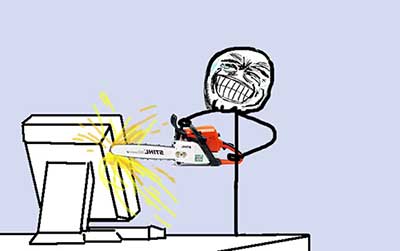 There are certain not-so-expensive upgrade options that we can do to our computers over its lifespan – Add more hard disks, RAM, update the operating system, etc… But there are still limits to how far these upgrades can go.
Things will still get outdated, and the time to buy a new computer will eventually still come. Anyway, buying a new computer is sometimes more cost-effective than upgrades. Especially when it makes more sense to spend a little more to get a better performing system, rather than upgrading an old one.
SECTION B
USEFUL BITS

That's all for this guide, and here is a small section on some extras and links that may be useful to you.
SUMMARY – WHEN IS A COMPUTER OUTDATED?
So when exactly is the best time to consider getting a new computer? Probably when your current one is:
About 4 years old.
Slow, problematic, or even frequently crashes.
Cannot support the latest games and applications.
Cannot support the newest hardware.
No warranty left. Even the service center does not have parts for repair.
Not even worth it to upgrade.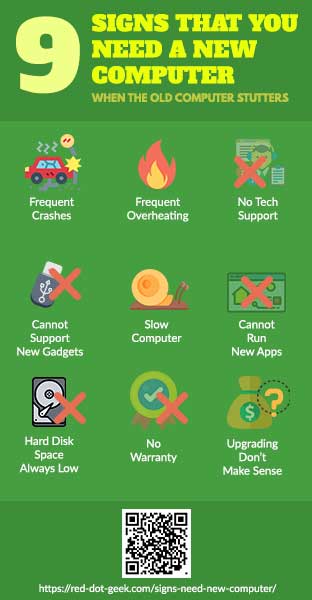 LINKS & REFERENCES
CLOSING
WHAT'S NEXT?

Thank you for reading, and we have come to the end of this guide. I hope that this has helped you to make better decisions, and if you have anything to share with this guide, please feel free to comment below. Good luck and happy computing. May the cyber force be with you.