Welcome to a review on the V9 Bone Conductive Earphones. Yep, bone conductive earphones sure is a new technology when compared to the "traditional" in-ear headphones. These gadgets only caught my attention when a random ad popped up on my Android phone.
My first thoughts were – Cool. These should be much safer than the traditional ones when jogging on the streets, and bone conduction technology is just like some sort of sci-fi movie. But sadly, a pair of these "branded" bone conductive earphones easily cost above USD 100.
As an "experienced techie", my gut feeling tells me to not splurge on rather experimental technologies and regret later. So I did some digging on "affordable alternatives", and here it is. Is the "unbranded" cheapo V9 worth the money? Read on!
THE OVERVIEW
| | |
| --- | --- |
| Price | About USD $30.00 (As at the time of writing) |
| Links | Get from eBay: Click here |
| Packaging | Has all the essentials in a nice package. |
| Build Quality | Refused to switch on after a few months. |
| Functionality | Bluetooth 5, touch-sensitive earpiece, up to 5+ hours of playback. |
| User Friendliness | 5 minutes of reading the manual, not difficult to figure out. |
| Sound Quality | There's sound. But nope… Just no good. |
| Value | Costs only a fraction of "branded ones". |
| Overall | Possibly a ticking time bomb, buy at your own risk. |
TABLE OF CONTENTS
THE PACKAGING

Mix "affordable" and "Made in China" together – This combination rarely gives an impression of quality. Truthfully, I wasn't expecting too much, but the V9 actually came in pretty decent.
FIRST IMPRESSIONS
It's a box with shrink wrap! Yep, I was expecting a pair of $30 earphones to come in "raw bubble wrap", but this is quite a pleasant surprise. Even though the design is simple, a sealed unopened box adds a lot to the "quality factor".
WHAT'S INSIDE?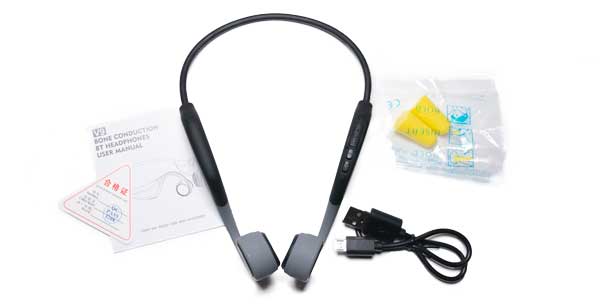 There are no "gold cards" nor "VIP stuff" inside the box. But it is simple and has all the basics.
The earphones themselves.
Instruction manual in English and Chinese.
Micro USB charging cable.
Foam earplugs.
BUILD & DESIGN

First impressions and packaging aside, the earpiece itself is actually not too bad either.
THE DESIGN
The V9 pretty much just looks like any other Bluetooth earpiece neckband. I personally don't think it looks bad, but it does not have that "classy designer touch" either. It simply just works… Also, the V9 is offered in other colors – Black, white, red, pink.
THE BUILD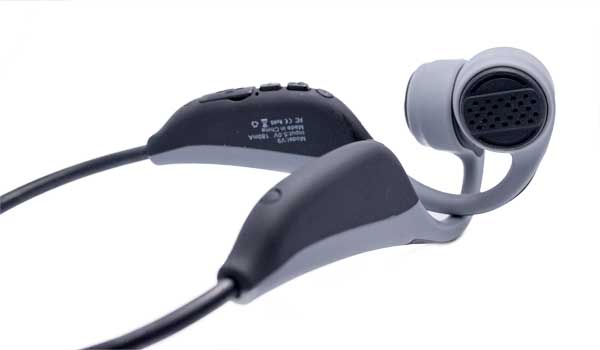 There are no official websites and specs for the V9, but some online sellers dare to claim this as a "titanium build". I really doubt so with the price point, but here's what I can tell from the "feel" of the actual earphones themselves – Hard plastics and rubber. Yep, forget the BS of those dubious online sellers.
There is no titanium, but the V9 still has a respectable all-around quality and is solid nonetheless. The simple, no-cables design also made it more rugged. So long as you don't abuse it, slam it against the wall, run over it with a truck, or put it under a hydraulic press – It will survive long enough.
THE CONTROLS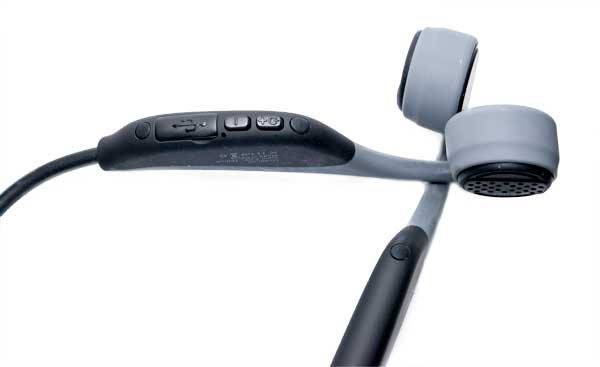 The controls are all on the right side of the earphones, from the left to right:
Micro-USB charging port.
Tiny little LED indicator.
Volume down button.
Volume up/power button.
Nope, those "circles" do nothing, probably hidden screws below. Also, the right earpiece is touch-sensitive. Tap twice to play/stop, long tap to bring up SIRI/Google Assistant.
WATERPROOF?
Some online sellers claim the V9 to be "waterproof", but I highly doubt so again. I can't find an official website nor specs for the V9, but judging from the design – Water can surely get into the tiny buttons, USB port, and earpiece itself. Don't use the V9 for watersports, it is "water-resistant" at best.
ERGONOMICS
Comfortable to wear for long periods. Fits snug, and it will not drop off easily – Even when doing rigorous exercises, running, and jumping around.
UPDATE – V9 BONE CONDUCTION EARPHONES WILL NOT SWITCH ON
After a couple of months of usage, the V9 simply refuses to power on. Tried a couple of tricks with it:
Long press the power button.
Press both power and volume buttons.
Thought the battery went flat. Tried charging, but wouldn't even budge – No lights, nothing.
Tried searching on the Internet for more information, only turns out that quite a lot of people also encountered the same problem.
It's probably a busted circuit board or dead battery, and I contacted the seller to ask for a return. Which, of course, got ignored. So I took the next best course of action, update this review and warn others of a potential ticking time bomb.
SOUND QUALITY

The overall packaging and build quality of the V9 is actually decent… But the part that may be a turn off for most people – They don't sound great at all.
SOUND PROFILE
The V9 is my first pair of bone conduction earphones at the time of writing, and I don't have a good comparison of the sound quality. Also, it is kind of difficult to fully explain the sound quality in words, but here goes:
Lows: Lame pops. Kind of expected, having a sub-woofer vibrating against the bone will be quite scary anyway.
Mids: The only ok-ish range, guess vocals are still the one that this earphone tries to do best at.
Highs: Nope.
Clarity: Slightly pronounced sharpness. Kind of made my ears bleed a little.
In short, this thing just sounds like a small speaker playing beside the ears. Audiophiles – Don't ever buy this pair of earphones. It is not made for enjoying music, but "having sound while keeping an open ear".
MORE AUDIO NOTES
The V9 never gets too loud, but still audible nonetheless. At the higher volumes, the earbuds start to tingle against the skin and the audio leaks. Yes, the person right beside will be able to hear… But that is also the same for loud headphones.
To be fair on the audio quality, this is a different technology than "the usual". Put on the earplugs, and the audio does sound a little bit better. But that kind of beats the point though, these earphones are meant to keep an open ear while playing.
BATTERY & WIRELESS

For this final section, let us walk through the "boring" battery and wireless.
BATTERY LIFE
The battery is rated at 180 mAH, which is just about the same as other "regular Bluetooth earpieces". But here's the thing… It only lasts about 5+ hours as compared to 10+ hours. But personally, I am not really bothered nor turned off by the short battery life.
The "bone conduction drivers" are different technology, and probably uses a lot more power than conventional in-ears. Also, who exercises for 5 hours straight? Even so, 5 hours is enough to run an entire marathon.
CHARGE TIME
This is the part that I really don't understand. Micro USB? 5V 500mA at this age? This thing charges slowly by today's standard. 2 hours from zero to full, and only to last for 5 hours. I mean, how much will a USB-C fast charge upgrade cost?
WIRELESS 
Nothing to complain about. Bluetooth 5, stable, and no problems. Works well within the distance of an unblocked room.
SUMMARY & MORE

Finally, here is the V9 Bone Conduction earphones in a nutshell.
THE SPECS
Main control chip: CSR8635
Battery type: 180mAh polymer
Frequency response range: 20HZ-20KHZ
Charging voltage: DC-5V 500mA
Charging type: Micro-USB
Playtime: About 5-6 hours
Standby time: 10 days (240 h)
Charging time: About 2 hours
Size:19.3*13.2*6.5cm
Bare metal weight: 37g
THE GOOD
Only costs a fraction of the "branded ones".
Water-resistant, can survive sweat and light rain.
Well built and solid.
Lightweight, snug fit. Does not drop off easily, even when running and exercising.
THE BAD
Sub-par audio quality when compared to "traditional in-ear headphones".
Audio leaks at higher volume levels, plus uncomfortable tingling.
Bad battery life, slow charging.
Bad build quality – Either the battery or circuits went bust after a few months.
NOT WORTH IT.

The V9 is definitely not some "sci-fi miracle bone conduction earphones", and it has various shortcomings – Sound leaks at higher volume, poor battery life, slow charging, sub-par sound quality. But I am sure that other "good brands" face some problems with bone conduction technology as well.
However, the biggest flaw of the V9 is going bust just after a couple of months, the build quality is also seemingly sub-par. So personally, I am still going to give the V9 a thumbs down – This is a potential time bomb, buy at your own risk.
Thank you for reading, and we have come to the end of this review. I hope that this has helped you to a better choice, and if you have anything to share with this review, please feel free to comment below. Good luck and happy shopping!